A quieter weekend on tap after a blustery close to the week
The above normal temperature theme continues to trend across the region. SeaTac hit 54° making that the 12th day in a row of warmer than average temperatures.
We also saw a decent amount of rain at the airport too with 0.33" in the bucket through 6pm Friday. And so far this month, we are at 1.88" with more to come!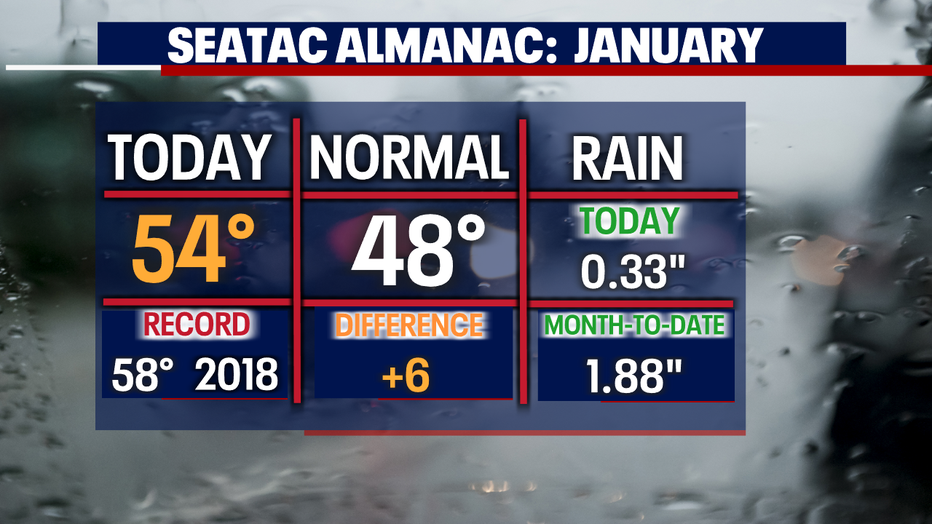 Another mild night as temperatures only will cool into the mid to upper 40s with showery conditions.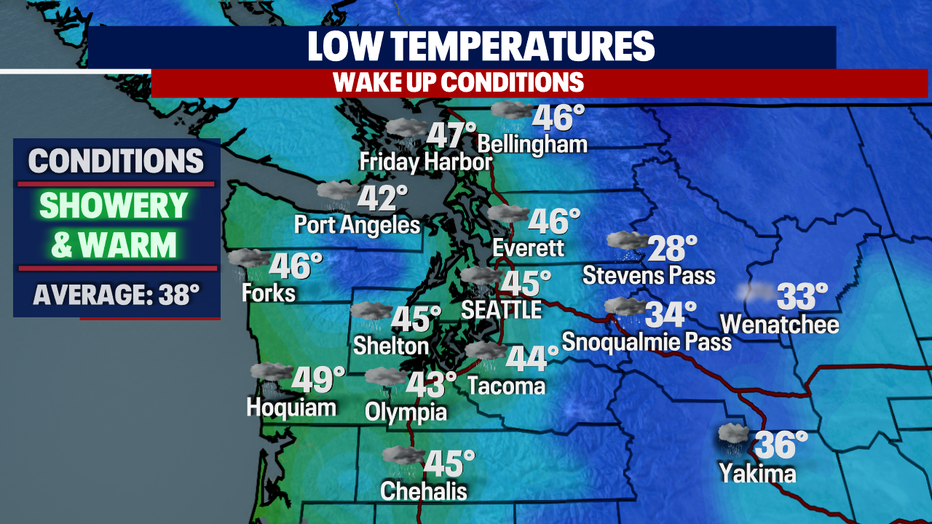 Just look at this beautiful image! We actually dry out and see some clearing as we get out the door Saturday morning. Clouds will eventually settle back in with rain looming.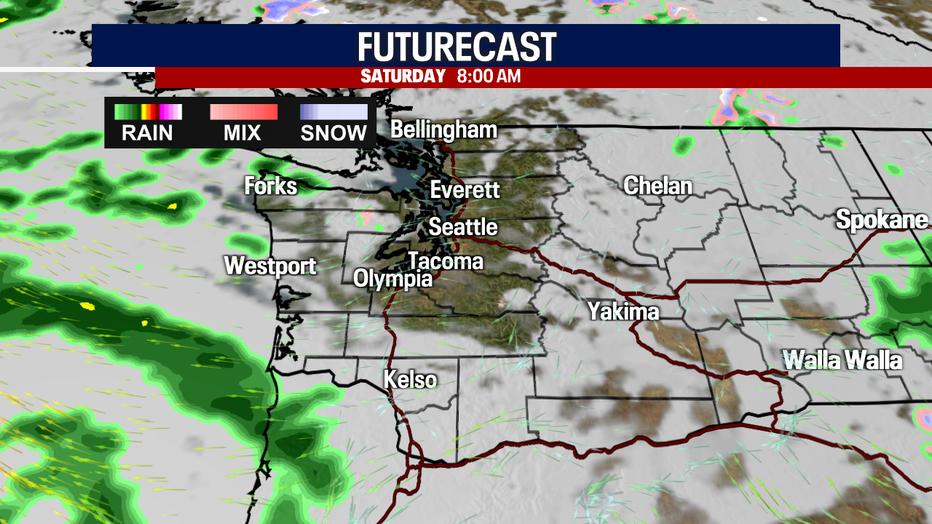 With so much rain over the 24 hours some area rivers are running high and fast, like the Skokomish at Potlatch in Mason County. Waters did rise up over 17" before cresting earlier Friday.  
Rivers will continue to recede over the weekend, but more rain is on the way next week and that will keep us teetering between minor to moderate flooding.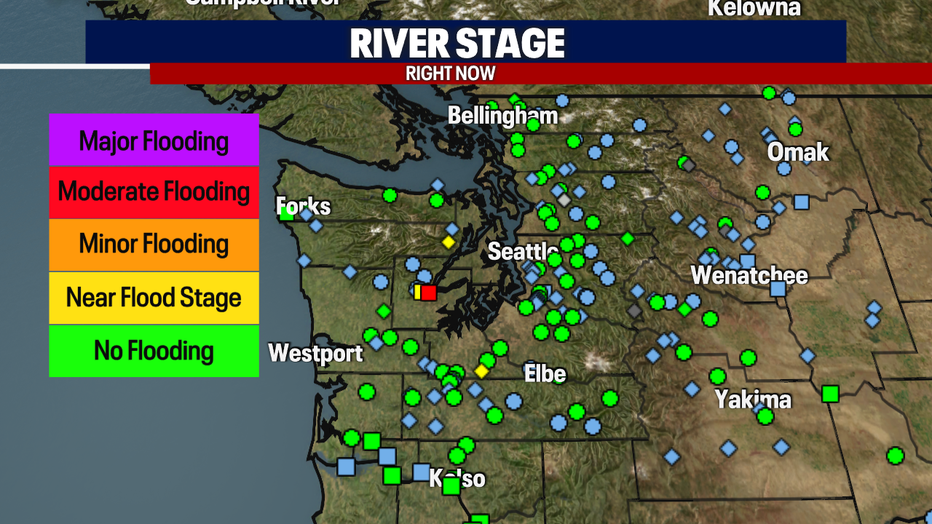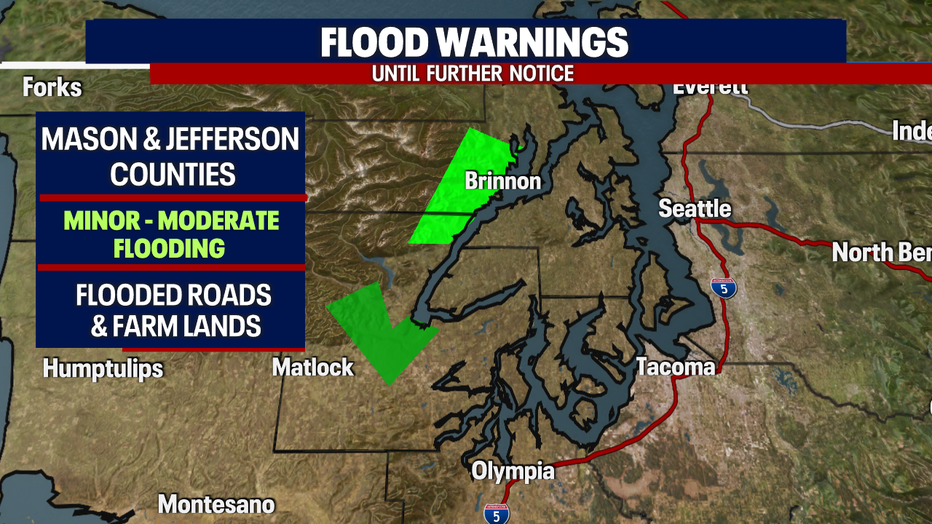 Along with river alerts, we are still watching most of Western WA soils as they are so very saturated from this last storm. 
The threat of landslides and mudslides are elevated. Know your surroundings when venturing out around the region.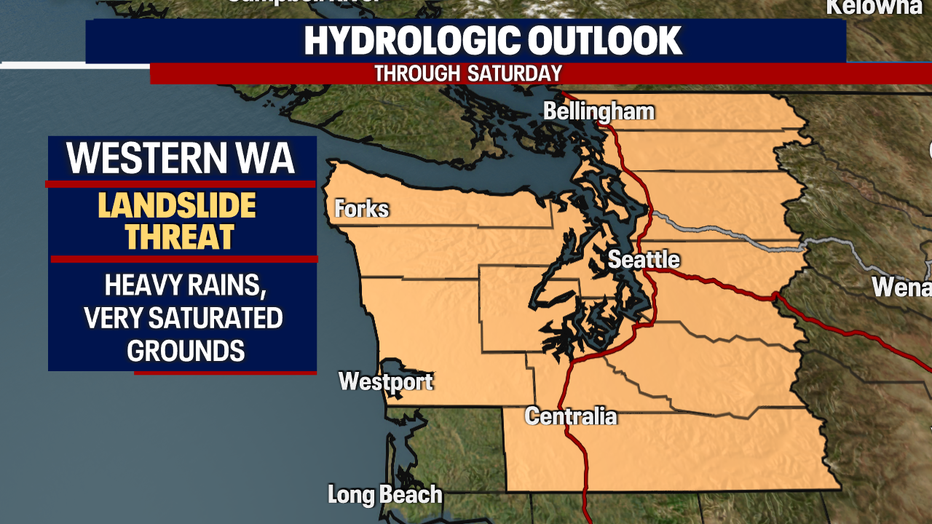 Highs Saturday will climb into the mid-50s for another warmer than average day under mostly cloudy skies.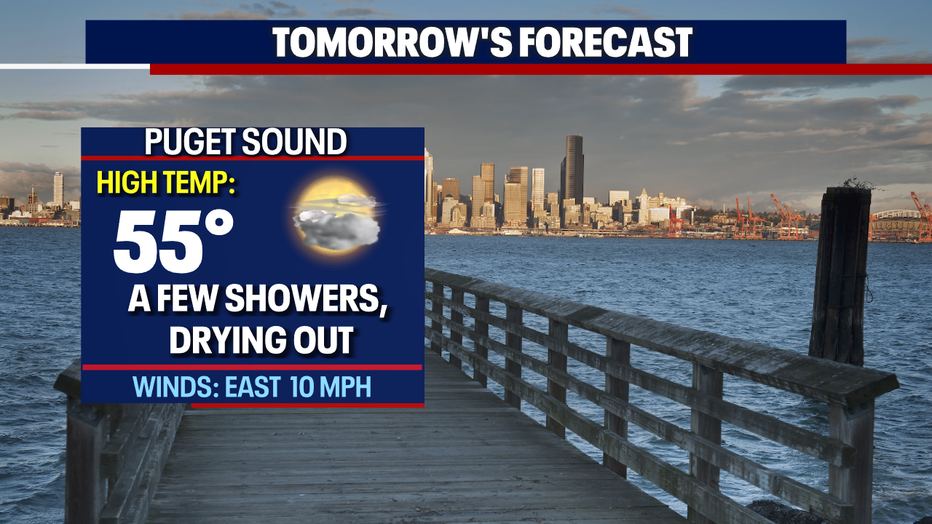 Don't forget to cheer on our Seahawks as they take on the 49ers in the Bay Area! We've dialed up a stormy game day forecast for Santa Clara at Levi's Stadium. The Hawks should feel right at home with very sloppy conditions.  
Remember you can find the Hawks on Fox Saturday. Make sure to tune in early (9am) as our game day crew is in the Bay Area. Plus, they'll have post game coverage as well.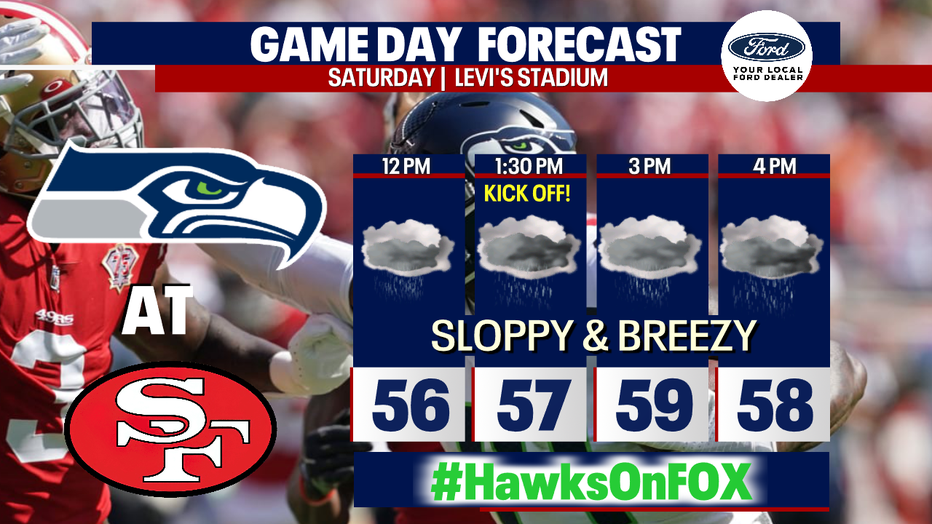 By Sunday rain returns as we move back into a showery pattern through next week. Highs land near normal in the upper 40s.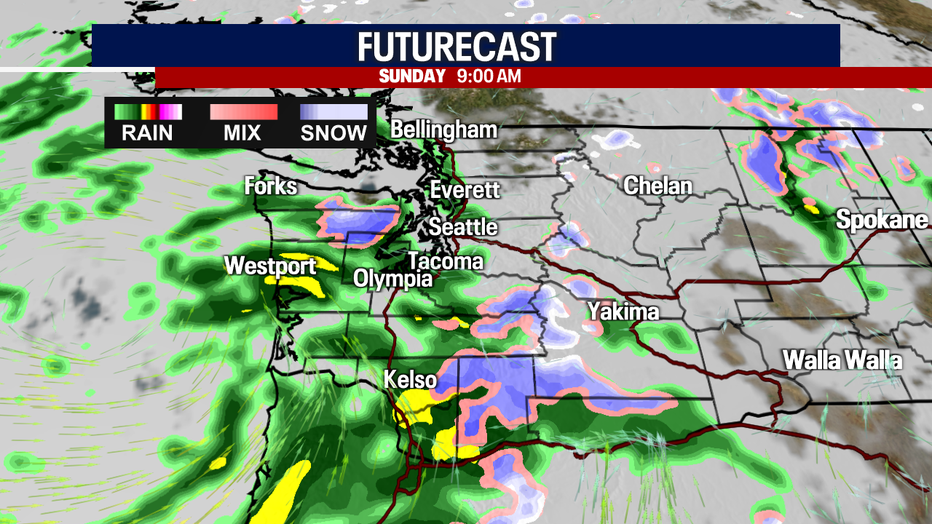 Snow levels will fall to near 4,000' over the mountains Sunday and that will bring snow back to the summits of Stevens and White Passes with a wintry mix for Snoqualmie.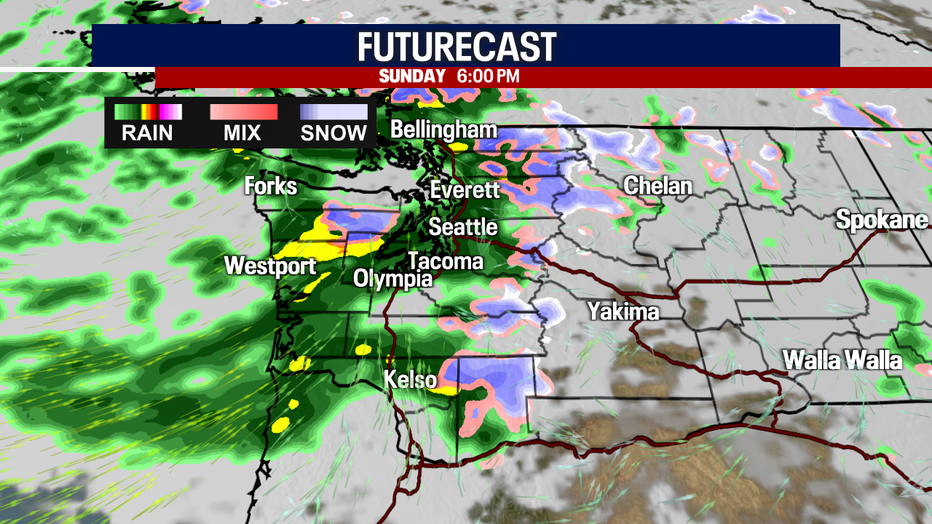 Each day next week features showers with dry periods along with some clearing.  By late Tuesday rain and wind could become impactful again.   
Highs throughout next week will run slightly cooler in the mid to upper 40s. Enjoy! 
Have a great weekend all! ~Erin Mayovsky, FOX 13 Forecaster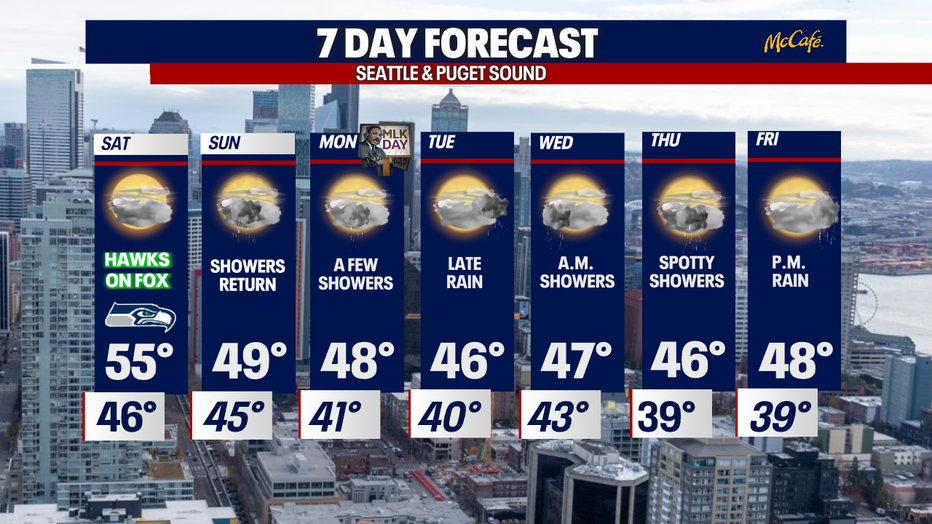 Coast Forecast: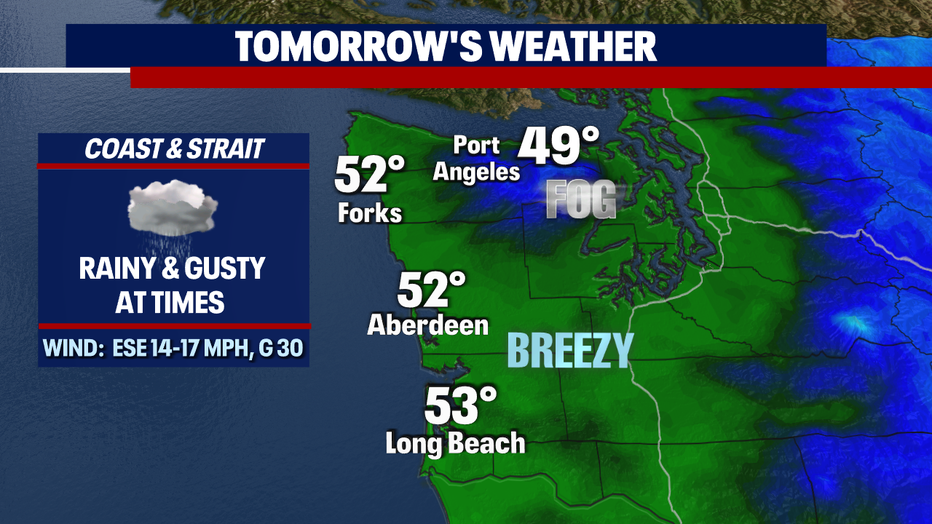 Eastern WA Forecast & Alerts: