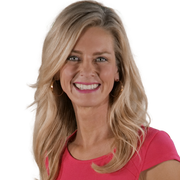 Erin Mayovsky
Weather Anchor
I love the Northwest and how beautiful it is. I was born and raised in the Seattle area.  There's just something about the fresh, clean, crisp air that keeps me here year after year, and maybe that's why I also love forecasting our region's weather so much… even if it means getting up in the wee hours of the morning or staying up late at night!  I've been forecasting in the Northwest for more than two decades and I'm still fascinated by the ever-changing, crazy weather our area throws at us.   
Besides anchoring the weather one of my favorite activities is playing soccer.  I grew up playing soccer at the top levels in Washington State and traveled the country for tournaments.  My high school teams were state champions, which led me straight to the intercollegiate women's soccer program at the University of Washington.  Go DAWGS! 
My other favorite thing to do is spend time with my husband and children and our dog Loki. My kids play baseball, basketball, and soccer and that keeps us busy but has given us the chance to travel around the country together for games.  
I feel blessed because I've spent almost my entire career working in Seattle. Although my first TV job took me to eastern Washington's NBC station, KNDO.  
I've also been fortunate in following my other broadcasting passions.  I have reported and anchored the news, covered the Sounders MLS championship runs, Seahawks Super Bowls, Mariners pre-&-post-game shows, Sonics, and all Husky athletics along with hosting several national and local programs, including MCing community events.  
Hope to see you around town and don't forget to stay connected!  Send me your comments or ideas.
e: erin.mayovsky@fox.com  t: @erinmayovsky fb: erin mayovsky Instagram: @erinmayovsky 
The latest from Erin Mayovsky
Gorgeous conditions took over the Northwest for your Wednesday.  And especially welcome after unsettled weather yesterday.  
An exciting weather day Tuesday with thunderstorms rolling across the region.  Some of us saw heavy downpours with small hail, gusty winds, and lightning during the evening commute.  Highs were slightly below normal today landing in the mid to upper 60s to near 70 for some. 
Saturday will be mostly to partly sunny with temps getting up to the mid-70s, but Q13 News meteorologist Grace Lim is tracking a soggy and muggy Sunday.
A slow warm up today to near average warmth for this time of year.  Tuesday temps landing in the 60s across Western WA.  Normal seasonal high has now 70.