Justin Schultz week-to-week with injury for Kraken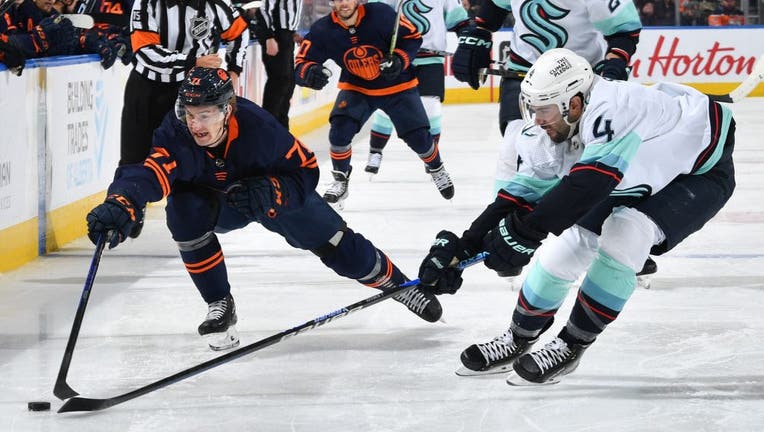 article
SEATTLE - Seattle Kraken head coach Dave Hakstol said Tuesday that defenseman Justin Schultz is considered week-to-week due to an injury sustained last week against the Edmonton Oilers.
Schultz left the game in Edmonton with just under seven minutes left to play in the second period. He had a collision against the boards behind the Seattle net with Oilers forward Derek Ryan that appeared to hamper him for the remainder of the shift. He did not return to action after exiting the game.
André Burakovsky, Jaden Schwartz and Yanni Gourde all did not participate in the team's practice on Tuesday due to injuries. Burakovsky missed Saturday's 2-1 shootout loss to the Colorado Avalanche while Schwartz has missed the team's last five games.
Schwartz isn't expected to play Wednesday night against the Vancouver Canucks. Burakovsky and Gourde will be game-time decisions.
"Those three guys are day-to-day," Hakstol said. "Schwartz I would not expect to play tomorrow. The other three I would expect to be game-time decisions tomorrow night.
Schultz has five goals and 19 assists for the Kraken in 42 games played for the team this season. He was signed as a free agent this offseason and has paired with Jamie Oleksiak on the team's second defense pairing all season. Schultz has also run the point on the second power play unit as well due to his proficiency as a puck mover.
The Kraken as a whole have been exceedingly healthy through the first three months of the regular season. Nine players have suited up for every game this season. Burakovsky and Gourde have each missed just one game as well. 
Daniel Sprong missed a few games due to VISA issues and Jamie Oleksiak had a three-game suspension in addition to a few games missed for injury. 
Jared McCann (three), Schultz (four) and Schwartz (six) have missed the most games among the forwards with Oleksiak missed seven games in total. Goaltender Philipp Grubauer missed nearly a month on injured reserve, but the Kraken needed only one start from third goaltender Joey Daccord in his absence with Martin Jones carrying the workload.
"Whoever is available has got to go in and do a job," Hakstol said. "And, you know, we had some holes the other night. Some of the guys that had new opportunities, to be honest, have to do a little better in some of those elevated positions. But that's part of the opportunity is building off of a previous performance.
Cale Fleury has suited up in Schultz's place the last two games for Seattle. The defensive pairings have shuffled with Schultz's absence as Will Borgen has bumped up to pair with Oleksiak while Fleury has paired with Carson Soucy. Soucy has also taken Schultz's spot on the power play unit.
Sprong bumped up into the top line wing spot in place of Burakovsky alongside Matty Beniers and Jordan Eberle. Ryan Donato was on the second line in place of Schwartz with Alex Wennberg and Jared McCann. Meanwhile, John Hayden got his first chance with the Kraken this season on the fourth line with Sprong and Donato elevated.
"We've got to be a little bit better than we were the other night (against Colorado)," Hakstol said. "That means individuals that stepped into larger roles can also be a little bit better and do a little better job in those roles. But it's very important to have guys that feel comfortable and confident going into different roles and we've had that, so that's a real credit to the players. And now the challenge is to come back tomorrow night and have everybody be a little bit better in their roles."
The Kraken have just three games left before the All-Star break. They'll then have 10 days between their home meeting with the Columbus Blue Jackets this Saturday and a February 7 meeting at the New York Islanders to begin a five-game road trip. It will give Seattle a chance to have their beat up players get back to health before a stretch run for the playoffs.
Seattle sits second in the Pacific Division, one point behind the Vegas Golden Knights. However, they've played two fewer games than Vegas and have a better points percentage as a result.