Volunteers to restore 1949 Ford WSP patrol car for Seattle Metropolitan Police Museum
SEATTLE -- A rare piece of Washington State Patrol history has turned up, an authentic 1949 Ford sedan used as a patrol car. It's a real treat for cops and car buffs -- and a big blast from the past for one former trooper.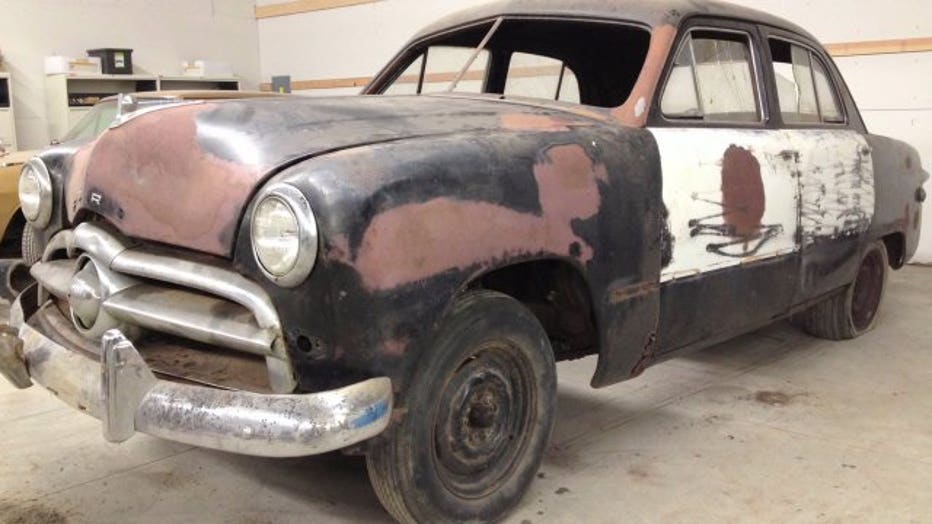 Affectionately called "the shoebox" by troopers, the old black-and-white painted vehicle had been stored for years in a garage in Westport. It was donated to the Seattle Metropolitan Police Museum where Seattle Police Officer Jim Ritter is founder and president. "This car is so rare -- our oldest is 1963," Ritter said. In the next year, volunteers in Ellensburg will restore the '49 four-door Ford. Records show that's where the car was assigned. In fact, the original Windmill Service Center in Ellensburg where the state patrol maintained the car is still standing. The '49 Ford was the first police package vehicle ever made. You can still see the reinforcement plates on the roof for a huge antenna. The shoebox came with heavy-duty brakes, a special suspension, and a flathead V-8 engine. "This was the first car in 1949 that got up to 100 horsepower which doesn't seem like much these days, but back in '49 after World War II that was a tremendously fast car," Ritter said. Retired Trooper Fred Schenk vividly remembers the car's power. "I had a request to go meet a patrolman out of Bellingham transporting a portable Iron Lung for an emergency at the Everett hospital." Schenk said. "Coming south, north of the Stillaguamish River Bridge, the car was running pretty good at about 110 miles per hour. There were some cows crossing the road in-between cars headed north and south, and I was able to switch lanes and miss the cows and at the same time keep on going, but it was quite an experience." Trooper Schenk patrolled Snoqualmie Pass regularly. "I had a lot of snow experience," he said. "I had my first and second winters on Snoqualmie Pass. Driving in snow -- takes a little knack to do that." That wasn't the only hazard in his era, sometimes bad guys sat "shotgun." "I had a prisoner in the front seat of my car. He had handcuffs on, but he was able to get his hands over and get out the door before I was able to grab him, " he said. "He finally fell down running across the railroad tracks where it went over a little bump in town and I was able to catch him." Times have definitely changed and soon so will the look of this historic piece of law enforcement history -- at no cost to taxpayers. "No public dollars are used for this, the museum is self-supporting by police officers who pay out of every paycheck to support the museum," said Ritter. "Once the restoration is finished, we're estimating probably about a year, that's how long it takes to get the body work done and the paint done, find the equipment that was on this thing from 64 years ago, and we couldn't be more excited." The restoration is being done in Ellensburg and then will be taken to car shows, parades and community events around the state. If you'd like to help, go to seametropolicemuseum.org -- and if you are interested in donating funds to assist in the restoration of the car, call the museum at 206-748-9991. They also need help finding a set of original state exempt license plates from 1949 as well as a rare Motorola Deluxe Line Two-Way Radio that the car would have had, so contact Officer Ritter if you know where can find them.