WSDOT says southbound I-5 to remain closed through Tuesday morning commute


DUPONT, Wash. – There's no immediate relief in site for drivers trying to travel south to Olympia and beyond.

WSDOT said Monday afternoon that southbound Interstate 5 will likely remain closed near Mounts Road through at least Tuesday morning, pushing back its earlier estimate that it would remain closed through Monday as a result of a fatal Amtrak derailment.




WSDOT tweeted that the timeframe was "just an estimate," adding that "a definitive time hasn't been determined."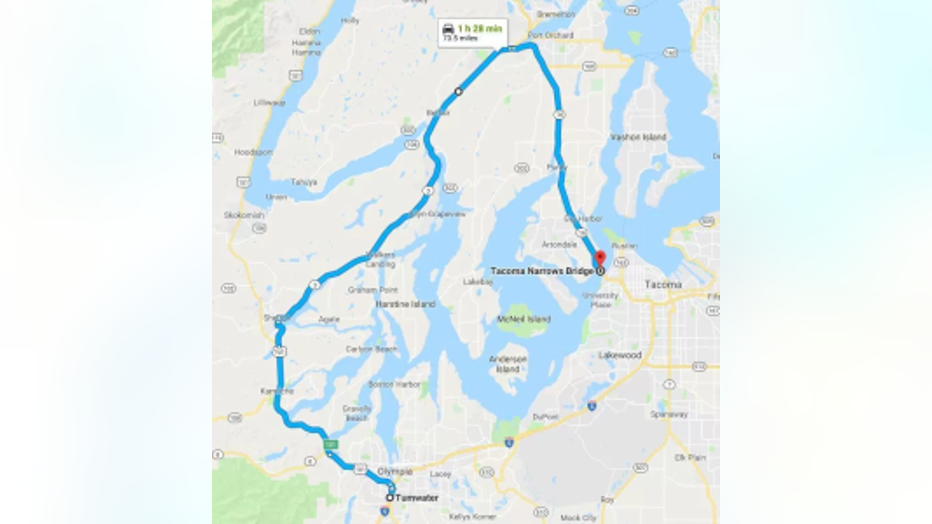 Gov. Jay Inlsee was no more optimistic, saying "we don't have information right now on when I-5 will be restored to useful service." The National Transportation Safety Board was expected to arrive Monday evening to begin the investigation.

For drivers who absolutely need to head south, the Washington State Patrol said there is a a detour at exit 118 - Center Dr. - that travels through Joint Base Lewis-McChord to Highway 510 before dumping back onto I-5.

Other exits near JBLM will not allow you to detour.

One of the alternate routes was blocked in both directions just before 6:30 p.m. on Monday, when a multi-car crash blocked Highway 507 north of McKenna, close to 336th St. S.




WSP also recommended an alternate route of Highway 16 to Highway 3. Here's more advice from the WSP.