Rescue efforts underway; Skagit River reaches highest level since '06


CONCRETE, Wash. -- The Skagit River reached its highest level in 11 years Thursday causing major flooding in the town of Concrete. Floodwaters are also expected in Mount Vernon and Hamilton Thursday night.

The National Weather Service has issued flood warnings for Concrete until Friday evening.

About 4 p.m. Thursday, the Skagit River crested around 35-feet. Flood stage is 28-feet.

The river hasn't been that high since 2006, according to the National Weather Service in Seattle.




The agency says residents living from Rockport downstream through Sedro Woolley should expect floodwaters.

Low areas near the river are most at risk, including some roads and homes near Cape Horn, Hamilton, and Thunderbird. Floodwater will also flow onto Cockreham Island and into the Nookachamp and Sterling areas.



The rising waters prompted an evacuation Thursday afternoon near Hamilton.

The Skagit County Department of Emergency Management said residents should go to the First Baptist Church in the area.

They say the evacuation displaced at least 250 people.




Crews are monitoring the road and rivers. Click here for latest updates.

There is good news. The National Weather Service says the Skagit River will fall below flood stage Friday morning.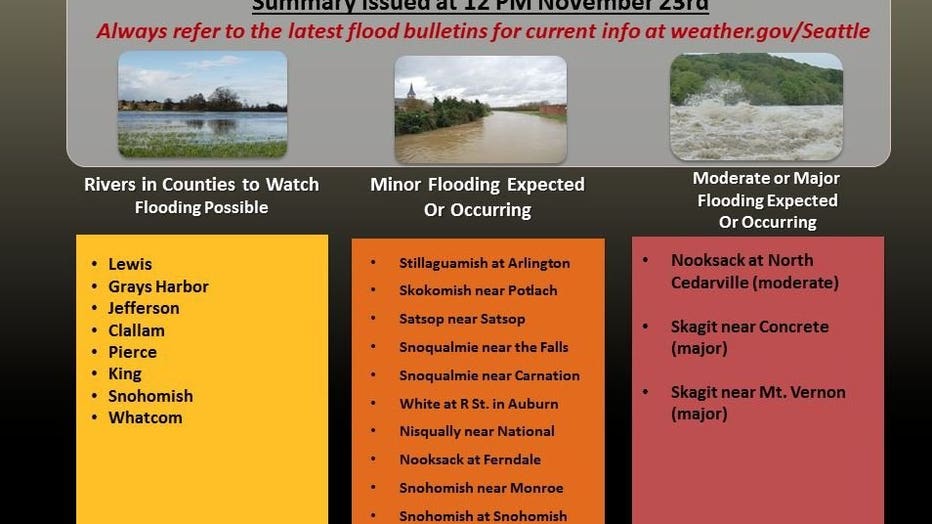 Get the free Q13 News Weather app to use interactive radar, check the forecast hour-by-hour and get custom severe weather alerts.