Family escape after Bellevue home slides off foundation; neighborhood evacuated
BELLEVUE, Wash. - A family inside a Bellevue home escaped Monday morning after their house slid off its foundation and collapsed, and several homes in the neighborhood had to evacuate. 
Police and fire crews responded to a report of a water main break after 4 a.m. in the 5000 block of 139th Place Southeast. 
RELATED: Do you live near a landslide? DNR map tracks areas of slide risk across Western WA
John Surdi is the homeowner. He says he got a call around 4 in the morning from a neighbor reporting a lot of running water on his property.
Surdi says he drove his car around the neighborhood to investigate. He says when he got back, his home had collapsed.
"Scary as hell, you know. Am I here? Am I too late? Is she ok, you know? My thought was on her," said Surdi.
  (Bellevue Police Department)
Inside the home was Surdi's wife Barb and their nine-month-old dog. 
Barb Surdi tells FOX 13 News she will never forget going through the ordeal.
"I was catapulted," she said. " I was thrown out of the bed through the air," Barb Surdi added.
INTERACTIVE MAP: Check the ages and types of water mains in Bellevue | Seattle
She says she watched furniture topple over all around her, and glass explode into the air. She was on an upper floor, but couldn't get down because she says the stairs were gone.
Bellevue officers went into the home to rescue the family. They shared a photo of the officers on Monday afternoon.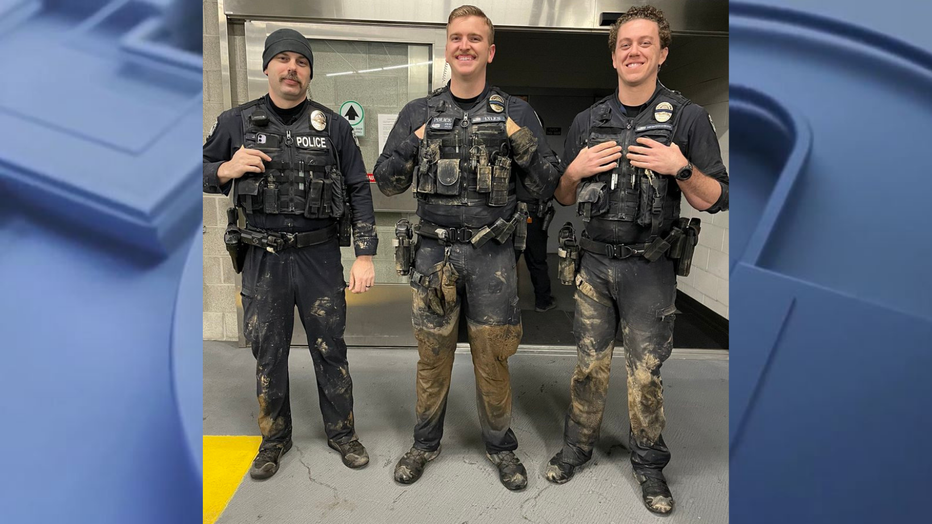 Officer went into a collapsed Bellevue home and rescued a family. (Credit: Bellevue Police Department)
The family got out with only the clothes they were wearing. Twenty years worth of memories are still under the rubble, leaving a lot of questions.
"The insurance, and can you rebuild? Is the lot rebuild-able, you know? I don't know, it'll be years. But in the meantime, just one day, one day; what can you do," said John.
Police say 45 people and several pets from 15 homes in the area had to evacuate. Rajib Choudhury was evacuated from his home. He recalled the startling morning.
"We heard this huge sound it was like an earthquake, like hear something bad is happening," said Choudhury.
Don Thai lives across from the collapsed home and said his heart breaks for his neighbor.
"I think he's been through so many hardship in his life," said Thai. "And now this happens, it will throw all of his plans out of whack."
No injuries were reported. 
RELATED: 'My baby, my baby!' Dog found alive 6 days after Seattle home collapsed in slide
Officials told FOX 13 News some residents were taken to the South Bellevue Community Center. 
Firefighters have been searching for a water main break that may have caused flooding in the area. 
Police also said crews with Puget Sound Energy responded to check on a possible gas leak. 
Crews have remained at the scene to assess the situation. Bellevue Fire Department said structural collapse engineers traveled from Olympia to help assess the hillside.
"To help us determine the stability of the structures and the soil around the structure, so that we can determine where it's safe and not safe to reoccupy and get folks back in their homes when it's safe to do so," said Jay Hagen of the fire department.
By 2 p.m., crews were still working to clear the lower streets, which remained closed. It is not yet known when roads might reopen.
Eight homes are still not yet safe to return to, though officials say there may be an opportunity for people to get inside and grab some items, but not stay the night. The other seven homes nearby are clear for families to return.
"This is obviously a very upsetting event to happen to anyone, particularly when it's in your own backyard," said Meeghan Black of Bellevue Police. "We want people to know we have all the resources available, our first priority is preservation of life—your wellbeing is first and foremost. We know it's an inconvenience, we know it's scary."
A GoFundMe has been set up to support the family.
Watch FOX 13 Seattle for the latest news:
Get breaking news alerts in the FREE FOX 13 Seattle app. Download for Apple iOS or Android. And sign up for BREAKING NEWS emails delivered straight to your inbox.
Stay connected with FOX 13 News on all platforms:
DOWNLOAD: FOX 13 News and Weather Apps
WATCH: FOX 13 News Live
SUBSCRIBE: FOX 13 on YouTube
DAILY BRIEF: Sign Up For Our Newsletter
FOLLOW: Facebook | Twitter | Instagram