Police arrest 66-year-old woman's son after she was found dead in Tacoma home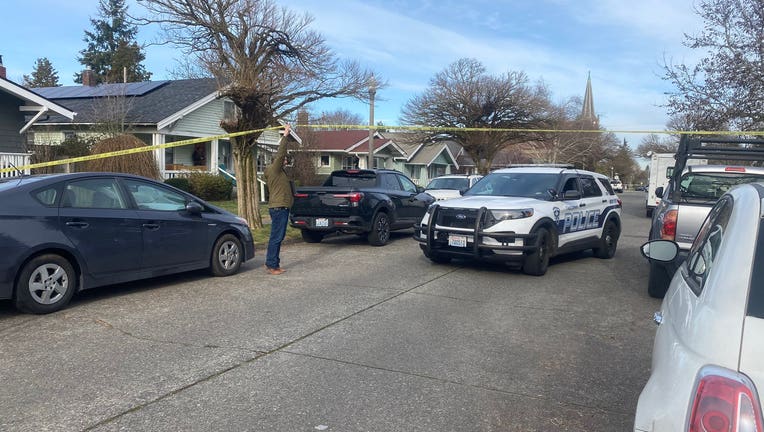 article
TACOMA, Wash. - Tacoma Police arrested a man who may have been involved in the death of his mother earlier Wednesday.
Investigators say his mom called 911 for help for her son, due to mental health issues. She was then found dead when officers arrived.
"We've seen something happen in our neighborhood that is very uncharacteristic," said Kim Poland.
Poland lives a few doors down from the woman who was killed in her home.  She didn't know the family, but calls it a sad situation.
"It's a very peaceful block so, seeing the yellow tape come up and enforcement in those numbers, lingering for this long, is definitely concerning," said Poland.
When we talked to her, she was also keeping her doors locked.
"You don't know how vulnerable you are, or predict the mindset they are in, if they are scared or paranoid, or delusional," she said.
Tacoma Police say the 66-year-old mother who lived on S Anderson Street called South Sound 911 at around 6:40 am Wednesday, asking for help for her son.
"A female caller said her son was having a mental health crisis and asked for help for him," said Wendy Haddow, Public Information Officer for the Tacoma Police Department.
When officers arrived, it was too late to save her.
"Officers responded. They didn't get an answer at the door, they asked dispatch to call back in," said Haddow.  "They circled the house, looking in windows, they could see a female on the floor. They forced entry and located an unresponsive female, immediately began life-saving measures."
Haddow said the woman died at the scene. FOX 13 talked to neighbors who knew the family, but who asked to remain anonymous. They say the victim was a caretaker for both her older husband and son. She was kind and well-liked and had confided in others that her son had serious mental health issues. She told them that she'd tried to get him more help and resources, but wasn't able to.
Wednesday afternoon, police said officers found the victim's son on Pacific Ave. and took him into custody. The 31-year-old man was booked into jail for investigation of first-degree murder domestic violence.
RELATED: 1 gun stolen out of cars every 48 hours in Tacoma, police say
Neighbors say they often saw her son pacing in front of the house or in an alley behind the home.  Those who were close to the family say they had been worried about her safety for a while. They also believed the woman's husband was getting medical care elsewhere, so she would have been alone with her son in the home.
Chris Lemley and Bridget Asher didn't know the family, but called the situation unnerving.
"This is like the first homicide, so far, I've lived here for six years, that I've seen this far down the neighborhood, usually stuff happens like further down, and closer to the street, which is where we live closer too," said Lemley, a Tacoma resident who lives a few blocks away.
RELATED: Tacoma PD launches Safe Place initiative program
"It's really scary and having a child makes it scarier.  It's very sad, I'm sad for whoever is involved," said Asher, another resident who lives nearby.
Police said Wednesday morning that they believed this was an isolated incident. Haddow says there have been four homicides in Tacoma so far this year.