Patty Murray sworn in as President Pro Tempore of U.S. Senate, first woman to serve in role
WASHINGTON - Senator Patty Murray was sworn in by Vice President Kamala Harris and elected to serve as President Pro Tempore of the U.S. Senate, making her the first woman to serve in the role.
According to The Seattle Times, Murray is now temporarily the second person in line for presidency. Typically, the President Pro Tempore is third in line after the vice president and speaker of the House. Since there is currently no House speaker, Murray is next in line.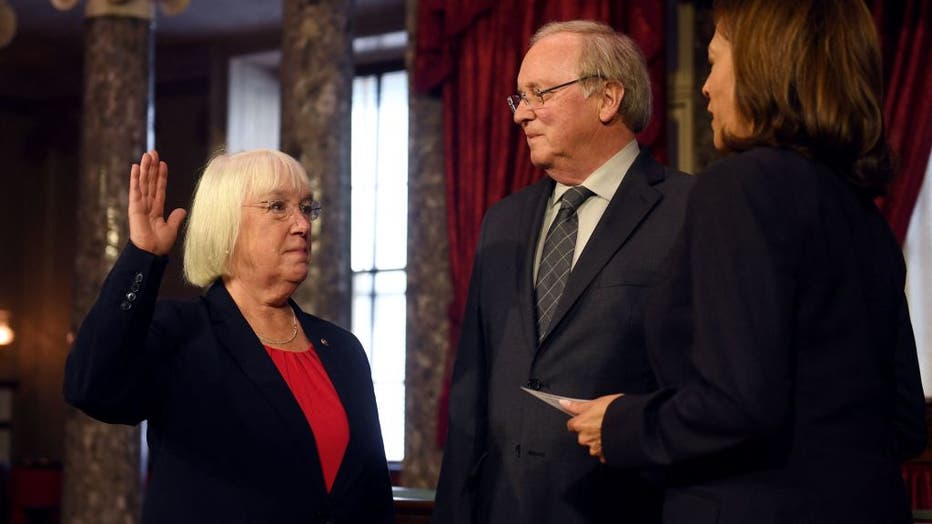 US Vice President Kamala Harris ceremonially swears in US Senator Patty Murray, Democrat of Washington, for the 118th Congress in the Old Senate Chamber at the US Capitol in Washington, DC, January 3, 2023. - At center is Murray's husband Rob Murray.
Before the 118th Congress officially began on Tuesday, newly re-elected and elected senators took the oath of office in groups of four. All of them walked down the aisle two by two with their escorts.
The position of President Pro Tempore is held by the senior-most member of the majority party. Sen. Murray replaced Sen. Patrick Leahy, who is retiring after almost five decades in the seat. 
RELATED: Kevin McCarthy fails to secure House speakership in 2nd round of voting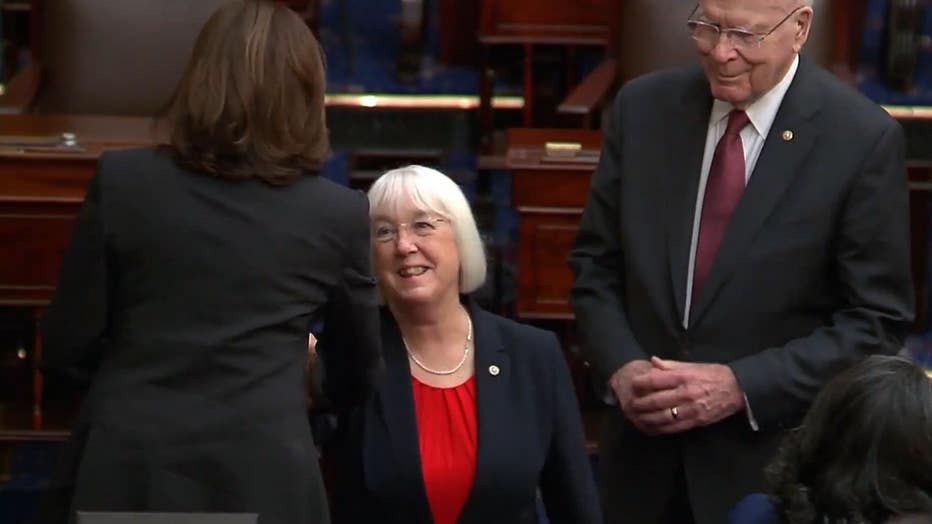 Sen. Murray issued the following statement:
"As the first woman to serve as President Pro Tempore, I will be the first woman to sign the bills we send to President Biden's desk for his signature and to be designated to preside over the Senate in the absence of the Vice President," said Sen. Murray. It's a responsibility I am deeply honored to take on for my country and for Washington state. And I hope that when young women watch footage of the first female Vice President—my friend, Kamala Harris—swearing me in today, they don't question for a moment whether their voices matter, or if they belong in Congress. Because we need even more women to serve at every level of government.
President Joe Biden also congratulated Sen. Murray on her history-making election on Twitter.
"We're witnessing history on Capitol Hill – by unanimous consent," wrote President Biden. "The first woman to be elected President Pro Tempore of the senate. Congrats to you, Patty. I look forward to continuing our work together."
After the swearing in process finished, a quorum of 51 senators was established to organize the 118th Congress. 
Kevin McCarthy fails to secure House speakership in 2nd round of voting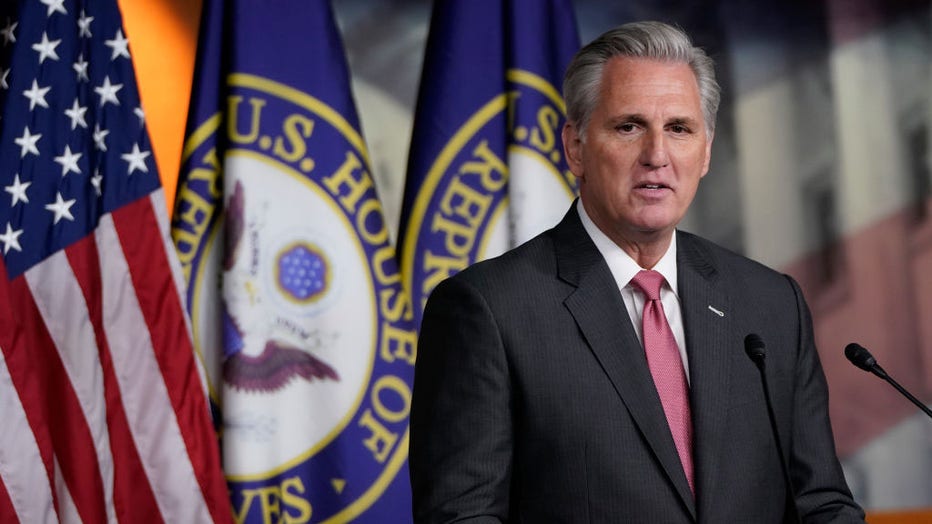 House Minority Leader Kevin McCarthy (R-CA) answers questions during a press conference at the U.S. Capitol on Jan. 9, 2020, in Washington, DC. (Photo by Win McNamee/Getty Images)
Republican leader Kevin McCarthy failed in two rounds of voting to become House speaker Tuesday, a historic defeat with no clear way out as House Republicans dug in for a long, messy start for the new Congress.
Needing 218 votes in the full House, McCarthy got just 203 in both rounds — less even that Democrat Hakeem Jeffries in the GOP-controlled chamber.
A speaker's contest last went multiple rounds in 1923
"This is a lot more important than about one person," said Doug Heye, a former Republican leadership senior aide. "It's about whether Republicans will be able to govern."
Without a speaker, the House cannot fully form — naming its committee chairmen, engaging in floor proceedings and launching investigations of the Biden administration.
It was all in stark contrast to the other side of the Capitol, where Senate Republican leader Mitch McConnell will officially become the chamber's longest-serving party leader in history.
Despite being in the minority in the Senate, where Democrats hold a slim 51-49 majority, McConnell could prove to be a viable partner as Biden seeks bipartisan victories in the new era of divided government. The two men were expected to appear together later in the week in the GOP leader's home state of Kentucky to celebrate federal infrastructure investment in a vital bridge that connects Kentucky and Ohio.
McCarthy's candidacy for speaker should have been an almost sure thing. He led his party into the majority, raising millions of campaign dollars and traveling the country to recruit many of the newer lawmakers to run for office.