VIDEO: Victims' families urge love, kindness as Idaho campus mourns
MOSCOW, Idaho - As hundreds of students mourned together inside the University of Idaho's stadium Wednesday night, family members of four slain classmates urged them to raise their eyes from grief and focus on love and the future.
"The only cure to pain is love — it's the only thing that's going to to heal us; it's the only thing that's going to heal you," Steve Goncalves, the father of Kaylee Goncalves, told the crowd gathered at the vigil. "That will make a difference, and that's something they can see where they're at right now: That you changed your life a little bit, that you're a little bit nicer, a little bit kinder."
Some in the crowd held each other and wiped their eyes as they remembered Kaylee Goncalves, 21, of Rathdrum, Idaho; Madison Mogen, 21, of Coeur d'Alene, Idaho; Xana Kernodle, 20, of Post Falls, Idaho; and Kernodle's boyfriend, Ethan Chapin, 20, of Mount Vernon, Washington.
Ben Mogan, Madison's father, told the crowd in Moscow that she was his only child, so "everything she ever did was such a big deal." Talking about "Maddie," was his pride, Mogan said, and the two loved attending music concerts together.
"When I would meet people ever since she was first born, and they would say, 'Tell me about yourself,' the first thing I would say is, 'I have this daughter — here's a picture of her, she's on the dean's list at college, she works hard, she has all these friends at her sorority,'" Mogan said.
RELATED: Idaho students killed: What we know about the violent quadruple murder in Moscow
Madison's best friend was Kaylee. The girls met as sixth graders, Kaylee's father Goncalves told the crowd, and were inseparable friends from that moment on.
"They went to high school together, then they started looking at colleges, they came here together. They eventually got into the same apartment together," Steve Goncalves said. "And in the end, they died together, in the same room, in the same bed."
"It's a shame and it hurts, but the beauty of the two always being together comforts us," he said.
Xana Kernodle's family was unable to attend the vigil.
Ethan Chapin's mother, Stacy Chapin, fought back tears as she said she was there with her husband and with Ethan's triplet brother and sister.
Like other families, the Chapin family always tried to eat dinner together when time allowed and spent countless hours taking the kids to various sporting events when they were younger. The triplets chose the University of Idaho because they wanted a small town and a beautiful campus with a thriving Greek system, she said.
"That's the most important message we have for you and your families — it's make sure that you spend as much time as possible with those people, because time is precious and it's something you can't get back," Chapin said.
In the early morning of Nov. 13, the four students were stabbed and killed in their home near the University of Idaho campus. Moscow police said they have not identified any suspects, zeroed in on a motive or recovered a murder weapon.
RELATED: 911 calls in Idaho college town include reports of 'blood,' 'unusual circumstances'
University officials said there are other ways to be a part of Wednesday's scheduled vigil. 
"To the families and friends of these four young people, I want to extend my deepest condolences. Nothing I can say will make this better," University of Idaho President Scott Green said in a message to the campus.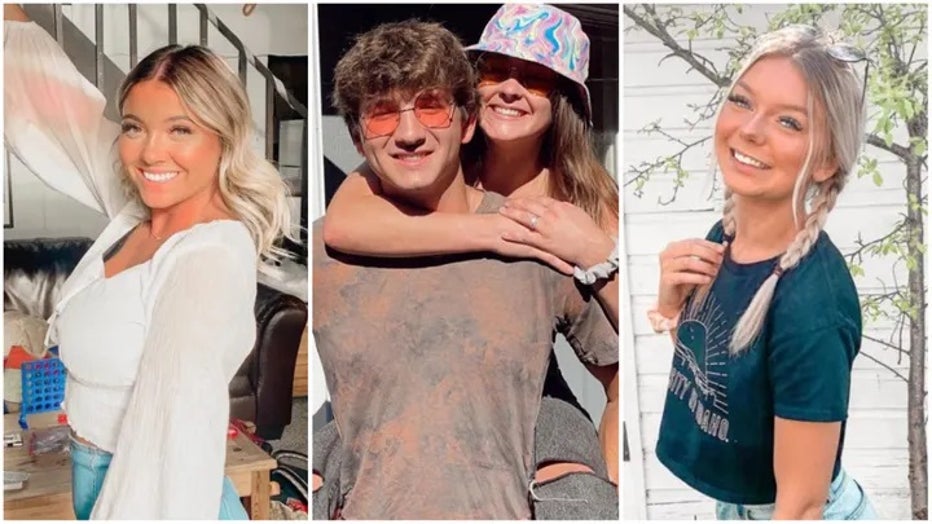 The victims of Nov. 13 University of Idaho massacre. (Instagram @xanakernodle / @maddiemogen / @kayleegoncalves)
Anyone who wants to be a part of the event can connect with the Vandal Family on social media, tag #VandalStrong or mention @uidaho.
The university also said GoFundMe pages have been made to support for the families of the students.
The Associated Press contributed to this report.