Shelter-in-place advisory issued for Puyallup residents near large commercial fire
PUYALLUP, Wash. - Evacuation orders have been lifted for residents near 15th Street SE and E Main Street in Puyallup, however, shelter-in-place advisories have been issued.
Puyallup police issued evacuation orders early Saturday morning after a cold storage facility caught fire. Officials say there were concerns of an explosion and/or toxic chemicals at the scene. The facility contained 1,000 lbs of anhydrous ammonia.
All residents who have been evacuated can now return home, but keep windows and doors closed.
A shelter-in-place order was downgraded to an advisory on Sunday afternoon. The advisory is for all those within a mile radius of the fire.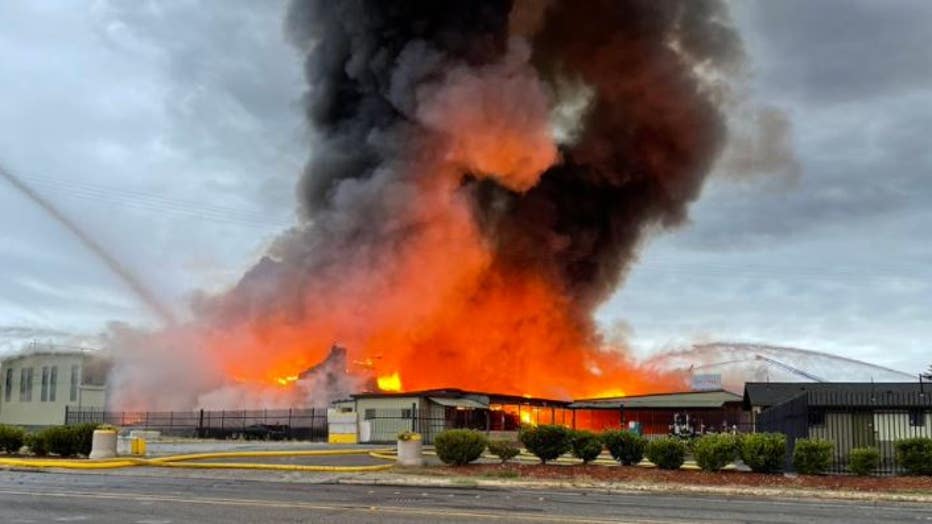 Officers were knocking on doors getting residents out on Saturday. A reverse 911 call also went out to 10,000 residents impacted. 
"I looked at the window and saw flames and pretty much had to pack what I could, and got out," said Isaac Manning who lives about a block away from the scene of the fire.
Manning says police knocked on his door and told him to leave his home.
"The safety of our community was huge today and everyone rolled up their sleeves to make that happen," said Chief Scott Engle with the Puyallup Police Department.
Some neighbors even helped in the effort to get as many to safety as possible.
"I knocked on a couple doors and most we knocked on had not heard of it," said Jerry Ledbetter.
Ledbetter and several other people who were forced from their homes due to the dangers of the fire sheltered at a local church.
It's unknown what sparked the fire, but it started around 5 a.m. Saturday. 
Crews have been working all day on putting it out. 
Fire officials say there will likely be smoke throughout the area for possibly the next few days. They confirm that the threat of anhydrous ammonia is no longer active. However, they do warn the community firefighters and other first responders are still working and roads around the scene will be closed. Officials ask the community to stay away from the scene as crews continue to work.
This is a developing story.
Q13 News will have updates as they become available. 
Stay connected with Q13 News on all platforms:
DOWNLOAD: Q13 News and Weather Apps
WATCH: Q13 News Live
SUBSCRIBE: Q13 FOX on YouTube
DAILY BRIEF: Sign Up For Our Newsletter
FOLLOW: Facebook | Twitter | Instagram