Abandoned kittens, rescued by Auburn police, meet their new families


AUBURN, Wash. -- A litter of kittens the Auburn Police Department found in a box on the side of the road a couple weeks ago, is finally going home.

Do you remember this picture?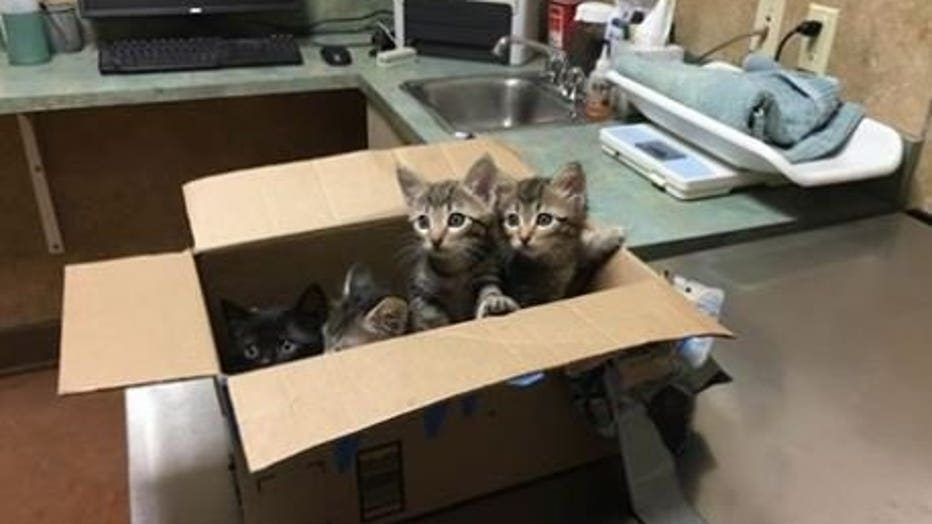 Police say the box was duct taped shut.  Luckily, all the kittens inside were still alive.

The Auburn Valley Humane society worked to get these kittens in good shape.  Saturday, all the kittens went home with loving families.

Piper the playful kitten and Scarlett the darkest and boldest sister make up part of the litter.

"I just happen to see a posting from the Auburn Police Department about what happened here," said Julie Parascondola.

It was a post on April 27, 2018, shared more than two thousand times about kittens trapped in a box and rescued by Auburn Police.  Now the kittens are up for adoption.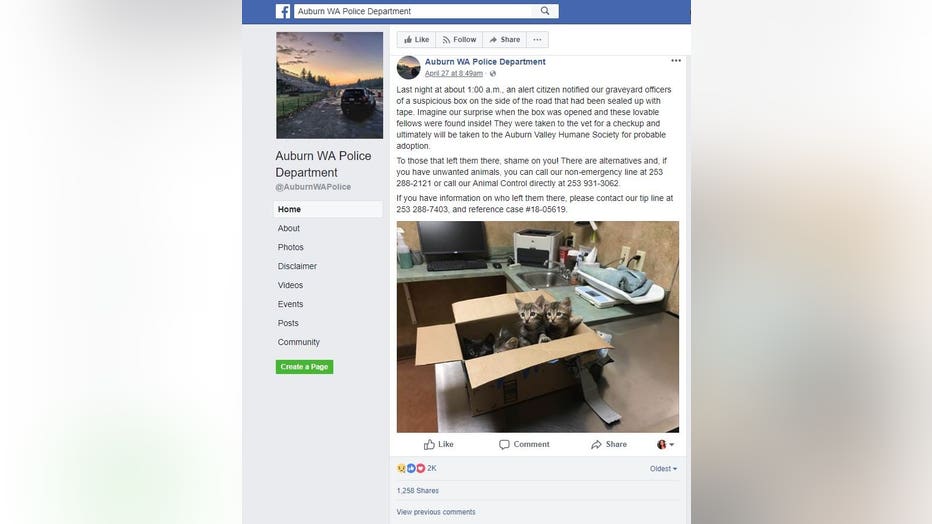 "We had people putting them on hold as soon as they saw the pictures the police department had posted," said Auburn Valley Humane Society Julia Sauer.

All the attention came as a surprise to the Auburn Valley Humane Society because they say this kind of thing happens all too often.

"Sometimes we have animals tied to the door just like this morning," said Sauer.

When it comes to abandoned kittens, they're usually in bad shape after missing out on key nutrients from their mother.  But the box kittens were better off than most.

"I right away wrote into the humane society," said Doni Negron.

Doni Negron and her kids couldn't wait for Scarlett to join the family.

"I think it's really cool that we get to have a kitten," said Mia Negron.

Piper is going home to the Parascondola Family who needs some extra love right now.

"I lost one of my cat a couple months ago to kidney failure," said Parascondola.

Piper plans to pick up the piece ready to go home in purrrfect shape.

"They're already spayed and neutered and have their shots and it saves us a lot of time," said Parascondola.

Too many feral cats or cats that aren't spayed or neutered add to a growing problem of unwanted kittens.

"Don't feel embarrassed to come that's why we're here," said Sauer.

Animal abandonment is a crime.

If you have any information about this case, you're asked to call Auburn's animal control.

If you're in the market for a new addition to your family, don't forget there are plenty of homeless pets.