Rasheed Sykes and Paula Calderon: Manhunt for criminal couple wanted in Michigan -- comes to Washington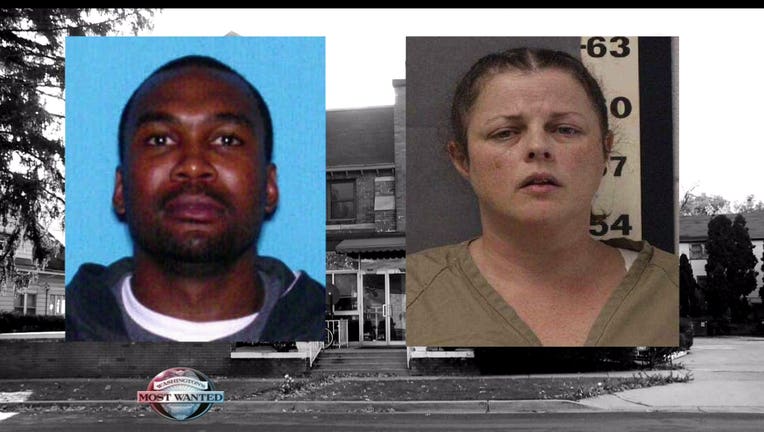 WANTED IN MICHIGAN -- Two fugitives wanted in Grand Rapids, Michigan have ties to Washington state. Take a look at Paula Calderon and Rasheed Sykes – two criminal lovers on the run. Ann Marie LaFlamme is the host of 'West Michigan's Most Wanted,' a new crime fighting program she started. Calderon and Sykes are the first case she's featured, and one 'Washington's Most Wanted' viewers may be able to help her with. Deputy U.S. Marshal Justin Efthemiou talked to LaFlamme about the pair. "They are in a way kind of like 'Bonnie & Clyde.' I just hope someone out there recognizes and says, 'ya know, these folks don`t look right.'" Calderon and Sykes have been running from authorities since escaping a Grand Rapids halfway house in September 2013. Marshals say they both checked out on a work pass and never returned. They suspect the two were dropped off in the parking lot, met somewhere, got an alternate ride and left the area.
Marshals don't know what motivated the escape, but their criminal skills make them a lethal pair. Sykes should be serving time on felony gun charges after shooting and being shot in the back in a drug deal gone bad. "He`s had a troubled youth since he was 17 and he has a long history of domestic violence," says Efthemiou. "He has a history of robberies, drug dealing and resisting and obstructing police." Marshals think of Sykes is the "muscle" of the too – the son of a former Kalamazoo Department of Public Safety officer – but Calderon, Marshals say, is this pair`s criminal mastermind. Court documents say before going on the run with Sykes, Calderon teamed up with a different boyfriend and stole checks from mailboxes across the country. Efthemiou says, "They would wash the document and being an eraser or a combination of liquid chemical, they`d rinse off the print and they`d reprint it and they would go to Meijer stores and they would purchase gift cards with these forged checks. They would take the merchandise they purchased with the gift card, take it back and try to get cash with it." Those skills have Marshals believing the fugitive couple has assumed new identities and may be out of state. "She`s a chameleon, she can blend in anywhere. She looks like just about anyone you see on the street and she can provide documentation that is just good enough to get her by and unfortunately because of this she can still be committing this mail fraud," Efthemiou adds. "The danger in that is she`s going to ruin peoples credit. She`s going to ruin people`s identities. They`re going to have to get new identities because this one person's out there. Now she has someone that has the ability and intent and wherewithal to commit a physical crime to protect Paula." She more commonly goes by "Paula Reagan," but has several aliases. Several photos below show the different looks Calderon has had through the years. Efthemiou says she has a medical condition which requires frequent treatment – a possible lead to her whereabouts that law enforcement wants healthcare workers to be aware of. "HIPPA protects law abiding citizens from their personal information being divulged when it shouldn`t be. Being a health care professional there is no worry if you`re doing the right thing by saying, 'hey I think this persons wanted and they`re in here seeking treatment.'" A theory is Sykes was just looking for a way out. "She was more in love than I think he was. I think he just went with the flow. I`m surprised he hasn`t gotten bored and cut ties and gone back to his," says Efthemiou. And though the life of "Bonnie & Clyde" may come across with glamor in the movies, Efthemiou says these two lovebirds lives are likely far from luxurious. "You`ve got to eat when you can. Sometimes if you feel like law enforcement is close to you, you`re going to eat out of dumpsters, you`re going to get scraps from restaurants, you`re going to live off the street and you`re constantly looking over your back waiting when your day is going to come." Calderon is 5'1", 160 pounds, with hazel eyes and brown hair. Again, she uses several aliases. The most common is "Paula Reagan." She's originally from Missouri and has ties to Baltimore, Boston, Alabama, Mississippi, California, Washington and Oregon. Sykes is from the Kalamazoo, Michigan area. He's 5'11" and 175 pounds. He has several tattoos, including "Outlaw" on his left forearm, "Grim Reaper" on his chest and "Ghetto Soldier" on his stomach. He`s suspected to still be with Calderon. Marshals say both are considered 'armed and dangerous.' If you know where these two Michigan fugitives are who could be hiding in Washington state or Oregon, call an anonymous tip into: CRIME STOPPERS: 1-800-222-TIPS You must call the crime stoppers hotline with your tip to be eligible to receive a cash reward for information leading to a fugitive's arrest. Click here for information on how to text a tip to Crime Stoppers.