Marshawn Lynch fined again for 'obscene gesture' -- so is Hawks WR Chris Matthews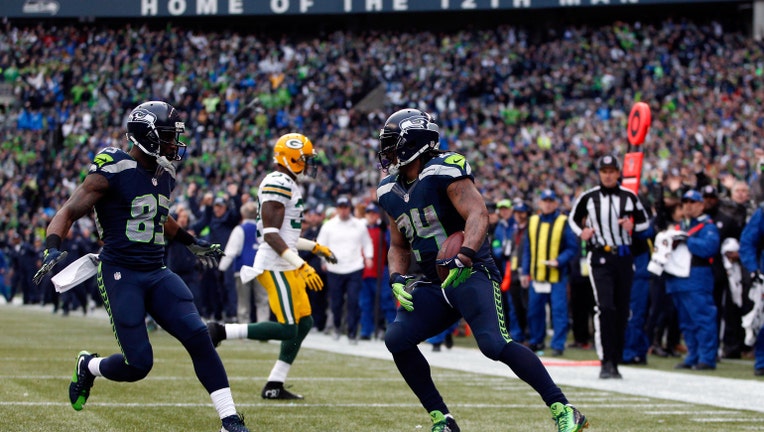 article


SEATTLE -- The NFL fined Marshawn Lynch $20,000 for an "obscene gesture" allegedly performed after his fourth-quarter touchdown in Sunday's NFC Championship game, Adam Schefter of ESPN.com reports.

Later Thursday, it was reported that the NFL also fined Seahawks wide receiver Chris Matthews $11,500 for the same alleged obscene gesture -- grabbing his crotch-- on the same Lynch touchdown run.

Lynch tweeted this after the report came out:




But Ian Rapoport of NFL.com said the fine for Matthews was for grabbing his crotch and not for shaking Lynch's hand.




Lynch could also be  looking at fines significantly more than $50,000 for not speaking to the media after last Sunday's game, Schefter said.

Schefter wrote on his Facebook page early Thursday morning:

NFL fined Seahawks RB Marshawn Lynch $20,000 for an obscene gesture after his TD in Sunday's NFC Championship game, per an NFL official.

But that was just the start of what was a costly Sunday and could be a costly Super Bowl week for Lynch.

The NFL is considering fining Lynch "significantly more" than the $50,000 it has fined him in each of the past two seasons for not speaking to the media, something Lynch declined to do post-game again Sunday, per an NFL official.

Now, this is another issue that threatens to hang over the Super Bowl week with Lynch being required to speak to the media Tuesday, Wednesday and Thursday.

An NFL official said there would be increasing fines for each session Lynch missed, with each fine being more than the two $50,000 fines already imposed and the upcoming one that soon is expected to be handed down.

As of now, the NFL and Seahawks are in discussions about the best way to handle Lynch.

Lynch was fined $11,500 for a crotch grab at the end of a 79-yard touchdown run in a game against the Arizona Cardinals earlier this year. He has also been fined around $100,000 this year for not talking to the media.

NFL media policy mandates that all players must make themselves available to media during the practice week and in the locker room following games. Star players like Lynch must be available to the media at least once during the practice week in addition to their postgame media availability, policy states.

Lynch, however, is notoriously quiet and is often reluctant to speak to reporters, offering a few words at most.