It's certainly not a must-win, but it feels that way to the Seahawks and Bears
CHICAGO – Let's hope the Seattle Seahawks enjoyed their break after dealing with Vonn Miller last week. Khalil Mack will be in their collective faces before they know it.

The Seahawks will face Mack and the Chicago Bears on Monday night at Soldier Field, giving them an extra day to prepare for one of the fiercest defensive linemen in the NFL. Last week, of course, Seattle faced one of the other fiercest linemen in the NFL, in the form of the Broncos' Miller.

"They're different-style athletes, but they're both extremely effective and really difficult," Seahawks coach Pete Carroll said at the VMAC last week. "Khalil's a stronger-looking guy, plays more at ya, brings the attack to you and runs all over the place. He's just so athletic and runs all over so quick. They're just different-style guys, but their effect is very similar."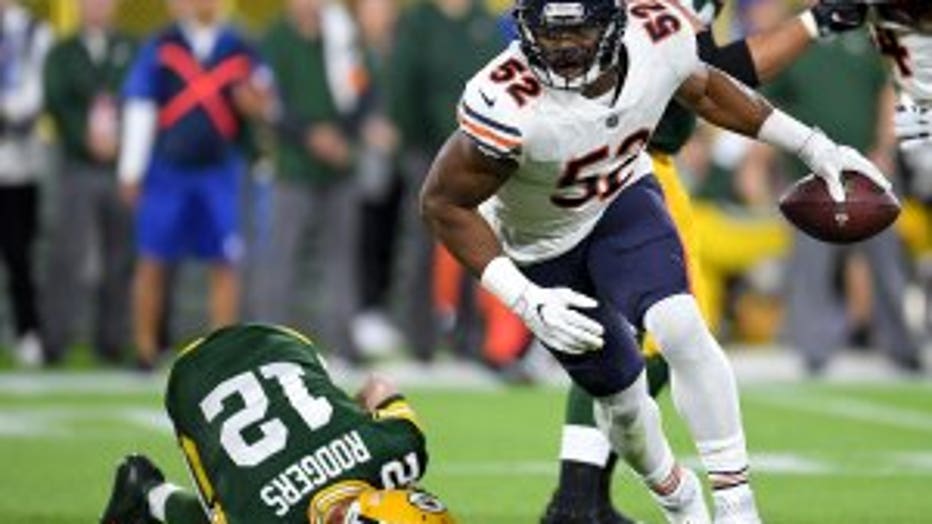 GREEN BAY, WI - SEPTEMBER 09: Khalil Mack #52 of the Chicago Bears reacts after sacking Aaron Rodgers #12 during the second quarter of a game at Lambeau Field on September 9, 2018 in Green Bay, Wisconsin. (Photo by Stacy Revere/Getty Images)


The Seahawks and Bears are both already facing games that feel like must-wins, ridiculous as that might seem one game into the season. The Bears are coming off a stunning loss in Week 1, when they coughed up a 20-0 second half lead after an injured Aaron Rodgers returned from a first-half injury and led the Green Bay Packers 20 a 24-23 victory.

"It's a big matchup," Carroll said. "Two hungry teams getting ready to go on Monday night. The Bears had a terrific game going, and then, as we all know, Aaron Rodgers kind of stole the show at the end of it. But, they had a really good-looking night going and their defense showed, their offense showed, the play-making, all kinds of good stuff. So, we've seen them, and they deserve a lot of respect. So, it's a great opportunity for us.

"We've got to get rid of all that first-week stuff and play a good football game, execute well and see if we can get ourselves a big win on the road."

To get that big win, the Seahawks will need to figure out a way to limit the damage by Mack. The Bears traded two first-round draft picks for the linebacker just before the season, and he delivered massively in his first game with an interception returned for a touchdown, a strip-sack, and three tackles. A week after Miller sacked Russell Wilson three times, that'll be a tall order.

On the other side of a ball, the Seattle defense will be charged with exploiting second-year quarterback Mitch Trubisky. Trubisky completed 196-of-330 passes in 12 starts last season, with seven touchdown passes and seven interceptions.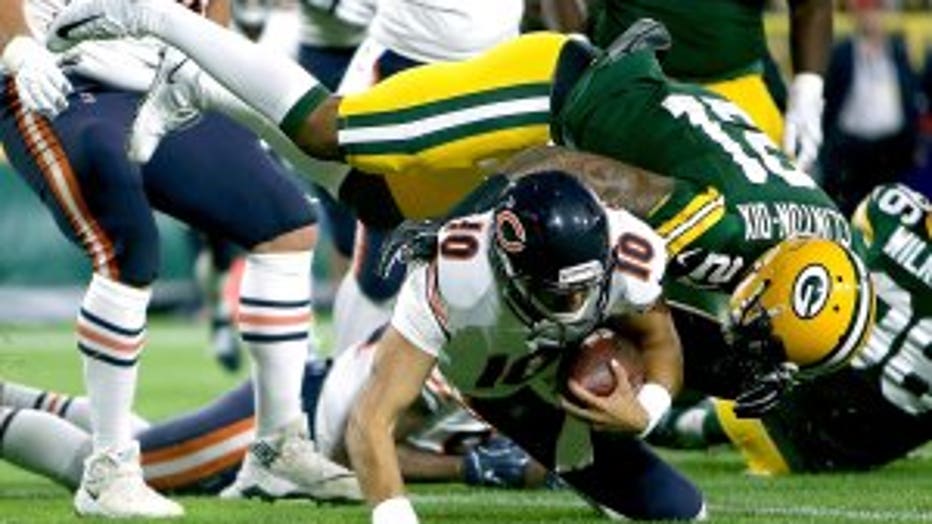 GREEN BAY, WI - SEPTEMBER 09: Mitchell Trubisky #10 of the Chicago Bears runs is for a touchdown past Ha Ha Clinton-Dix #21 of the Green Bay Packers during the first quarter of a game at Lambeau Field on September 9, 2018 in Green Bay, Wisconsin. (Ph


"(He's got good suddenness to him), so he can make people miss a little bit," Carroll said. "That part stood out. He has a really strong arm, threw some great balls in the game. He had a nice night, completion-percentage-wise, 23-for-35's a big night. He looked good.

"They've got a nice running game, to complement a young quarterback, which is just how you like to do it."

The Seahawks have history on their side. The franchise is 23-9 all-time on Monday night, a .719 winning percentage that's No. 1 in the NFL. Of course, they did have their 11-game wining streak snapped last season, when they lost 34-31 to the Atlanta Falcons at CenturyLink Field.

"These guys have played a lot of football," Carroll said. "They're well-coached and well-schooled and well-systemed, and it's hard to fool them. But we're still gonna try! We'll still try and see if we can make it hard on them."