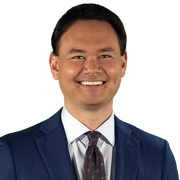 Aaron Levine
Sports Director
Aaron Levine joined FOX 13 in March 2007 and has been sports director since January 2009. He's the principal host of FOX 13's Seahawks coverage and Seattle Sports Live every Sunday night.
Prior to Seattle, Aaron worked in Bakersfield, California, for 2 ½ years at KBAK, covering minor league sports, Cal State Bakersfield athletics and high school sports across Kern County.
He was the national runner-up on ESPN's reality show, "Dream Job," which was the company's search for a new SportsCenter anchor in 2004. He majored in history at Stanford University.
From the minute he arrived in the Pacific Northwest, Aaron has been blown away by the incredible fan culture around all the local teams. His favorite memories so far have been celebrating championships, from the Seahawks Super Bowl parade in 2014, to both Sounders MLS Cup parades and the Storm's WNBA Championship celebrations in 2010 and 2018. Just like everyone else, he can't wait for the Mariners to finally contend for a World Series title, too.
Aaron lives with his wife Shayna, their son Kaden, and their mini-labradoodle Bailey. While he's a veteran of game shows (he was on The Price Is Right as an 18-year-old), his dream is to one day be a contestant on Jeopardy!
The latest from Aaron Levine