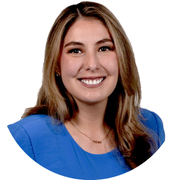 Mireya Garcia
Anchor & Studio 13 Live Co-Host
Hi! I'm Mireya Garcia and I love living in the PNW because it is so beautiful-- from hiking to the beaches and an excellent food scene. You can find me up before the sun as I welcome the day with you on Good Day Seattle every weekday. Before Fox 13, I was working in Oklahoma City chasing tornados and consumer stories. Though I have lived all over the country, one of the most fun times I had was the time I spent living overseas in Germany.
A few fun facts about me:
I speak Spanish fluently and deeply limited German (But I am trying to get better).
I can't ride a bike.
Love to travel.
Pineapple and Jalapenos belong on every pizza.
If I am drinking soda, it's only drink Diet Pepsi in a can.
I have been very bad at and loved Crossfit for many years.
Ran one marathon and one half marathon, but that was more than enough.
I climbed two 14ers and cried both times.
I love big dogs and have two of them.
Find me on social media and send me all the recommendations for me to try out with my husband and sweet baby boy when I'm out of office.