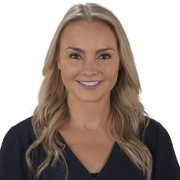 Alyssa Charlston
Sports Anchor/Reporter
I grew up competing with my brother in our Sammamish driveway, fighting over who got to be Gary Payton or Rashard Lewis. I dressed up as Sue Bird four Halloweens in a row. Seattle sports are home base for me, and I am thrilled to cover them for FOX 13 Sports!
After my college and professional basketball career, I spent three and a half years covering Washington State and Gonzaga as a sports anchor for KXLY-TV in Spokane. (I come to Seattle with many Mike Leach and Mark Few stories.) I also hosted HuskyTron from Home during the unique 2020 COVID-19 Pac-12 football season, and worked for Pac-12 Networks as a basketball color analyst.
I played high school volleyball and basketball for Eastlake before committing to college basketball at the University of Idaho. As a Vandal, I was a three-time all-conference selection and two-time academic All-American. We won two Western Athletic Conference championships, played WNBA MVP Breanna Stewart's UConn Huskies, and then the Louisville Cardinals in back-to-back NCAA tournaments. Don't look up the scores of these games.
Playing professionally in Luxembourg stretched me the most. I juggled new languages while living in a foreign country and meeting the standards of an athlete paid to be efficient. We won the national championship, which helped me hang up the shoes on a high note. (I no longer accept requests to play one-on-one.)
The experiences I have as a former athlete shape the way I see sports, life and what motivates us all. I hope you'll interact with me on social media, and say 'hello' if you ever see me in a grocery store. I'm grateful to work in my hometown alongside the most passionate sports fans on the planet!
The latest from Alyssa Charlston