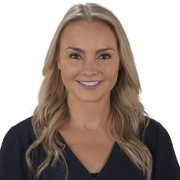 Alyssa Charlston
Sports Anchor/Reporter
I grew up competing with my brother in our Sammamish driveway, fighting over who got to be Gary Payton or Rashard Lewis. I dressed up as Sue Bird four Halloweens in a row. Seattle sports are home base for me, and I am thrilled to cover them for Q13 FOX Sports!
After my college and professional basketball career, I spent three and a half years covering Washington State and Gonzaga as a sports anchor for KXLY-TV in Spokane. (I come to Seattle with many Mike Leach and Mark Few stories.) I also hosted HuskyTron from Home during the unique 2020 COVID-19 Pac-12 football season, and worked for Pac-12 Networks as a basketball color analyst.
I played high school volleyball and basketball for Eastlake before committing to college basketball at the University of Idaho. As a Vandal, I was a three-time all-conference selection and two-time academic All-American. We won two Western Athletic Conference championships, played WNBA MVP Breanna Stewart's UConn Huskies, and then the Louisville Cardinals in back-to-back NCAA tournaments. Don't look up the scores of these games.
Playing professionally in Luxembourg stretched me the most. I juggled new languages while living in a foreign country and meeting the standards of an athlete paid to be efficient. We won the national championship, which helped me hang up the shoes on a high note. (I no longer accept requests to play one-on-one.)
The experiences I have as a former athlete shape the way I see sports, life and what motivates us all. I hope you'll interact with me on social media, and say 'hello' if you ever see me in a grocery store. I'm grateful to work in my hometown alongside the most passionate sports fans on the planet!
The latest from Alyssa Charlston
This week on Just A Bit Outside: how much we can actually learn from the preseason and how necessary is it to see them run some of their new offense in a game-like situation before their regular-season openers?
Sports anchor Alyssa Charlston sat down with rookie cornerback Tre Brown to talk about what he wants the fans to know about him.
Q13 FOX's Alyssa Charlston spoke with punter Michael Dickson about his daily meditation and visualization practices.
Q13 Sports reporter, Alyssa Charlston sat down with the safety Quandre Diggs to talk about his relationship with Jamal Adams
A record four Olympians are representing University of Washington Track and Field in Tokyo.
Seattle Kraken Head Coach Dave Hakstol joins our Alyssa Charlston 1-on-1 on 'Just A Bit Outside,' Q13 FOX's weekly digital sports talk show.