Woman whose purse, walker taken in attack thanks 'Good Samaritans'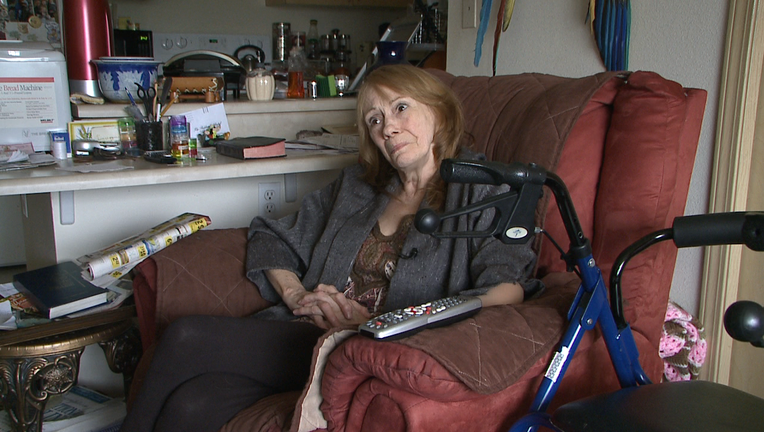 article


SEATTLE -- Gloria Lawing, 63, is moving a little slower these days but she is thankful she still has the walker she calls buddy.

"It's always got to be there in case I have to pull myself up on it or walk actually, for me to lean on. I have to have it," mugging victim Gloria Lawing said Thursday night.

That walker was taken from her Tuesday afternoon.

Lawing was walking to her neighborhood grocer along Rainier Avenue South near South Andover when she remembers passing her attackers.

"I did notice the three young men that were there but I just kept right on going," Lawing said.

Lawing added that she never expected they would attack her, but they did.

"The guy over my right side was grabbing my bag and the other one grabbed my purse and they were both wrapped around my buddy here, my walker, so when they grabbed them, they grabbed the walker," Lawing said.

She said they shoved her aside and then ran away laughing. The walker was discarded as they ran away.

But they didn't get far.

"So the guy got out of his car, told me what happened to the older woman and that's just not cool," a 'Good Samaritan' said.

He was one of a handful of people who rushed to her rescue.

He asked us to hide his identity because he fears retaliation but there was no fear when the bad guy ran by his house.

"Two split into the woods and one stayed behind and he tried to bolt on me when I tried to call 911 and I chased him down. I didn't have to do to too much other than once he was down keep him down until the officers could arrive to arrest him," the Good Samaritan said.

Police call his actions spectacular, others call him a hero. But he insists he did what he believes any of his neighbors would have done.

"This isn't necessarily the safest part of town but it's changing and I think that everybody that lives in this area has a responsibility to make it safer for everybody, communication and helping each other out," the Good Samaritan said.

Lawing is just thankful her neighbors were there when she needed them.

"I'm praying for all of them that God gives them all special blessings for all the help," Lawing said.

Two of Lawing's attackers are still on the loose. If you know who they are or where they can be found, call 911.