Throwing the media into the fire -- or at least training for one


SEATTLE -- Wild fire season is just around the corner and the Washington State Department of Natural Resources is gearing up for what could be a busy summer – and so are we.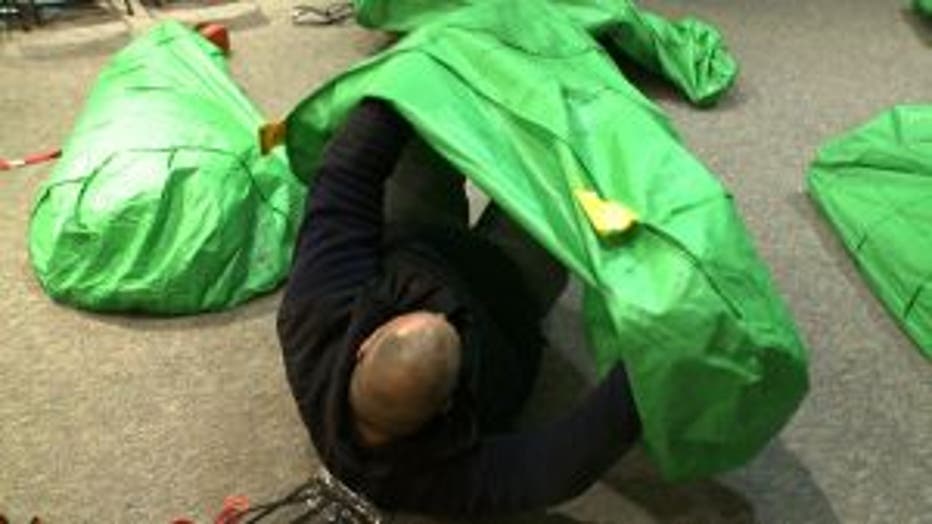 Reporters participated in a training session with the D.N.R., and learned how firefighters on the front lines stay safe in a life-and-death scenario.

Nearly 40 members of the media learned how to survive the unthinkable; when a wildfire gets out of control and how firefighters deploy what's called an emergency shelter as a last result when flames and heat are headed right for them.

Last year was a busy wildfire season. Flames scorched more than 68,000 acres and destroyed homes during the Taylor Bridge fire near Cle Elum. This year is shaping up to be just as busy.

"We're expecting an earlier fire season that we have in the past three years – so if the weather trend continues to be dry, we're looking at starting at late June," said DNR spokeswoman Jeanie Abbott. "We've had record low precipitation, we're having warmer temperatures than what we've had in the past so it's gonna start pretty early."

When firefighters and news reporters hit the forest roads, emergency shelters are the last resort of safety when confronted with on-coming heat and flame.

The shelters used in the training exercise are designed for simulation only but the real fire shelters are made with silica and aluminum foil material that can reflect up to 95 percent of radiant heat.