The Evergreen State College reinvents itself after 2017 turmoil on campus
Olympia, Wash. – For the past 52 years, Evergreen State College has offered non-traditional higher education options.  Students and faculty affectionately call themselves "Greeners" and boast they get to create their own coursework to finish their degrees.  You might know some of its famous alumni including Macklemore who graduated from Evergreen in 2009.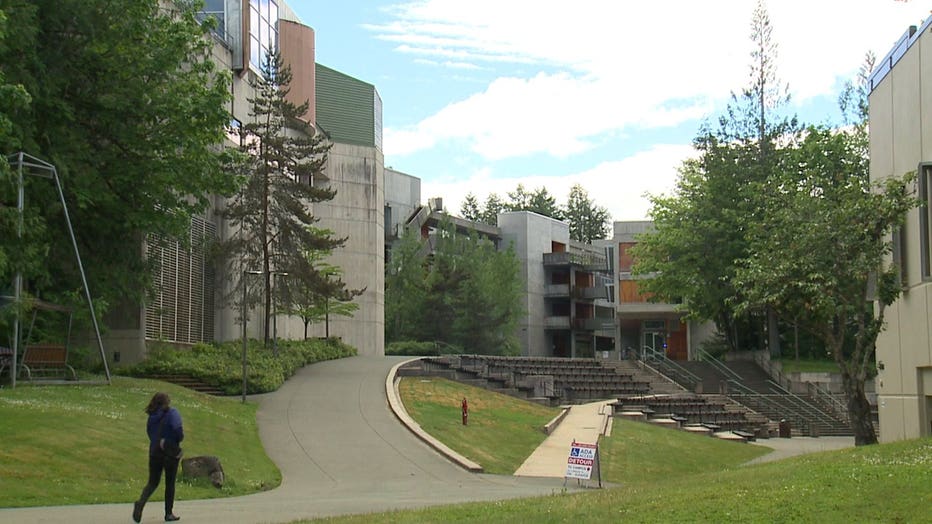 The Evergreen State College


But it's the protests, shooting threat, and overall turmoil that rocked the campus back in 2017 that brought the college to the national stage.  The 'annual day of absence' that normally encourages students of color to leave campus to talk about racial issues changed in 2017.




"Ask the white students to step out and let the students of color get on campus which seems like a really legitimate and interesting conversation and that got a little bit knocked sideways and misinterpreted in the media," said Evergreen State College Vice President of College Relations Sandra Kaiser.

That was then.  Today, the college and students are trying to move forward two years later.

Geoduck Beach is a quiet oasis for wildlife and at times, a classroom for students at Evergreen State College in Olympia. It's the highlight on campus for Vice President of College Relations Sandy Kaiser.

"We're the largest campus in the state of Washington. We have 1000 acres," said Kaiser.

But the scenic landscape here once looked like a May Day protest.  Racial tensions mounted to a shooting threat.

"I'm on my way to Evergreen University now with a 44 magnum. I'm going to execute as many people on that campus that I can get a hold of," said a caller to 911 dispatch.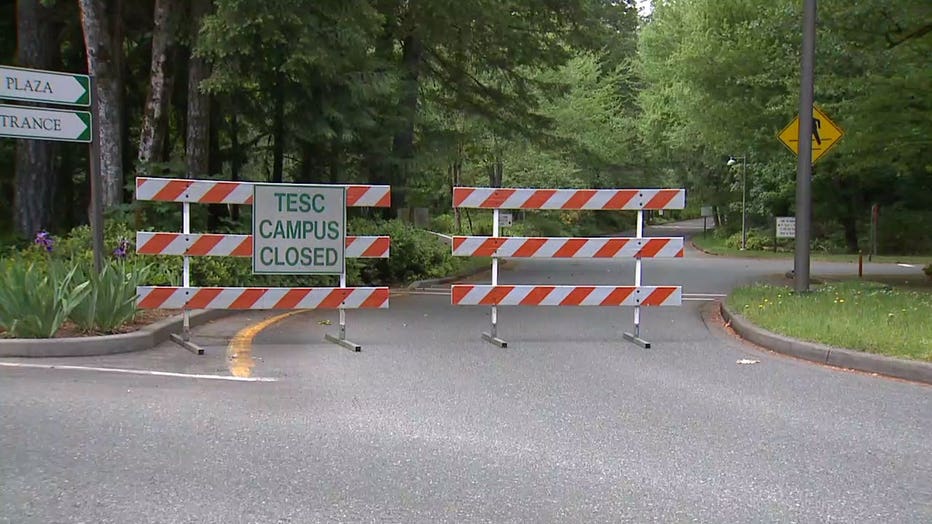 The Evergreen State College closed for two days in 2017 after a shooting threat.


The college shutdown for two days and graduation was moved off site.

"I think we were really blessed no one was hurt. There are so many campuses where people are getting shot," said Kaiser.

No shootings on Evergreen's campus, just yelling, pushing, and one arrest.

Red Square now is a much different scene, but still the center of lively discussion.  Kaiser says all students are welcome no matter if they identify as liberal or conservative.

"Be ready for discussion and engagement in a civil way," said Kaiser.

But Kaiser says the past incivility on campus is part of the reason why Evergreen has been experiencing enrollment decline for the past ten years.  Kaiser says that hurt funding.

"Some of those programs have been eliminated. We had to lay off a very few number of staff," said Kaiser.

Now, the school is reaching out to lawmakers to secure state funding.

"After the turmoil of 2017, we realized it was time for us to really speak out," said Kaiser.

Speak out about what the school has to offer.  Who knows better than Professor Richard Weiss who Q13 News met in the middle of a learning workshop.

"We give workshops that are multilevel so that people can do work at their own level and still make progress," said Evergreen State College Professor Richard Weiss.

He says its learning out of the box that really defines the college.

"We believe in academic freedom and we believe in people working across differences, so we want all views present," said Weiss.

You can find all view and all backgrounds on campus.  The school boasts the state's first Veterans Resource Center at a college campus.  Director Ryan Kelley says vets make up 10% of the school.  He says the resource center provides a one-stop-shop for veterans.

"We have interdisciplinary studies which is exactly the way the military works. The military doesn't teach you a subject. The military teaches you several different subjects and how they interact with each other and we do the exact same thing here," said Veterans Resource Center Director Ryan Kelley.

Evergreen has a home for indigenous people, too.  The Longhouse and Fiber Arts Studio is a meeting place for activities, events, and classes honoring the area's native heritage and students like Rafael PlentyWolf and Phoenix Dorsey.

"Evergreen was my top priority because it had the Longhouse and without the Longhouse I really don't know where I'd be right now," said Student Phoenix Dorsey.

PlentyWolf watched the chaos of 2017 from off-campus.

"When all the issues occurred during that year, it was good for me to take a step back and realize there are aspects of this institution that are difficult and still need to change," said Student Rafael PlentyWolf.

Despite the troubles in 2017, both students say they chose the Longhouse at Evergreen.

"This is still a place for me and we can come back from that and we can build it even better," said PlentyWolf.

A college amongst the trees, near the water, in the state's capitol with a unique learning strategy.

College officials say they're getting back to normal two years after the protests and shooting threat.  Students no longer participate in the Day of Absence that sparked the conflict in 2017.  The school famously known for not having traditional majors is now rolling out what they call 12 paths for a more direct plan for students to get specific degrees.