The Cascade foothills is cougar country, but deadly attacks are rare


NORTH BEND, Wash. -- Two friends in their 30s were mountain biking through the backwoods of the Cascade foothills Saturday when they noticed a cougar trailing them.

Officials with the Washington Department of Fish and Wildlife said the two screamed and even swung a bike at the animal, but it wasn't enough.

This footage of a cougar around the same area where two mountain bikers were attacked over the weekend was taken at the end of April by a hiker.


"We love seeing animals in their natural habitat and to see a mountain lion was incredible," said a hiker who uses a special camera to capture photos and videos of wild animals in this area.

A permit is required for recreational activities on this land which is private property in the remote, wooded area outside North Bend.

"I've seen bear up here a number of times, mountain lion, lots and lots of deer and other smaller animal like foxes," said hiker John Sowatsky.

The WDFW says this is prime habitat for a cougar but a deadly attack on a person is extremely rare.

"Humans aren't usually on the prey list for cougars," said Captain Alan Myers with the WDFW.

Teams with WDFW used bloodhounds to locate the cougar on Saturday. They shot the cougar a few hours after the attack.

Myers says the cougar was a 3-year-old male weighing 100 pounds. He says the animal was emaciated and skinnier than normal.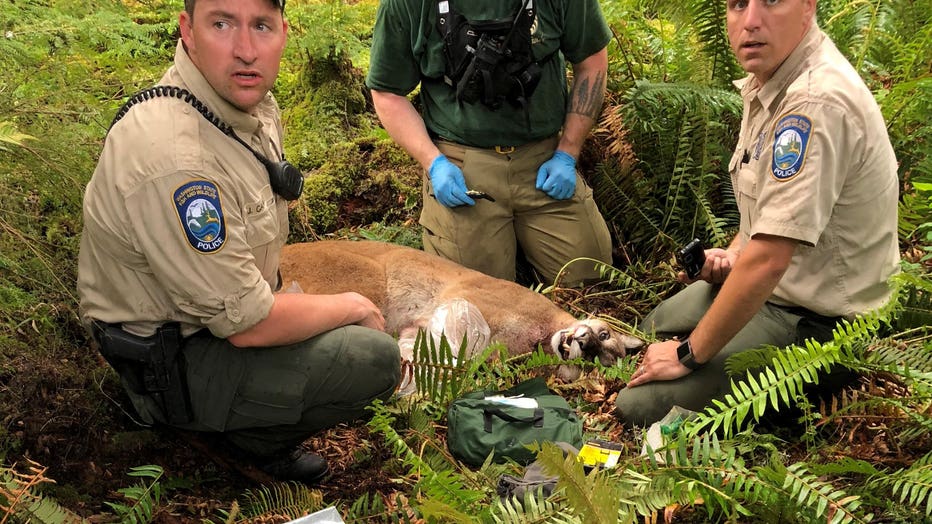 "At one point that victim reported his whole head was inside the jaws of that cougar," said Myers.

Myers says the last deadly attack on a human in Washington state happened in 1924 to a teenage boy in Okanogan county in eastern Washington. He says in the last century there have been 15 attacks by cougars on humans in the state but none have been deadly.

"People should be careful and understand they're in the woods with wildlife, bears, bear spray will work on cougars, but don't run, get big, scream and yell until it goes away," said Myers.

The cougar was taken to Washington State University in Pullman, where its brain will be examined in a necropsy procedure to see if it was sick or had any other medical reason to attack a human.




According to the WDFW, cougars eat small animals, not people.

They advise people never to run because a cougar's instinct is to chase. Never turn your back on a cougar and do not crouch or hide, instead get big, wave your arms and legs, throw rocks or any object at the cougar. The idea is to convince the cougar you aren't prey but a potential danger.

If the cougar attacks, fight back aggressively and stay on your feet. Cougars have been driven away by people who have fought back, the WDFW website states.