State says now it 'will take months' to fix stalled Big Bertha
SEATTLE -- The Washington State Department of Transportation dropped a bombshell in a late Monday night press release, saying it will now "take months" to repair or replace the seals on the $80 million Bertha tunneling machine that has been stalled under the city's streets since early December.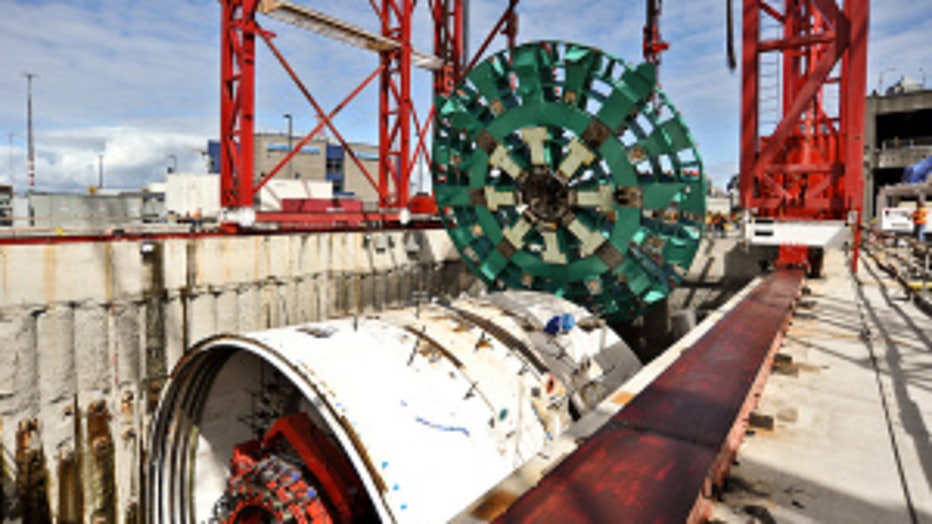 Bertha in the launch pit (Courtesy: WSDOT)


Bertha -- the world's largest tunneling machine that was built in Japan -- has been idle for the most part since early December. It was constructed to dig the State Route 99 tunnel along Seattle's waterfront that will replace the aging Alaskan Way Viaduct.  Bertha began its work July 30, 2013, but so far the  tunnel extends just over 1,000 feet -- about one-tenth of its projected 1.7 mile trip.

The tunnel was scheduled to open to drivers in late 2015. But Bertha sits idle, 80 feet below Seattle.

Inspections recently revealed that the seals on the machine's cutter head were contaminated with sand, dirt and water.

"Replacing the seals is a complicated process and STP (the contractor, Seattle Tunnel Partners) is working closely with Hitachi Zosen, the tunneling machine's manufacturer, to determine the best path forward.

"They are looking at two ways to access the seal area: through the back of the machine or by drilling an access shaft from the surface in front of the machine. Either way, this process will take months," WSDOT said in its Monday night press release.

"They expect to make a decision by the end of the week, and once they do, we will share that information with the public," the department said.

"STP has not yet fully determined the cause of the seal problems and to date, they have not shown any evidence that suggests the state or taxpayers will be responsible for cost overruns associated with these repairs. We have requested and expect detailed plans on how the repairs will be made and how STP can recover lost time on the tunneling project," WSDOT said.

The tunneling project was estimated to cost $4.25 billion, with $2.8 billion coming from the state and federal governments.

"Since the machine is stopped and repairs need to be made, STP has also informed the city of Seattle that they can proceed with seawall replacement construction near the machine's current location," WSDOT said.

The problems with Bertha have led some critics to compare the project to that of Boston's Big Dig project in the 1990s -- which became the most expensive highway project in the U.S. and was plagued by escalating costs, scheduling overruns, leaks, design flaws and charges of poor execution.