Small 'experts' pick out favorite holiday toys as part of Q13 Cares - Les Schwab Toy Drive (VIDEO)


SEATTLE -- With the mission of making sure every child has new toys this holiday season, the volunteer employees from Les Schwab Tire Centers and their kids went on a shopping spree this week at the Fred Meyer store in Ballard.

All of the toys are being donated to families from Bellingham to Centralia as part of the 3rd annual Les Schwab Toy Drive.

"We're your tire expert. We're your brake expert but tonight, we're here for the kids  and we want to buy a lot of toys. We want to help kick this toy drive off in the right way so we brought in our own experts," said store manager David McAllister.

They brought in eight kids who squealed with laughter as they picked out holiday gifts.

"You know, this is probably one of the most rewarding things we do all year," said Brett Clark, who served as a team leader helping the kids shop.

Once a child chose a toy, the other kids helped clear the shelves of all of them.

"It's a great process because these toys will go to a warehouse where they will be matched up with families whose kids want what we're buying tonight.  So, there will be a list and a child on it who says he wants Star Wars Legos and we're going to make that dream happen for him and we're going to get him that for Christmas," said McAllister.

They spent around $10,000 on new toys and are hoping you will help as well.

"Really, these kids did a great job. They're super excited tonight. The need is huge so we really need your help as well so if you can stop by your local Fred Meyer, pick up a new unwrapped toy, bring it into a Les Schwab Tire Center. We'll make sure it gets to the kids in need," said McAllister.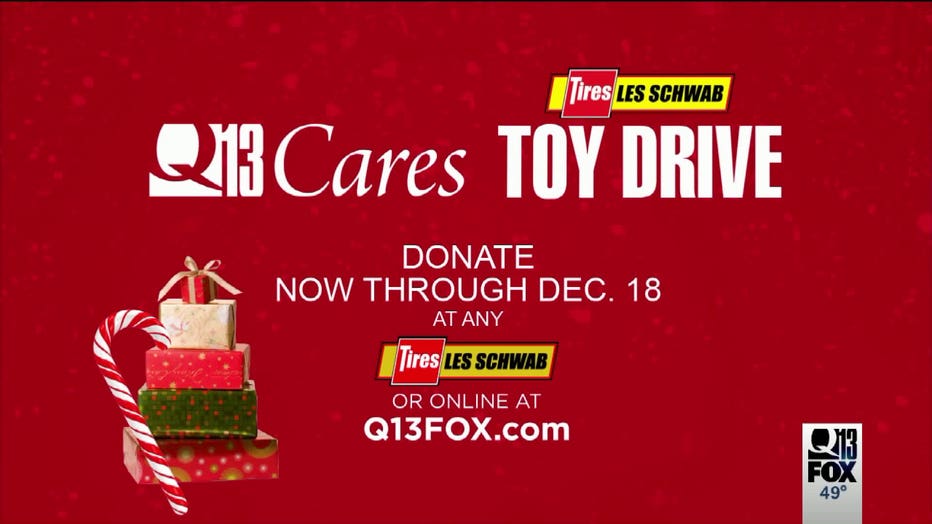 This year, thousands of families across Western Washington are struggling to afford gifts for Christmas. But there is something you can do to help.

Q13 Cares is joining with Les Schwab Tire Centers for our annual holiday toy drive.

If you'd like to make a child's holiday brighter, you can stop by any local Fred Meyer Les Schwab Tire Center now through December 18th and drop off a new, unwrapped toy, which will go to families in need in our community. Or you can make a cash donation at Q13FOX.com.

Last year, you helped collect 35,000 toys. So let's top that this year. Thank you from all of us for your donation.