'She kicks people when they're down'; Alleged fraud victim rips biological mom of missing child
GRAYS HARBOR COUNTY, Wash. - Jordan Bowers appeared before a judge in Grays Harbor County on Tuesday afternoon to face fraud charges. Her bond was set at $50,000.
Bowers has been under scrutiny for refusing to work with investigators after her biological child, Oakley Carlson, went missing. No one has seen her since Feb. 2021, a revelation that emerged in Dec. 2021.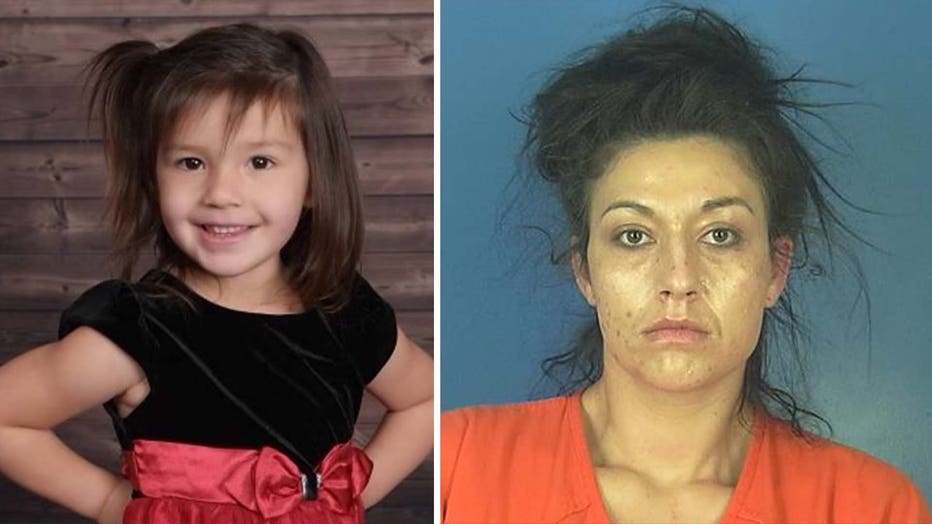 Bowers had been serving time in prison for two counts of child endangerment with a controlled substance, a crime that did not involve Oakley, but one of her other three children.
PREVIOUS COVERAGE: Oakley Carlson case: Mother released from jail, immediately arrested again on new charges
Tracy McGee-Mills was among the victims of the alleged fraud scheme – which took place before it was known that Oakley had disappeared. She told FOX 13 News that before the disappearance, before the court cases, Bowers seemed like a normal person.
"She has it together, has these kids and her husband that used to be on the police force," said McGee-Mills. "She seemed like a really nice woman."
She doesn't share the same sentiment today.
According to McGee-Mills, Bowers had helped her set up a 'Dave' credit card. She had lost her job and needed to pay a bill quickly, at the same time she was waiting on unemployment benefits.
A few months later, McGee-Mills said her unemployment money "went haywire," and she wasn't able to collect it.
At the height of the pandemic scams ran rampant. Millions of dollars went missing in the state of Washington alone. The FBI was involved in trying to recoup money from big-time fraudsters.
Court documents allege that Bowers was a small-scale fraudster—offering to help set up people's accounts, then routing the money to cards she took out in other people's names.
In fact, the scheme was uncovered thanks to a clogged toilet. Investigators looking for Oakley Carlson had went to an Extended Stay Inn located in Tumwater where Bowers, her husband and their other three children were staying. Bowers immediately checked out, and was later arrested – though hotel staff realized toilets in the room wouldn't flush.
While trying to unclog a toilet they found a credit card. Days later with the issue still present they removed the toilet and found two more credit cards – each card was linked to a different person, none had stayed in the hotel. Investigators discovered each of the people were linked to Bowers in some way.
McGee-Mills said it had taken some time before she realized what went wrong. She would spend hours on the phone unable to get ahold of a real person, and eventually was audited for misusing funds. She told FOX 13 News she's out $28,000 and has no idea how she'll pay it all back.
"She's an actress, she plays the part," said McGee-Mills. "I'm financially devastated. I haven't worked since May. There is no LNI. There is no SSA. There isn't any compensation. I'm living paycheck to pay—well, I don't have a paycheck. I'm living food bank to food stamp."
"She's just a bully. She really is a bully. She kicks people when they're down. She went after people that didn't have anything going for them."
McGee-Mills isn't alone. One alleged victim told investigators that Bowers regularly flaunted large casino winnings.
"He now believes the money was stolen from him," wrote a detective in documents.
A third person reported that they never received any money from two different unemployment periods, combined around $27,000 went missing.
Yet another victim, per court documents filed in Grays Harbor County, was Bowers' half-brother.
RELATED: Oakley Carlson: Reward for missing Washington girl now $85,000 one year after disappearance reported
Get breaking news alerts in the FREE FOX 13 Seattle app. Download for Apple iOS or Android. And sign up for BREAKING NEWS emails delivered straight to your inbox.
McGee-Mills is struggling to understand what she'll do next, though she told FOX 13 she realizes there are bigger issues at play.
"I don't care about the money," she said. "Just get that kid back. Get that kid back to the people she calls Mom and Dad."
Those people McGee-Mills refers to, Oakley's Mom and Dad, are her one-time foster parents: Erik and Jamie Jo Hiles. The couple had raised Oakley for nearly three years before they were ordered to return her to Bowers. 
"Before Oakley even left I brought it to DCYF's attention that she had been arrested for identity theft," said Hiles, not surprised by the latest arrest – but relieves to know she's off the streets.
"She is dangerous, and not just dangerous in the sense that she could hurt somebody. She's manipulative."
The Hiles family has spent months raising funds for a reward that could potentially bring Oakley home safely. 
Bower's husband, Andrew Carlson, was released from jail in August. Bowers could potentially be released as part of a pre-trial agreement if someone posts her bail, with bond set at $50,000 that would cost $5,000.  If released she'd be due back in court to face a judge for an arraignment later this month.