Seattle City Council unanimously approves $15 minimum wage plan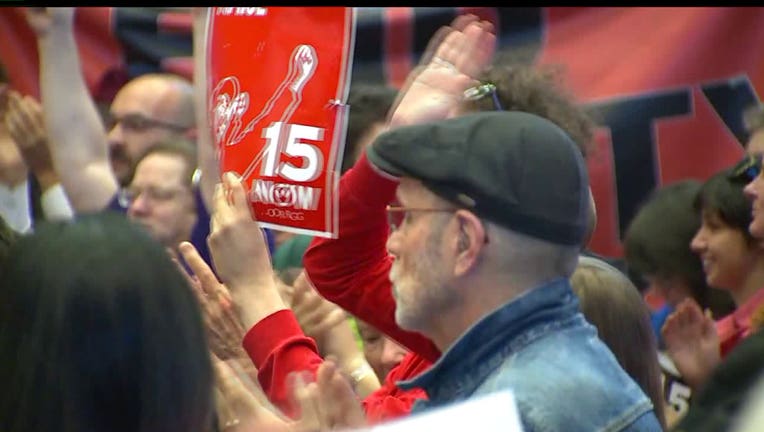 article


SEATTLE -- By a 9-0 vote, the Seattle City Council on Monday approved a bill to raise the minimum wage to $15 an hour, making Seattle the first major city in America to take such an action.

Beginning April 1, 2015, the legislation will phase-in a $15 per hour minimum wage annually over 3 to 7 years, depending on employer size.

The International Franchise Association immediately announced it would file a lawsuit to block what it calls an "unfair" and "discriminatory" plan that would harm franchisees -- those who own a local Subway or McDonald's but are considered a big business under the plan.

Just before the City Council vote, Sally Clark, chairwoman of the City Council's Select Committee on the Minimum Wage, said, "Today we answer President Obama's call and the moral call to address the plight of low wage workers. Seattle's new law puts low wage workers on a path to $15 and does it in a way that respects Seattle's love for local businesses and world-leading innovation."

Mayor Ed Murray applauded the City Council vote and added, "Some have called what we have done a radical experiment. I disagree. The real radical experiment has been the economic policy of the last 34 years that has dismantled our middle class.

"Today," he said, "we have taken bold action to begin to reverse that radical trend. Today we have taken action that will serve as a model for the rest of the nation to follow."

Murray signed the bill Tuesday in the courtyard outside the Cal Anderson Park shelter house.



Twenty-four percent of Seattle workers earn hourly wages of $15 per hour or less, and approximately 13.6 percent of the Seattle community lives below the federal poverty level, according to a University of Washington study.

Washington state's minimum wage is currently $9.32 per hour.  Effective April 1, 2015, the minimum wage in Seattle will be $10.00 or $11.00 per hour, depending on employer size.  A chart illustrating the subsequent annual minimum wage increase based on employer size is available here.

"With inaction at the state and national levels, it's time for cities to demonstrate bold and necessary leadership to address income inequality," City Council President Tim Burgess said. "Seattle has found a workable and careful compromise that recognizes both the harm caused by stagnant wages and the harm to local businesses should we move forward too quickly."

Socialist City Councilwoman Kshama Sawant, said, "We forced the city establishment to lift the wages of 100,000 low wage workers in Seattle – to transfer $3 billion from business to workers at the bottom of the wage scale over the next 10 years. We did this. Workers did this.

"Today's first victory for 15 will inspire people all over the nation," she said.

Mayor Ed Murray forwarded a proposal to the City Council after it had been developed by a stakeholder group, which included representatives of Seattle's business, labor and non–profit communities and three members of the City Council.

A council committee amended the proposal later to include a sub wage for workers under 18 and for those in training or apprentice programs.

Steve Caldeira, president and CEO of the International Franchise Association (IFA) released the statement below following the passage of the bill.

"The Seattle City Council and Mayor Murray's plan would force the 600 franchisees in Seattle, which own 1,700 franchise locations employing 19,000 workers, to adopt the full $15 minimum wage in 3 years, while most other small business owners would have seven years to adopt the $15 wage. These hundreds of franchise small business owners are being punished simply because they chose to operate as franchisees. Decades of legal precedent have held that franchise businesses are independently owned businesses and are not operated by the brand's corporate headquarters.

"The City Council's action today is unfair, discriminatory and a deliberate attempt to achieve a political agenda at the expense of small franchise business owners. By picking winners and losers among Seattle businesses, this policy flies in the face of all legal precedent and defies common sense.

"IFA has no choice but to file a legal challenge against the city of Seattle for this action. The suit will seek to overturn the unfair and discriminatory minimum wage plan that was approved by the City Council. IFA will fight to preserve the tenets of the franchise model, which has helped hundreds of thousands of people enjoy business ownership and created economic opportunity for many."

If approved, big businesses will have three years to phase in the increase. Smaller businesses will get five to seven years.



The plan will also allow lower wages for teenage workers and trainees.