Report: Logging OK'd in 2004 may have broken laws, created landslide risk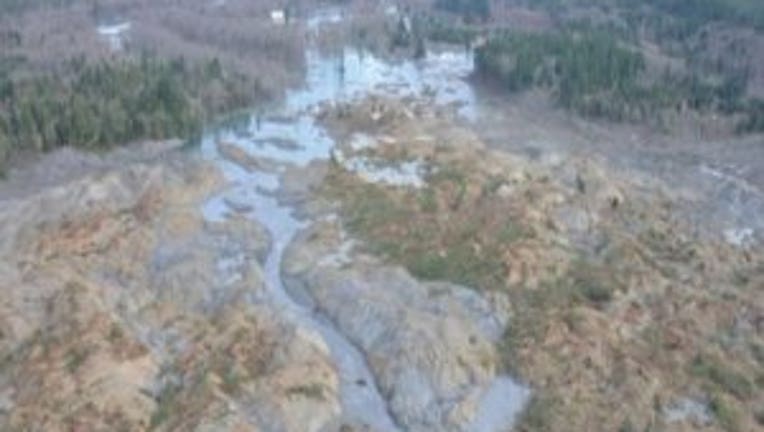 OSO -- A forest clear-cut approved nine years ago may have strayed over a boundary into a restricted area that could have fed groundwater into the landslide zone that collapsed near Oso last Saturday, the Seattle Times reported.

The Seattle Times analysis of government geographical data and maps suggests that logging company Grandy Lake Forest cut up to 350 feet past a state boundary, created because of landslide risks, the paper reported.

The Washington State Department of Natural Resources (DNR)  is supposed to verify a timber company's plans to cut a specific area, and then inspect the site after trees have been harvested. State Forester Aaron Everett reviewed records and said that it appears that some of Grandy Lake Forest's clear-cut went into the restricted area, the Times said.

Everett also said that DNR is looking for records to see if they inspected the site after it was logged.

On Thursday, the DNR released the following statement: "We are in the process of vigorously reviewing the history of forest practices in the surrounding region.

"There have been reports that harvesting may have occurred in a prohibited area designed to protect groundwater adjacent to the landslide during the previous DNR administration, but we are still investigating and ask that our inquiry be allowed to conclude before rushing to judgment."

The Seattle Times attempted to get a comment from Grandy Lake Forest, but the company has not returned phone calls.

A clear-cut's impact on groundwater can last from 16 to 27 year, according to a University of Washington geologist's report, the Times reported.

Everett told the paper that he wanted to consult scientists to determine if the clear-cut could have contributed to the slide.  He added that trees may have done little to prevent such a failure of the hill, the Times said.