'Q13 News This Morning' expands to Saturday and Sunday starting September 10 on JOEtv
SEATTLE -- Q13 FOX, Tribune Broadcasting's Seattle station today announced Q13 News This Morning is expanding from weekdays to Saturday and Sunday mornings from 6-10 am beginning Saturday, September 10th on JOEtv, (KZJO, Channel 22/Cable10.)

Currently airing Monday through Friday from 4:30-10 am on Q13 FOX (KCPQ, Channel 13), Q13 News This Morning is consistently rated Seattle's #1 or 2 morning news.

With four hours each day, Q13 News' weekend editions will have the most local morning news of any station. In order to schedule a block of news from 6-10 am, the newscast will be broadcast on JOEtv, Cable 10/Channel 22 instead of Q13 FOX which carries a variety of network programming on weekend mornings.
JOEtv is no stranger to news viewers however, as it is the nightly home of Q13 News at 9. Due to the stations' dedication to serving the local community, viewers have come to rely on both Q13 FOX and JOEtv as the home of engaging and vibrant local newscasts as well as the Seattle Seahawks, Sounders and Storm sports teams.

Q13 News This Morning on the weekends will feature a familiar face in anchor/reporter Alexandra Lewis, plus a newcomer to Q13 FOX, Brian Flores. Flores comes to Seattle after several years with FOX affiliate KTVU in the San Francisco Bay Area and stops in San Diego and the Tri-Cities. Rounding out the weekend crew will be weather anchor Erin Mayovsky on Saturdays and Meteorologist Rebecca Stevenson on Sundays. Bill Wixey will co-anchor the newscast on the first weekend, September 10 and 11 and provide regular original features thereafter.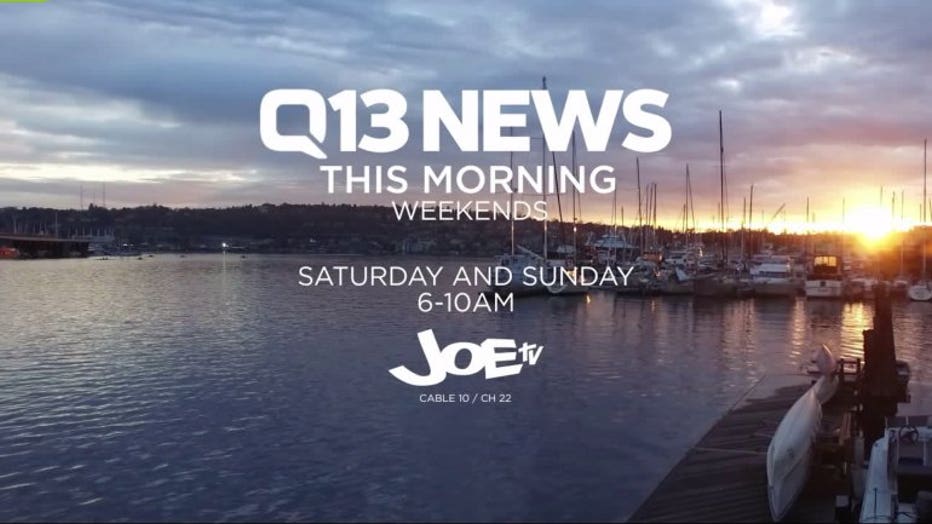 "We are excited to expand our successful weekday morning news into weekends with a team that viewers want to spend time with," said Erica Hill, News Director KCPQ/KZJO. "We know that weekends are important and we are looking forward to providing news, weather, stories and moments to help viewers plan their weekends and the week ahead."

The weekend editions of Q13 News This Morning will aim to "make the work week, worth it" by offering weather, traffic and breaking news specifically-focused on helping viewers' make the most of their much deserved weekend time. In addition to the latest local news coverage, the programs will provide a closer look into some of the previous week's biggest news stories, featuring regular contributions from the weekday Q13 News This Morning team. Liz Dueweke will bring her love of DIY and the latest Pinterest projects to viewers, while Kaci Aitchison and Travis Mayfield will dive deeper and follow up on the week's trending topics and viral stories. Veteran traffic reporter Adam Gehrke will help viewers navigate the roadways to successfully get to, from and around weekend events and construction.

Q13 FOX is also the exclusive home of the Seattle Seahawks, making Sundays on Q13 News This Morning the pregame destination for 'Hawks fans, with an exclusive 1 on 1 with Pete Carroll every Sunday and updates from Q13 Sports Director Aaron Levine and the Seahawks Gameday crew.

This fall will also feature Q13 News political analyst C.R. Douglas covering local and national politics in the lead up to the election.

###

ABOUT Q13 FOX AND JOEtv

Q13 FOX is the Seattle/Tacoma FOX Network affiliate and the home of Q13 News, which provides 10 hours of local news programming weekdays. Q13 FOX is the official television partner of the Seattle Seahawks, Sounders FC and WNBA Seattle Storm. JOEtv is the Seattle/Tacoma My Network TV affiliate broadcasting on channel 22 and carries a variety of entertainment programming in addition to Sounders FC matches, Storm games, and re-broadcasts of pre-season Seahawks games. In addition, Q13 News at 9 airs nightly on JOEtv and is the #1 nine o'clock news program in the market.