PROBLEM SOLVED: Seahawks fan makes hundreds of tiny 12 flags for Panthers playoff game
CHARLOTTE, N.C. -- Ahead of Sunday's match-up against the Carolina Panthers, the team warned Seahawks fans that their stadium rules won't allow your typical 12 flag.

Charlotte's Bank of America Stadium only lets flags in that are 2' by 2' or smaller, after an incident where Panthers QB Cam Newton tore down a large Packers sign in week 9.

So, one enterprising 12 took it upon herself to make things work.




Mandy Grimes originally hails from the Puyallup area, but had to relocate east for her husband's Navy assignment. They still try to catch every Hawks game nearby.

When Mandy heard about Carolina's flag rules, she went straight to the craft store and bought every bit of green and blue she could find.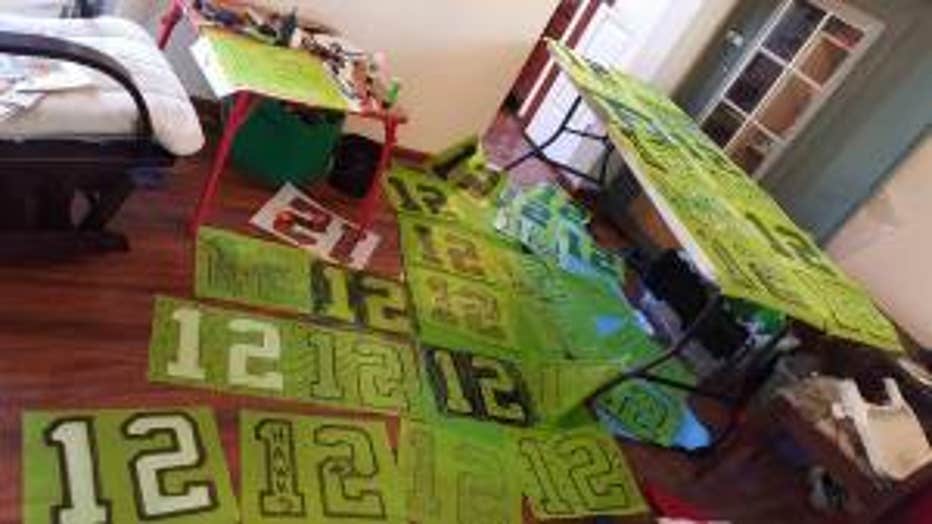 Mandy started making the tiny flags on Monday and she will put the finishing touches on them Saturday night.

She will be handing them out at the stadium on Sunday.

"Hey Cam, you wanna yank down all 282 of our flags? Bring it," Mandy said.

Remember, Q13 FOX is your official home of the Seahawks -- with exclusive access to the team. Tune in starting at 6 a.m. Sunday for Q13 News and Seahawks Gameday, leading you to kickoff at 10:05 a.m. It's all on Q13 FOX!