Priest accused of trying to lure 14-year-old girl into car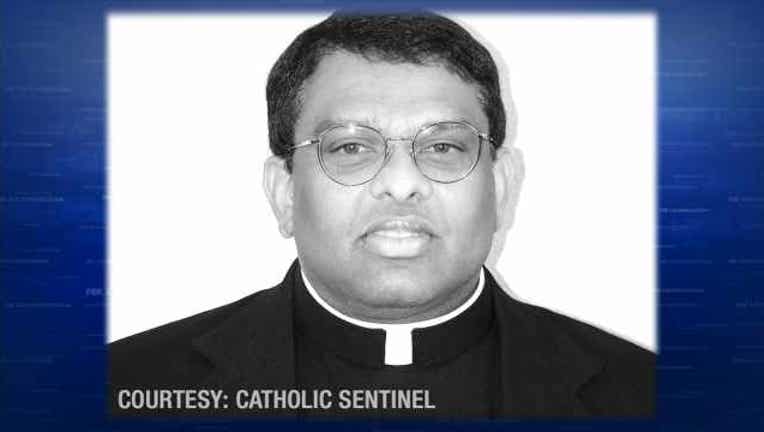 article


VANCOUVER, Wash (KPTV) -- A priest based in Scappoose, Ore., followed a Vancouver teenager for several blocks while trying to get her into his car, according to Clark County court documents.

The Rev. Michael T. Patrick has denied the allegation.

He was arrested on a warrant in Los Angeles last week after he returned from a trip to Australia. He will be brought to Vancouver to face a felony charge of luring.

According to court documents, a 14-year-old girl said she noticed a man she later identified as Patrick looking at her strangely from his car as she was walking home on March 10.

The man pulled his car to the side of Northeast 28th Street, near Northeast 138th Avenue, opened his window and said "something to the effect of 'hey, get in,'" court documents stated the girl told police.

The girl said no and continued walking down Northeast 28th, but the car followed behind her while the driver followed behind her offering rides.

Court documents said the driver continued following her when she turned onto Northeast 132nd Avenue and said, "Come on, cutie."

The girl ran up to a house until the man drove away. She took down the license plate, which police used to identify Patrick and find him at his home in Vancouver.

According to court documents, Patrick denied contacting any female pedestrians. The girl, however, identified Patrick as the driver who tried to lure her when police brought her to Patrick's neighborhood.

In addition to owning a home in Vancouver, Patrick lives at a church-owned house next to St. Wenceslaus Parish in Scappoose, Ore.

"I live directly across the street from his residence and I have a 9- and 11-year-old boy that play out here in the front yard," said Sonja Morton, who attends St. Wenceslaus. "So it does scare me and I'm disappointed and I'm hurt because I trusted him. I really did like him."

The Archdiocese of Portland said Patrick is suspended from the ministry until the case is concluded. The Archdiocese was unaware of the investigation until his arrest, according to a spokesman.

"Ultimately, we must trust in the justice system. We ask all to join us in prayer for justice," read the statement from the Archdiocese.