Police tell of showdown with Boston bombing suspects







BOSTON — The surviving suspect in the Boston Marathon bombings remained under heavy guard in a hospital Saturday, with an injury to his neck complicating how he would be interrogated and held for trial.


The neck wound apparently did not initially silenceDzhokhar Tsarnaev, 19, who was swearing profusely in the ambulance ride after his final confrontation with the FBI, according to a source familiar with the case. The Justice Department remained quiet Saturday on whether officials had been able to question Tsarnaev, or whether they would attempt to do so before he consults an attorney.

"We are hoping, for a host of reasons, that the suspect survives, because we have a million questions, and those questions need to be answered," Massachusetts Gov. Deval Patrick said.

As Boston residents jubilantly flocked back to public spaces such as the Boston Common and Fenway Park — where Neil Diamond led the Red Sox crowd in a rousing rendition of "Sweet Caroline" — there was yet another tragedy to commemorate.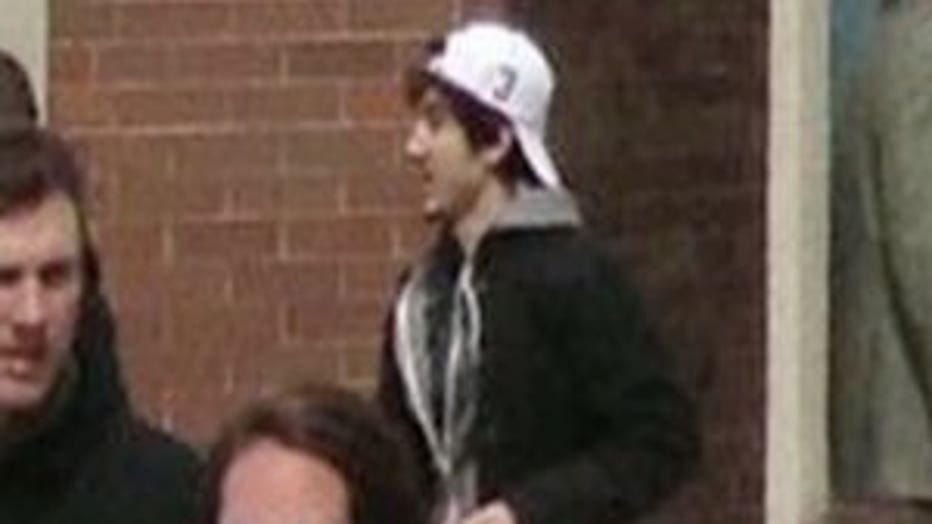 Thousands gathered in Wilmington, Mass., for a candlelight vigil in the hometown of Sean Collier, the MIT police officer fatally shot Thursday night before the bombing suspects' shootout with police in the suburb of Watertown. SuspectTamerlan Tsarnaev, 26, was killed in that gun battle.

A Boston transit police officer, Richard Donohue Jr., was shot later on and remains hospitalized in serious condition. At least 52 victims from Monday's marathon bombings are still in the hospital.

"There are people out there that want to attack this country," Collier's brother, Andrew Collier, told the crowd at the memorial. "They do it because they're jealous of what we have. All of you are here because they cannot take that away."

Near the scene of the bombings at the marathon finish line, which killed three people and injured more than 170 others, a makeshift memorial drew dozens of people Saturday morning.

Desta Alganesh wept as she watched her 12-year-old daughter, Eden Debebe, place a pink teddy bear at the memorial. They had attended the marathon and stood near the finish line but left 15 minutes before the bombings.

"Before, I felt safe. I didn't fear anything," Alganesh said. "But now, I can't trust people. We feel hopeless."

A top federal law enforcement official said the Tsarnaev brothers were carrying three firearms during the shootouts and manhunt in Boston, along with several improvised bombs.

The weapons will be traced to determine whether someone outside of the U.S. helped obtain them, the source said, speaking on condition of anonymity because the case is still evolving.

More details have begun to emerge on the dramatic shootout in which the elder Tsarnaev died early Friday, with Watertown Police Chief Edward Deveau describing how a single officer from his department faced down the two suspects in a hijacked vehicle.

The officer put his car in gear and jumped out of it, hoping they would think he was still in it as he fired from behind a tree, Deveau said. When additional officers arrived, the brothers hurled a pressure-cooker explosive at them, the chief said, similar to the ones that exploded during the marathon. The officers dove for cover, and the elder brother began walking toward them, shooting until his weapon wouldn't fire any more, Deveau said.

Tamerlan Tsarnaev fell as he took gunfire from the officers. As they were handcuffing him, the younger brother aimed the hijacked car at them, Deveau said. "He was going to run my three police officers over. They had to get out of the way. He ran over his own brother and dragged him down the street," he said.

About a block away, he said, Dzhokhar Tsarnaev jumped out of the car and escaped on foot.

By that time, Officer Donohue had been shot in the groin, and the officers decided to give him medical aid and look after the handcuffed suspect rather than give chase.

Dzhokhar Tsarnaev was later found Friday evening, wounded and huddled in a boat in a backyard about half a mile away.

Federal authorities were expected to file initial charges against Tsarnaev soon. The federal public defender's office in Massachusetts said it had agreed to represent him once he is charged.

Among the questions authorities now have for the surviving brother is what happened during a six-month trip his brother took to Russia in January 2012, including whether he met with extremists in the troubled republic of Dagestan, which for years has mounted a low-level insurgency against the government in Moscow.

The FBI had interviewed the older brother the year before in response to a request from a foreign government, which U.S. sources have confirmed was Russia. "The request stated that it was based on information that he was a follower of radical Islam and a strong believer, and that he had changed drastically since 2010 as he prepared to leave the United States," the FBI said in a statement.

But a longtime family friend, interviewed from the Dagestani capital of Makhachkala, where the brothers' parents live, said Tamerlan Tsarnaev spent the visit to Russia helping his father remodel a room on the ground floor of their home to turn it into a perfume shop.

"The boy wasn't gloomy, but he kept quiet and silent most of the time, as he was helping his father," said the friend, Vyacheslav Kazakevich.

The brothers' aunt, Maret Tsarnaeva, said her elder nephew was not an extremist.

"Yes, Tamerlan prayed. Does that actually make him a radical extremist?" she said in a telephone interview from Toronto.

She said her brother, Anzor Tsarnaev, was planning to travel soon to the United States to be with his surviving son and was troubled by allegations that his sons engineered Monday's bombings, which the family is convinced are unfounded.

"I sit in front of the television set paralyzed with grief, and am waiting in horror the news that Dzhokhar is dead," she said. "And then the United States, Russia and Chechnya will all celebrate their victory over terrorism and boast what a huge international plot they exposed."

A Russian security officer said Saturday that young people who immigrate to the U.S. from the North Caucasus may only seem to fully immerse themselves in their adopted culture.

"It is naive to think that young men from Chechnya, Dagestan and Ingushetia who come to the United States would integrate into American culture all that naturally and easily," said the official, who was not authorized to discuss the issue publicly. "They would go to American schools and play with American kids and then would come home where their tightly knit clan would pray together on the carpeted floor and then talk about U.S. imperialism and expansion."

U.S. investigators are increasingly firm in their belief that the Boston Marathon bombings were not orchestrated by Al Qaeda.

"This guy is probably not a Chechen separatist.... I suspect he wasn't recruited by Al Qaeda," said a senior counter-terrorism official who has been regularly briefed on the investigation.

Fellow Muslims at the mosque in Cambridge where the Tsarnaev brothers occasionally worshiped revealed that the elder brother had been counseled a few months ago after an angry outburst.

Tsarnaev became enraged when the imam held up a picture of slain civil rights leader Martin Luther King Jr. as an example of a man to emulate, several worshipers and mosque officials recalled.

He stood up and began shouting. "You cannot mention this guy, because he's not a Muslim!" one worshiper, who identified himself only as Muhammad, recalled Tsarnaev shouting. He said others in attendance were shocked.

"He's crazy to me," Muhammad said. "He had an anger inside.... I can't explain what was in his mind."

Anwar Kazmi, a trustee of the Cambridge mosque, said Tsarnaev was talked to later by religious leaders. "That was the only untoward sort of incident" involving the brothers, he said, adding that neither ever displayed any hints of violence.

Dzhokhar used to hang out with friends from the mosque, said Ty Barros, 21.

"He would drink with us, he would smoke with us. He wasn't too religious but he was Muslim, obviously," he said.

--By Andrew Tangel, Sergei L. Loiko and Alana Semuels, Los Angeles Times

Tangel and Semuels reported from Boston, Loiko from Moscow, Russia. Richard A. Serrano, Michael Mishak, Michael Memoli, Molly Hennessy-Fiske and Kim Murphy contributed to this report.