Police searching for driver of third car involved in 2-car rollover crash on I-5 in Tacoma
TACOMA, Wash. — Authorities opened a felony investigation Thursday after two drivers on Interstate 5 in Tacoma crashed, rolled over and hit a third vehicle. One person was seriously injured.

State Patrol spokeswoman Brooke Bova  said the incident happened about 1:50 p.m. Thursday on I-5 north between the exits for 72nd Street and 56th Street.

The State Patrol said a black Mazda MX5 and a yellow Kia Soul were headed northbound on I-5 just south of 56th Street in lane one. A third vehicle, a red passenger car, was also traveling northbound in an unknown lane.  The Mazda moved to the right shoulder to pass traffic and struck the Kia while attempting to re-enter the roadway. The Mazda and Kia rolled over, hit the third car, and came to rest on the right shoulder.

The third vehicle, the red car, continued northbound on I-5, but was believed to have sustained significant front-end damage.

The driver of the Mazda was identified as a 68-year-old Federal Way man; he was seriously injured. The driver of the Kia was identified as a 75-year-old Tacoma woman. She was injured also, but not as seriously.

The cause of the accident was listed as reckless driving, speed, and driving on the shoulder.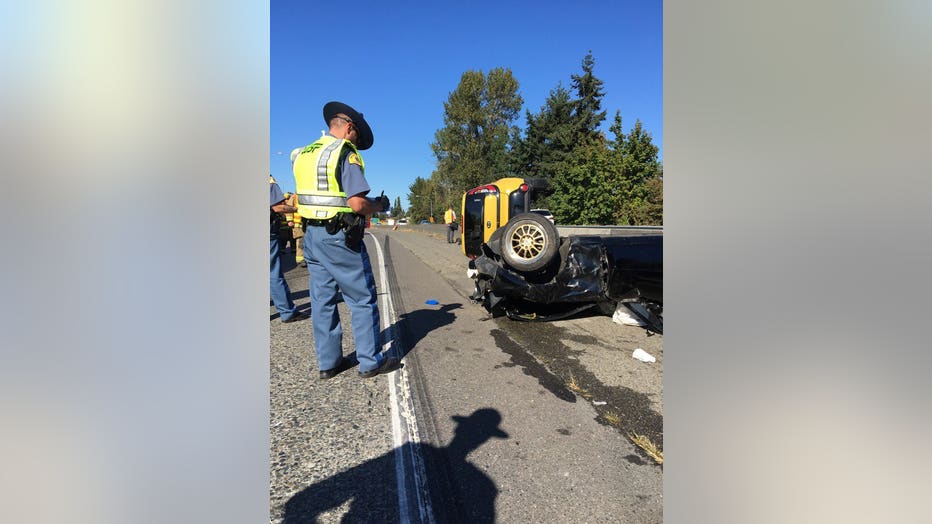 Authorities are searching for the driver of the red vehicle. Troopers said hand gestured were exchanged between that driver and the driver of the Mazda.