Police report 2 dead, more than 20 injured in Boston Marathon explosions


BOSTON -- Shortly after 4 p.m. EST Monday, Boston police reported that two people died and more than 20 were injured in explosions near the finish line of the Boston Marathon. The explosions happened about 2:45 p.m. EST.

At 1:29 p.m., Boston Mass General reported there were 16 people in the hospital, with 6 of those in critical condition.

The explosions left a wide swath of destruction and many of those injured were said to be spectators, witnesses told CNN. Authorities rushed to assist the injured and close off the scene.

It is not known what caused the blasts. The Boston Marathon reported on the group's Facebook that it was "two bombs" that exploded near the finish line.



[trib_ndn vid=24740141 freewheel=91045 site_section=dash]

Out of an abundance of caution, the Lenox Hotel was evacuated, the Boston Globe reported, as authorities looked into possible security concerns.

A White House official said that President Obama had been notified of the incident. " administration is in contact with state and local authorities. He directed his administration to provide whatever assistance is necessary in the investigation and response," the New York Times reported.

Video from the moment of one of the blasts showed some people who appeared to be knocked over and then got up, but the video did not clearly show spectators who may have been closer to the site of the blast.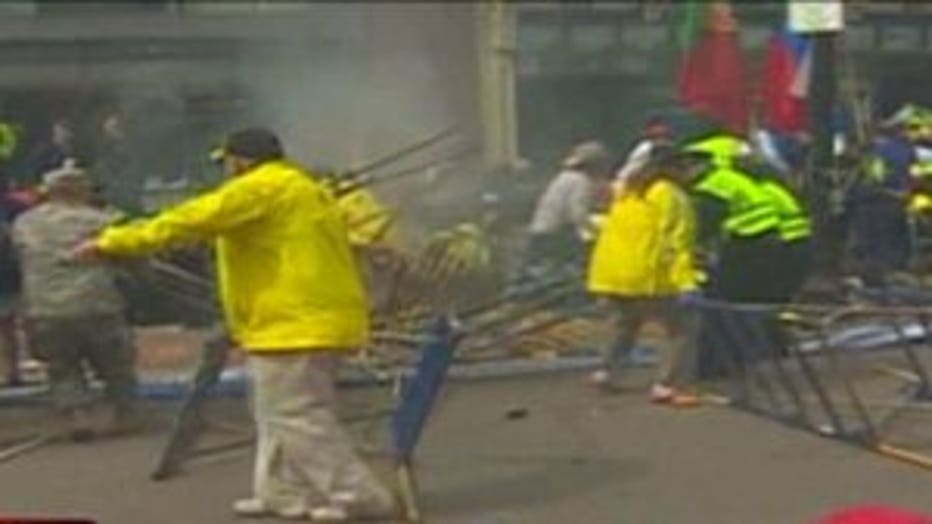 Mike Baingon, who works at the Atlantic Fish Company, said an explosion took place in front of the restaurant and that he was right by the front door at the time.

The explosions occurred at about 2:45 p.m., more than two hours after the first of the race's nearly 27,000 runners had crossed the finish line, CNN Producer Matt Frucci reported.

The race was halted after the explosions as was subway service into the area.

Troops from the Massachusetts National Guard were assisting police as well.

In New York City, authorities stepped up security as well "until more about the explosion is learned," Deputy Police Commissioner Paul Browne said.

The FAA reported that a Traffic Management Program was in effect for air traffic arriving at General Edward Lawrence Logan International Airport. For more information on potential flight delays, visit here.

-- Reporting by Josh Levs, CNN