Police: Gunman in body armor shot, taken into custody after hostage-taking in Parkland


PARKLAND, Wash. -- A heavily armed gunman wearing body armor was shot and taken into custody after a hostage-taking in Parkland Thursday night, Pierce County sheriff's officials said. No one was injured.

Sheriff's spokesman Ed Troyer said the suspect was wearing full body armor and had multiple long guns and a handgun and was "ready for a fight."

Officers fired one shot, hitting the suspect in the chest area, but because he was wearing heavy body armor, he will probably only be sore, Troyer said.

Troyer said the armed suspect entered the Sky Motors business in Parkland, took four people hostage  and fired off several rounds. The hostages were able to run out, but the person remained barricaded inside and was firing at deputies Thursday night, the Pierce County Sheriff's Department said.

Pierce County Sheriff Paul Pastor said it all began at about 8 p.m. when there was attempted armed robbery at a tire store. The suspect left there and ran into the Sky Motors  business next door, and four people were in there, Pastor said.

After the gunman fired off shots for some reason, Pastor said, three of the hostages were able to run out and escape, but the fourth one was pulled back inside by the gunman. When more shots were fired, the fourth hostage was able to escape, too, Pastor said.

No one was injured.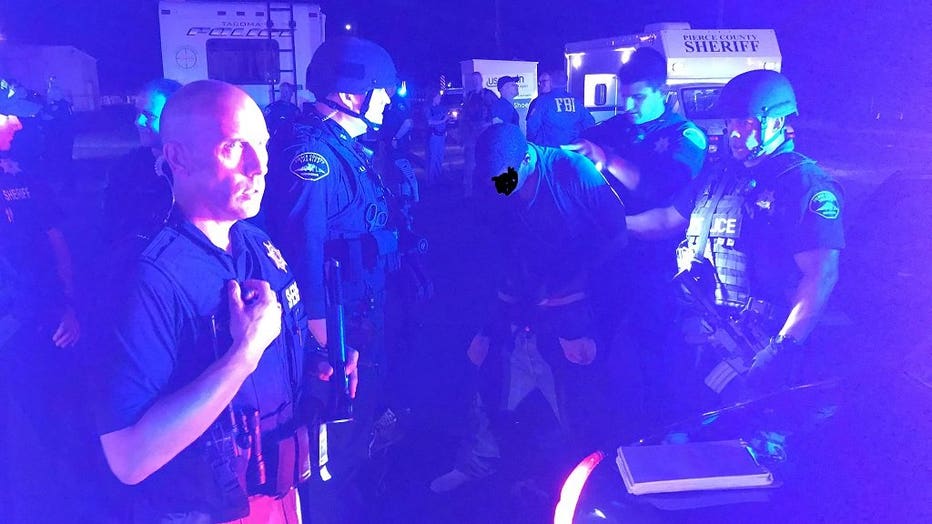 The standoff took place at 13401 Pacific Avenue -- Sky Motors, a used car business, the sheriff's department said.

"Multiple shots fired at deputies," the sheriff's department tweeted initially. "SWAT team on scene."

All lanes were closed between 132nd and 138th and Pacific Avenue in Spanaway. "Extreme danger multiple shots fired," the sheriff's department said.

"Hostage situation at 134th and Pacific Ave," it added.




"Body armor taken off suspect. Confirmed suspect was hit once in the vest by a round fired by our deputies, is being evaluated by medics but no serious injuries. No deputies or officers injured, no hostages injured, no bystanders injured." -- Pierce County Sheriff's Department