Parkland murder, kidnapping suspect arrested
PARKLAND, Wash. - The Pierce County Sheriff's Department arrested Cayden Lee Osley, who was wanted on murder and kidnappings charges. He was arrested at his home in Spanaway on Jan. 21. 
Authorities say on Jan. 1, 21-year-old Osley shot and killed 40-year-old Surin Lay. Detectives say Osley was in a parked car with Lay and another man in Parkland. 
He was sitting in the front passenger seat with the Lay sitting behind the driver. 
According to court documents, Lay was offering to get Osley a job when 'the defendant without provocation drew a semi-automatic pistol and shot the victim one time while the victim was seated in the back'. 
It was later determined that Lay was shot once in the right jaw. 
The driver of the car told detectives that he asked Osley why he shot the Lay and Osley replied, "I thought I was supposed to." 
The driver says Osley then pointed the handgun at him and ordered him to drive him to 102nd and Ainsworth which he did. Osley then got out of the car and left on foot. 
Deputies found Lay dead in the red Honda that had been left in the area of South Wheeler Street and Ainsworth. 
Lay leaves behind a large family including a daughter and his long time girlfriend.  
"We dated 17 years ago and it didn't work out.  Seventeen years later, we found our way back together and he was like my soulmate so at the end of the day. He found his way back to me after 17 years so we were trying to continue what we had back then and unfortunately, that won't be able to happen anymore because he's not here," said Tu Son.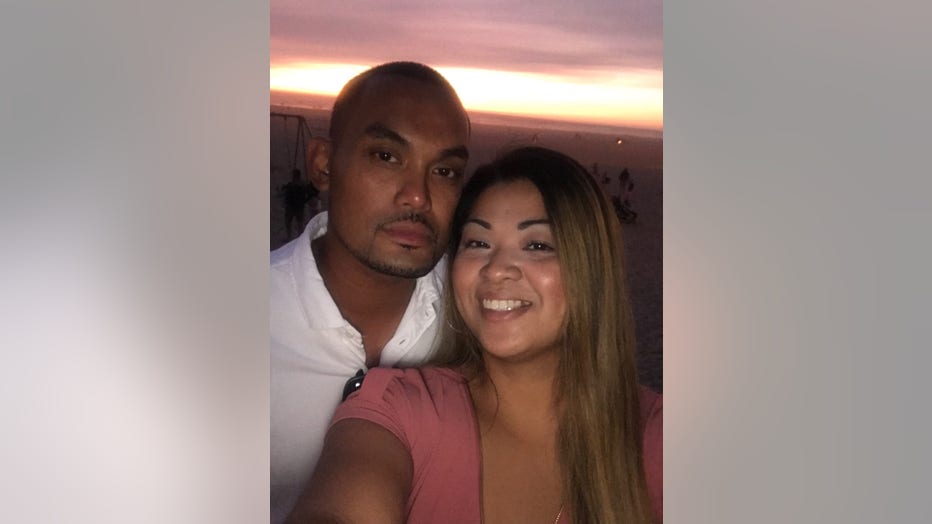 Surin Lay and Tu Son were planning a future together before his murder 
Instead of planning a future together, she was planning a funeral. 
"We have to lay somebody to rest because of what he did and it's not fair that he's still out there," said Son. 
Osley is also charged with assault and kidnapping for allegedly stabbing his girlfriend with a knife on November 28, 2021. He was never arrested in that case. A bench warrant for his arrest was issued for after he was charged.
"He's done it to his ex-girlfriend. He's still out there on the streets. Who knows if he's going to do it again. I know that there's a lot of people out there that know where he's at.  I don't know if they are trying to save him, hide him or what, but they need to do the right thing and turn him in because he shouldn't be out there on the streets," said Son. 
Osley is being held on $1.5 million bail. 
RELATED: Seattle Police looking for suspects in violent armed robbery in U-District
READ MORE: Police: Armed robbery suspect shot, killed by victim
Get breaking news alerts in the FREE FOX 13 Seattle app. Download for Apple iOS or Android.
Stay connected with FOX 13 News on all platforms:
DOWNLOAD: FOX 13 News and Weather Apps
WATCH: FOX 13 News Live
SUBSCRIBE: FOX 13 on YouTube
DAILY BRIEF: Sign Up For Our Newsletter
FOLLOW: Facebook | Twitter | Instagram