Obama salutes Super Bowl champs: 'I've always rooted for underdogs'


SEATTLE -- As the Seattle Seahawks filed into the East Room of the White House Tuesday afternoon to celebrate their championship season, President Barack Obama couldn't help but poke fun at Richard Sherman.

"I would let him up here," Carroll said. "But we have to get going in a little bit."

All jokes aside, President Obama seemed generally pleased to meet the 2013 Seahawks team. Complimenting their "stifling defense," running game and overall coaching, Obama said he took pride in seeing a team that was for so long viewed as an underdog rise to the top.

"I always root for the underdogs," Obama said.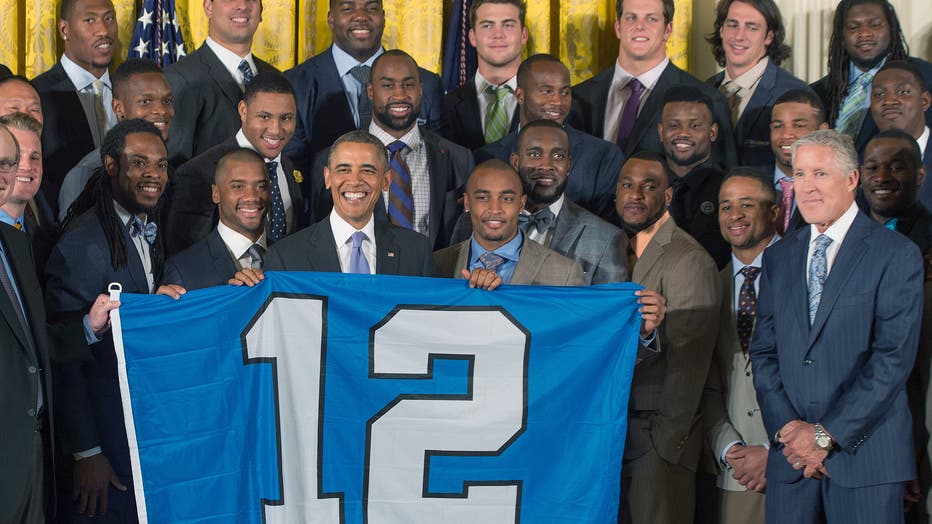 US President Barack Obama poses with the Super Bowl XLVIII Champions Seattle Seahawks during an event at the White House in Washington, DC, May 21, 2014. AFP PHOTO / Jim WATSON (Photo credit should read JIM WATSON/AFP/Getty Images)


Obama's statements to the Hawks and fans -- who erupted in "Sea-Hawks" chants shortly before the president arrived in the East Room -- were brief, but it didn't stop the players from truly reveling in their White House experience. Players flew into Washington D.C. Wednesday, and were able to tour the White House before meeting the president.

Wide receiver Doug Baldwin Jr. had said before the meeting that he was hoping to grab some napkins or something with the White House logo on it as a souvenir.

Sure enough, after the meeting, Baldwin pulled some paper White House napkins, logo and all, from his coat pocket.

Many of the players tweeted their joy at the experience.




The trip was perhaps best summed up when Obama held up a 12th Man flag presented to him by Richard Sherman.

"You can't mention the Seahawks without mentioning the 12th Man," Obama said.

It caps the Hawks' spectacular 2013 season, where the team went 13-3, and beat the Denver Broncos 43-8 in Super Bowl XLVIII.

The Seahawks became another NFL team in a long list of teams to visit the White House after winning a Super Bowl, starting when the NY Jets won in 1969.

For more on the Seahawks trip to the White House, visit here.