Murder victim exhumed 25 years later: 'We never found out who he was'


SUMNER, Wash. -- Pierce County sheriff's detectives and members of the medical examiner's office spent a foggy and eerie morning Tuesday at Sumner Cemetery exhuming the body of a man murdered in 1989.

"We found him on the banks of the Carbon River," Pierce County sheriff's detective Ed Troyer said. "He died from what appeared to be an obvious stab wound. We never found out who he was."

The victim was buried in the cemetery off Valley Avenue East when the case turned cold.

"Well, it's the last thing we want to do is unearth somebody, but it's important to find out who he is. That way his family can find closure and we can find out who killed him and without that, we're not going to be able to get those answers," Troyer said.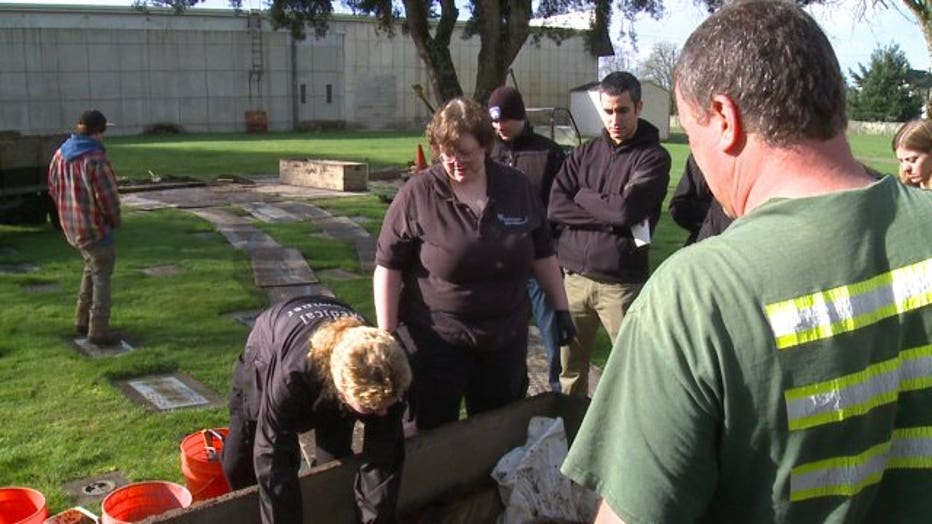 Coffin of 1989 murder victim is unearthed in Sumner Tuesday (March 11, 2014) so officials can attempt DNA identification. (Photo: KCPQ-TV)


Detectives are getting help from Tacoma Police Department's Cold Case Unit and King County's forensic anthropologist, Dr. Kathy Taylor, who is nationally known as one of the top scientists in her field.

"We hope to just bring the case alive again and get it in the minds of people and, in the case of a homicide, how can you solve a homicide if you don't know who your victim is?"  Taylor said.

The victim's remains were protectively wrapped in two layers of plastic and tucked into a coffin encased in a concrete container.

Taylor is hopeful they can get the DNA they need to enter into a national missing person's database.  She said it falls to families to make sure they check with police on any loved one who has gone missing.

"People need to realize that if they reported somebody missing in the '60s, '70s, even '80s, call law enforcement and make sure that report still exists and then say, Hey, can I give my DNA?" she said.

Exhuming the body of a murder victim is a rare step but one Pierce County detectives feel is needed as they try to identify the victim and catch his killer.

"Always hold out hope for us to solve the case or find your loved one because we have people that don't quit, as you can see by today," Troyer said. "This was years ago and there are a lot of people out here who care and they're still working on it."