Missing Seattle-based crab boat found on ocean floor
SEATTLE -- A Seattle-based crab boat lost since February was found on the seafloor. The Destination and its six crew members went missing on February 11, 2017, while fishing for snow crab northwest of St. George, Alaska.

Related: Crew of TV's 'Deadliest Catch' mourn loss of Seattle-based crab boat Destination

NOAA confirmed Thursday that two ships, en route to scientific missions in Alaskan waters, helped find Destination.

NOAA Ship Oscar Dyson conducted the first survey from April 30 through May 1. NOAA said the Dyson used its multibeam echo sounder to search the area around the last known position of the Destination.

While the ship was not able to positively identify any contacts, it did narrow the search area.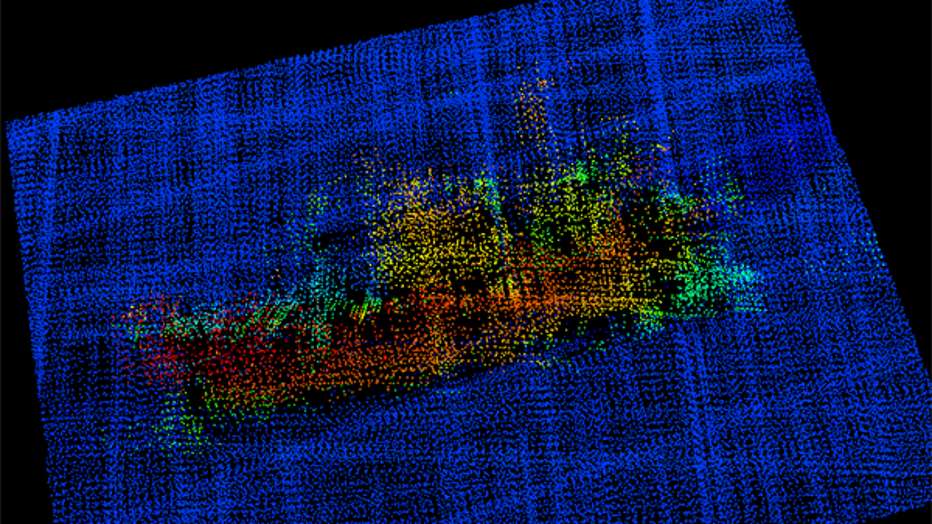 From above, the profile of the vessel is clearly visible, including the bulbous bow to the right, the forward house and mast, equipment (likely crab pots) stacked amidships, the deck crane aft, and the skeg and rudder. (Credit: NOAA/USCG)


A second survey by NOAA Ship Fairweather was conducted on July 8 and 9. The Fairweather used its multibeam sonar, designed for seafloor mapping and object detection, to locate the Destination in approximately 250 feet of water.

A U.S. Coast Guard dive team aboard Coast Guard Cutter Healy will use a remotely operated vehicle to investigate the wreckage in July.

Imagery from that mission will provide visual confirmation of the wreck site and become part of the Coast Guard's Marine Board of Investigation.

"The Marine Board appreciates NOAA's help in locating the wreckage of the F/V Destination," said Commander Scott Muller, U.S. Coast Guard, chairman of the Marine Board of Investigation. "The vessel location is an instrumental piece of our investigation. We have a long partnership with NOAA to support the safety of those on the sea and appreciate their assistance in this and past investigations."

"The crew and officers of Oscar Dyson and Fairweather were honored to assist the Coast Guard in this investigation," said Captain Keith Roberts, NOAA Corps, commanding officer of NOAA's Marine Operations Center - Pacific. "Our thoughts are with the families and loved ones of those lost aboard the Destination."