Suspect charged in 'unprovoked' murder of man listening to music in his car outside Olympia WinCo
OLYMPIA, Wash. - Thurston County Prosecutors have charged 23-year-old John T. Nguyen with one count of first-degree murder while armed with a firearm and one count of second-degree murder while armed with a firearm in connection to the apparently random shooting death of a man in Olympia.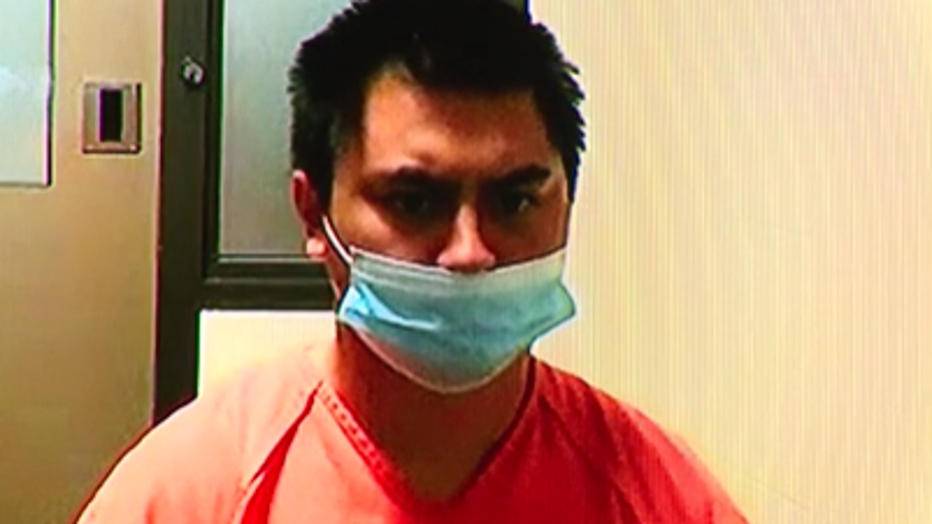 Thurston County Prosecutors charged John T. Nguyen with one count of Murder in the first degree While Armed with a Firearm and one count of Murder in the Second Degree While Armed with a Firearm.
Detectives say he shot and killed a 26-year-old man from Tumwater in what deputies are calling a "seemingly unprovoked" shooting at a WinCo Foods parking lot in Olympia on Saturday, September 17. 
A man called 911 around 10:15 p.m. to report that he left WinCo and returned to his car, only to find his brother, Ronald Taufa'ase'e, dead inside the car from multiple gunshot wounds. Prosecutors said it was "evident" the victim had 10 gunshot wounds to his neck and body. 
Prosecutors say the victim was in his car with the windows rolled up and earbuds in when Nguyen shot him multiple times through the closed window. 
Deputies were previously called to the area around 9:45 p.m. for reports of shots fired, but they were unable to find the source of the complaint. They did notice a man walking in that area at the time, and once the victim's brother called 911, they put out an alert to locate the man. 
A Lacey Police officer located Nguyen around 10:30 p.m. in the 6500 block of Martin Way East, about a mile away from WinCo.   He was detained without incident. 
However, once placed in the back of the patrol car, police said he started yelling at them to let him out of the car. He also started yelling that "he was going to kill the law enforcement officers on scene, kill their families, and burn their houses," according to court documents. 
A search warrant was obtained and police found a 9mm pistol and ammo in the suspect's backpack. The 9mm rounds located inside the backpack matched the bullet and casings found at the scene, prosecutors said. 
"At this time, it does not appear that the victim and suspect were connected in any way," Thurston County Sheriff's Office officials said in a news release.
"He doesn't deserve to be out and enjoy his life," said Anna Petelo.   Petelo is Taufa'ase'e's sister. She spoke during the hearing and asked the judge to withhold bail.
"At least some relief, some justice for Ronald. But I'm hurt, and we're all hurt, and we're all grieving because he doesn't deserve this," said Anna Petelo.
According to prosecutors, filing the charges of Murder 1st Degree and Murder 2nd Degree concurrently rather than alternatively requires the jury to return a verdict on both charges whereas charging in the alternative may result in the jury returning a verdict on one or the other.In this case, though, the defendant is charged with both counts.
Nguyen is being held without bail pending his arraignment scheduled for October 4 at 9 a.m. 
The shooting is still under investigation. If you have any information that could help investigators, contact detectives@co.thurston.wa.us.