Is violence new May Day tradition?


SEATTLE -- It was May Day mayhem that forced several Seattle businesses to pick up the pieces.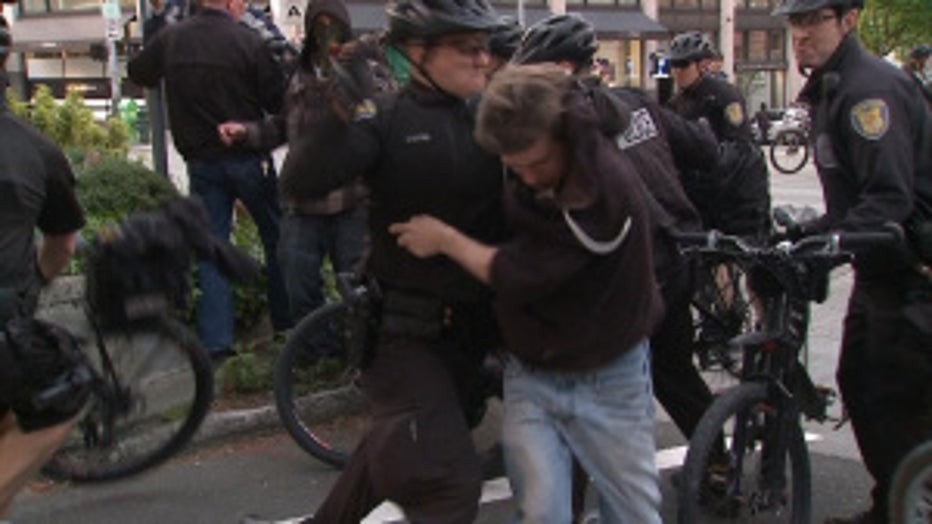 Sun Liquor Distillery boarded up their smashed glass door by Thursday . The random attack happened while dozens of patrons were inside enjoying the night Wednesday. Some businesses now say it is unfortunate that May Day is getting a dangerous reputation.

Anarchists took over the streets of Capitol Hill.

The angry verbal attacks soon escalated into property damage.

"I called the owner to fix it I tried to calm everybody down of course they were busy at that time so it was even more stressful," said Sun Liquor Distillery manager Eli Hetrick.

Seattle businesses and taxpayers are yet again fronting the cost for May Day clean up.  The exact price tag is being calculated but easily in the thousands according to the city.

"it is unfortunate because it ruins the credibility of these movements you know by the actions of a few," said Hetrick.

Historically  May Day is about employee rights and immigration reform. Latino Advocacy helped organize the thousands who marched peacefully.

"We want to make it clear that we are not a part of that we are a separate group we've been doing this for many years," said Maru Mora Villalpando.

For decades May Day had purpose but now it is getting a dangerous reputation something Latino Advocacy wants nothing to do with.

"it is disappointing I don't want to lie to you I don't like it," said Villalpando.

Mayor Mike McGinn is certainly disappointed as well.

"I sure hope not we are a bigger better city than this you know I look at this and I am disappointed that this is what the world sees of us," said
McGinn. Seattle Police are also determined to not let anarchists hijack May Day for good.

"The city of Seattle is better than that I don't think as someone who works here I would let 50 to 60 if that many define what the city of Seattle is," said
Seattle Police Assistant Chief Paul McDonagh.