Hundreds still missing in South Korean ferry disaster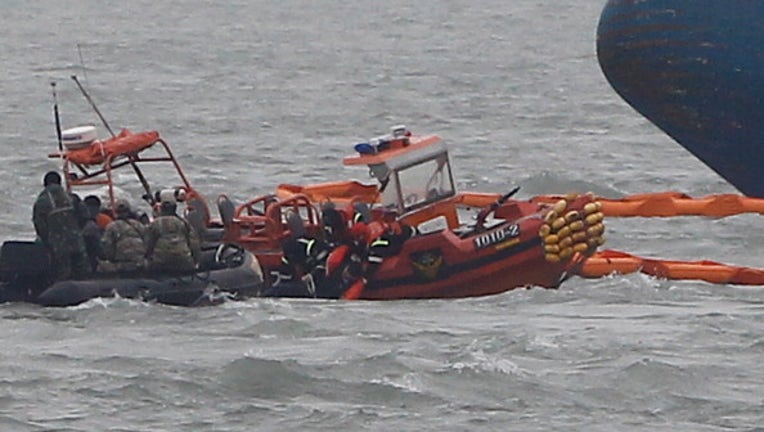 article
SEOUL -- Anguished relatives of missing South Korean ferry passengers waited sullenly for answers Thursday as rescuers fought bad weather, murky water, darkness and time to find a way deep into the capsized ship.
Authorities believe 287 people -- many of them high school students on a field trip -- remain trapped inside the five-story ship. At least some, authorities say, could still be alive more than a day after the ship rolled over.
Meanwhile, the ferry's captain is facing mounting questions about the incident.
Among other things, authorities are investigating the possibility the ship was off course when it ran into trouble, as well as reports that few of its lifeboats made it into the water, according to Kim Soo Hyeon, the chief of South Korea's Yellow Sea Maritime Police Agency.
Ferry captain Lee Joon Suk, his head and face covered, broke down in tears when reporters asked if he had anything to say.
"I am sorry, I am at a loss for words," Lee said at a South Korean Coast Guard office.
Nine people were known dead. As of Thursday night, at least 179 had been rescued.
Weather hinders rescue
More than 170 ships and 512 divers have swarmed the ferry about 20 kilometers (12 miles) from the Jindo, South Korea, harbor where relatives have gathered.
But poor conditions have kept rescuers from reaching parts of the ship where air pockets could be sustaining survivors, authorities said.
Relentless rain, whipping winds and thick fog stymied rescue efforts Thursday. Three of the 22 volunteer divers who joined the search went missing in high tide but were later found, YTN said.
Efforts to pump air into the ship also failed because of the bad weather.
Despite government assurances that rescuers would work around the clock to save lives, some relatives were angry about the pace of the rescue operation.
"If the government cares for the people, our family, our children, please rescue our families and our children," said Chang Min, whose second-grade son is among the missing.
'Don't move'
The ferry, which is designed to carry cargo and vehicles as well as passengers, was on a routine passage between Incheon and the resort island of Jeju when something went awry shortly before 9 a.m. Tuesday.
On board were more than 300 Seoul high school students and teachers on a four-day trip to the island.
Passengers told CNN affiliate YTN that the ship began to sharply list and there were loud banging sounds about the same time.
Announcements broadcast over the ship's loudspeakers urged passengers to stay put.
"Don't move," a voice warned, according to a recording obtained by CNN affiliate YTN. "If you move, it's dangerous. Don't move."
Student Lim Hyung Min, who was rescued, told YTN he heard a bang before the ship began to list.
"The students were falling over and crashing into things and bleeding," Lim said.
Rescue helicopters plucked some passengers from the ship as it lay on its side before capsizing. Crews of fishing vessels and military ships that raced to the scene in a heavily used sea lane pulled others from the water.
Few passengers made it to lifeboats.
Social media video acquired by CNN affiliate JTBC showed at least 12 of the white survival capsules still attached to the ferry even as it was keeled over in the water.
It was unclear, however, exactly how many lifeboats had deployed. Initial reports from YTN said it was one, but the JTBC video shows what appears to be two lifeboats next to the ship.
CNN has not been able to independently confirm the reports.
Hopes for survivors
While no one knows if any of the 287 people who remain missing are still alive, authorities said they were operating under the assumption that there are survivors.
That hope largely hinges on whether trapped passengers are in isolated pockets of air on the ship.
"From the images that I've seen, there's clearly some areas of the hull that are above the water, that are not flooded," Mike Dean, the U.S. Navy deputy director for salvage and diving, told "CNN Tonight."
"So absolutely, there could be areas in there where there is breathable air, but the trouble right now is the temperature and getting people to them."
Most passenger bedrooms were on the fourth level of the five-floor boat, which is now upside down. Divers tried at least six times to enter the submerged cabins but were unable to get in, Kim said.
Rescuers will try to pump air into the ship again Friday, authorities said.
Anguish and impatience
At the Paeng Mok Harbor in Jindo, some family members of the missing passed the hours Thursday staring at the water.
They huddled in gray ponchos, crying and comforting one another. Some checked their cell phones constantly, hoping to see a new text message from their missing loved one.
Others vented their anger about the pace of the progress, throwing chairs in frustration.
Some parents took a boat toward the accident site, YTN said. But the boat turned back after several of them became so distraught that they fainted.
At least one parent blamed herself.
Christine Kim's daughter didn't want to go on her school's field trip to Jeju. After all, she had just visited the island two months ago.
But Kim urged her to go.
"I told her, 'I think this trip will be (a) very great experience for you,' " the mother said.
Now, she's wracked with guilt as she waits at the dreary harbor. She's been sitting in the cold rain for more than a day.
"How can I sleep when my daughter is in the cold ocean?"
Explanations elusive
South Korean media reported Thursday that investigators were looking at the possibility that the ship may have taken a sharp turn, causing vehicles and cargo aboard to shift and forcing the ship off balance.
CNN has not confirmed those reports.
Kim, the maritime police chief, said that it appears the ship had deviated from its planned route but that it did not appear it had hit a rock.
That information conflicted with an earlier statement by a spokesman for the South Korean Oceans and Fisheries Ministry, who said the ship was not significantly off its planned course.
CNN transportation safety analyst Mary Schiavo said she believed the ship may have struck something, while retired freighter captain Jim Staples said the ship may have been trying to make up speed after departing two hours late from Incheon because of fog.
The ship's operator, Chonghaejin Marine Corp., had no explanation -- only apologies.
"We deeply apologize to the families, and I'm saying once again we're really sorry," Chonghaejin executive Kim Young-bung said.
"Our company will promise that we will do our best not to lose any more lives."
The president of the company tried to venture out to the sunken ferry but he, too, collapsed and was taken to a hospital.