Helmet wraps get toddlers ready for Super Bowl


TACOMA – Washingtonians have been talking about the 12th Man for months now – but they've never met one like this before.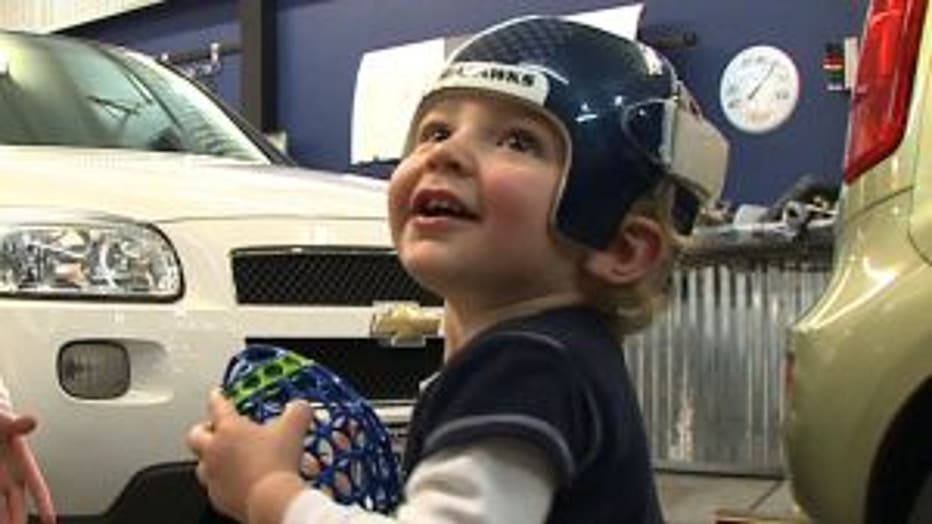 A graphic design company in Tacoma is going above and beyond to make sure toddlers with 'flat head syndrome' can represent the Seahawks on Sunday.

Wrapjax of Tacoma is used to covering cars with advertisements, but ever since the Seahawks' season of magic, they're now branching out to help the little guys.

"We're giving these away. It's good for the families, its good for the Hawks, it's win-win on all fronts," said Q. Steckler of Wrapjax.

Steckler has a nephew with 'flat head syndrome,' and the boy had to wear a plain, white helmet

"Just to kind of shape their skulls, to protect them," said Steckler. "Kids sleep on one side for too long and can develop a soft spot."

Little 15-month-old Tyler Hubschmitt has been wearing a helmet for about five months to correct his problem, and the odd looks from strangers can take its toll on families.

"Some people are really good with it, some point and stare," said Tyler's mother, Amanda Hubschmitt.

For nearly a dozen families with little one's dealing with the syndrome, Wrapjax has covered the helmets with Seahawks decals – free of charge.

"We have the material, we print up some special smaller decals that are scaled to fit the helmets," said Steckler. "We donate the material and the labor."

The helmet wraps are crafted with spectacular precision.

Parents can even choose which numbers don the helmet, but most are picking 12.