Governor's race enters final day
SEATTLE—
Just a day to go before the election, Rob McKenna and Jay Inslee took their campaigns for governor to students hoping to drive up youth turnout in this too-close-to-call race.

It's not just that both candidates were courting the youth vote, but they were doing so in the very same place, the University of Washington, at the very same time.

Inslee and McKenna chose the popular lunchtime to rally troops.

"I think voters are going to come our way," said Inslee. "The reason is that they want to keep our state moving forward. You know, we've always moved forward, on choice for women, on healthcare and education reform."

McKenna used his final day appearance to re-iterate his main message, education.

"When I hear folks in Olympia say that we can't adequately fund our schools or our universities without tax hikes, I find that really frustrating," McKenna said. "They are basically saying you guys don't get taken care of except by the last dollars."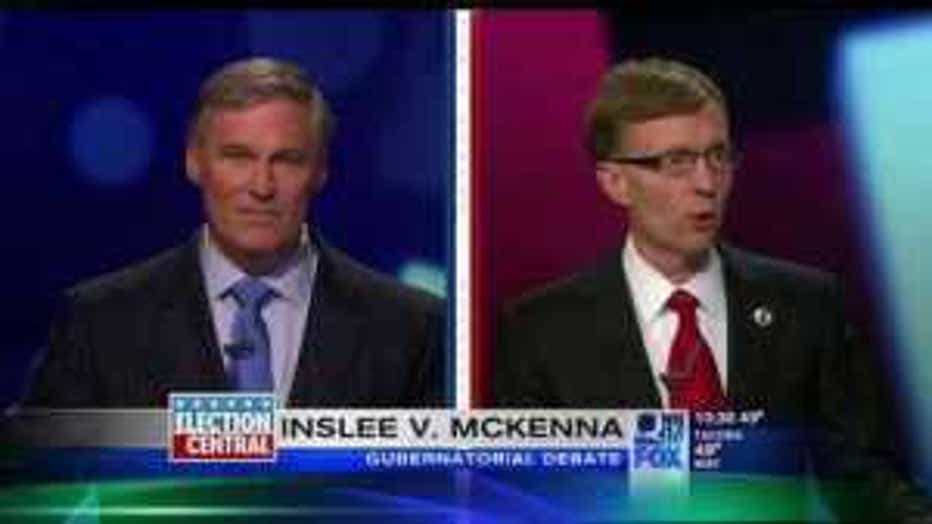 The U.S. visits were a homecoming for both candidates, since each is a Husky graduate.

Current students are fired up for tomorrow's vote.

"He's putting the focus on higher education so we can cap tuition rates and ensure that we can put more funding into high education without raising taxes," said one student and McKenna volunteer.

Another student, an Inslee supporter, cited his candidates stance on social issues.

"He supports the Referendum 74, which is for equality in the State of Washington, moving our society forward," the student said.

Campaigning so close to each other, how did the candidates feel about a final impromptu encounter on election-eve?

"I'm happy to have a debate," said Inlsee. "I'd love to debate my opponent on these subjects."

But McKenna had other plans for his final day.

"We spent a lot of quality time together already," he said.  "I'd rather spend my quality time with these young people."

The two most recent polls have Jay Inslee slightly ahead, but well within the margin of error. But McKenna was doing much better among independents, who make up a large part of the undecided voters.