Fire guts part of Burien building; no injuries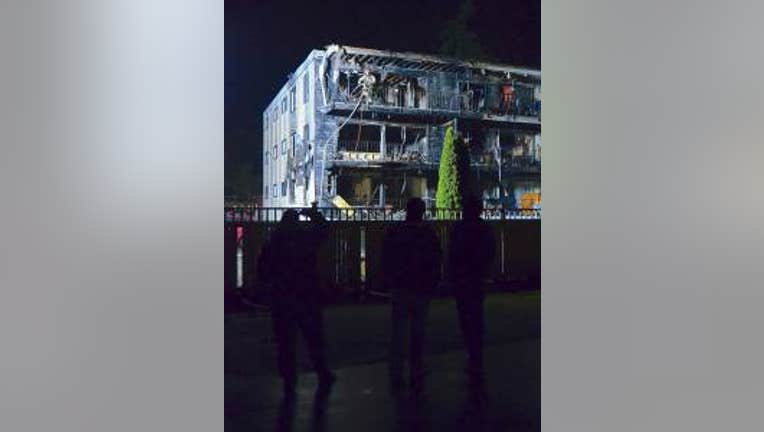 BURIEN -- As many as two dozen families were left out in the cold after flames swept through a Burien apartment complex Monday.

It was a raging fire at the Tra-Lee apartment complex. But no one was injured.

The first 911 call came in Monday at 4:36 p.m.



Witnesses and tenants reported a fire burning extremely hot and spreading quickly.

"Just a lot of flames and smoke; I was really scared," said one tenant named Denise.  "My mom just wanted to get everybody out of the house. There were a lot of people running everywhere.  Everybody was just yelling for people inside the building to get out and everybody was like really scared."

Firefighters arrived in minutes and put the fire out in a half-hour, but by then the damage was already done.

"They had heavy flames and smoke coming from the second, third and fourth floors so that's why additional units were called in right away," Fire Department spokesman Dave Nelson said.

Six units were destroyed by fire, two were heavily damaged by water and possibly four more had smoke damage.

All 24 units were evacuated after electricity to the building was turned off.

"It was a lot of chaos.  We were just trying to get everybody out of the apartments," tenant Felicia Jackson said.

Investigators say they don't yet know how the fire started, but they say the building had an alarm system and sprinklers and that likely kept the fire from spreading farther. They said residents alerting other residents and helping them escape was probably the reason no one was hurt.

"It just came to me, tell the people to get out of the apartments, while my friend was calling the fire department.  It was a really scary thing," Jackson said.

The American Red Cross is now helping families who have been displaced.