Ex-cop Dorner manhunt: Confusion over whether body was found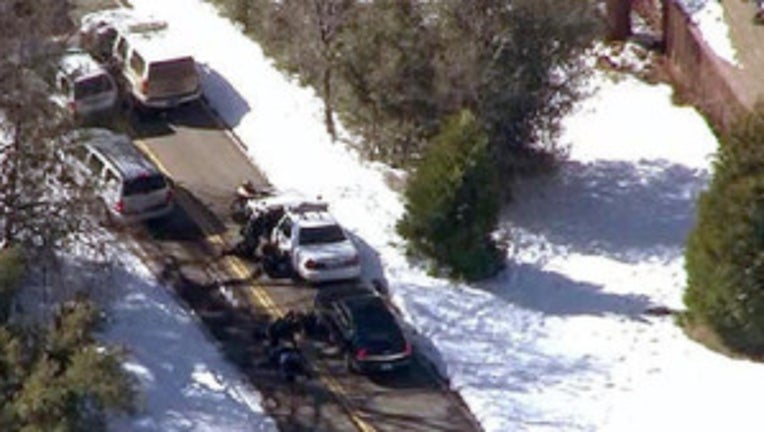 BIG BEAR, Calif. -- There were conflicting reports about whether a body was located inside the burned-out cabin Tuesday night where Christopher Dorner was believed to have kept law enforcement authorities at bay.

Several sources told The Los Angeles Times and many other news organizations that a body was located in the rubble. But LAPD officials said that the cabin was still too hot to search.

"No body has yet been found," LAPD Cmdr. Andy Smith said at a news conference Tuesday night, saying that media reports of a body being found and recovered were wrong.



[trib_ndn vid=24376953 site_section=dash]

At 8:30 p.m., San Bernardino County Sheriff's Office spokeswoman Cindy Bachman said officials have not confirmed what is inside the cabin. She said police believed a suspect was inside the cabin at the time of the fire but that officials have not gone in yet to look for the body.

KTLA, the Los Angeles Times and nearly all media organizations  reported unidentified police sources as saying that a body was found inside the burned cabin in Big Bear, Calif., and was believed to be that of Dorner.

Dorner, 33, is accused of killing at least three people as part of a long-standing grudge against the LAPD prompted by his firing in 2009. He is believed to have penned a long, angry manifesto on Facebook saying that he was unfairly fired and was now seeking vengeance.

The fugitive former officer had been holed up in the cabin in Big Bear and surrounded by SWAT teams for several hours on Tuesday afternoon.

At one point, police broke windows, pumped in tear gas and blasted a loud speaker urging Dorner to surrender.

When they got no response, police deployed a vehicle to rip down the walls of the cabin "one by one, like peeling an onion," a law enforcement official said.

By the time they got to the last wall, authorities heard a single gunshot, the source said.

Then flames began to spread through the structure, and gunshots, probably set off by the fire, were heard.

A tall plume of smoke was rising from the area where the standoff occurred.

Hundreds of law enforcement personnel swooped down on the site near Big Bear after the gun battles between Dorner and officers that broke out in the snow-covered mountains where the fugitive had been eluding a massive manhunt since his truck was found burning in the area late last week.

Law enforcement personnel in military-style gear and armed with high-powered weapons were involved in a tense standoff after Dorner took refuge in the cabin.

Dorner suddenly resurfaced Tuesday afternoon, engaging in a vehicle-to-vehicle gun battle with a California Department of Fish and Wildlife officer before holing up in a Big Bear-area cabin as dozens of officers homed in.

Two San Bernardino sheriff's deputies were shot in a confrontation, sources said. One San Bernardino County Sheriff's deputy died of wounds suffered during the shootout.

The incidents quickly unfolded Tuesday morning after Dorner left a nearby home he had broken into days ago, a source said. He allegedly had tied up a couple inside and held them hostage.

Then Dorner was allegedly spotted by state Fish and Wildlife officer in a white pickup truck.  Dorner fired, and the officer returned fire. Officer was unharmed but his truck was riddled with bullet.

For the latest on this evolving story, click here.