Cat, 2 men pepper sprayed; restaurant closed following bizarre scuffle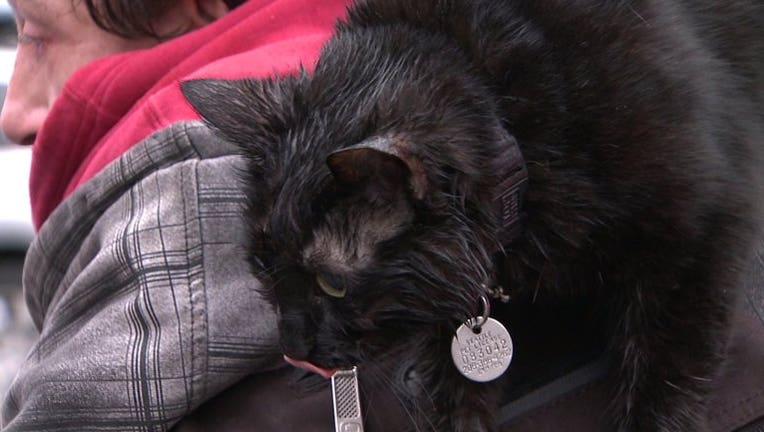 SEATTLE -- Firefighters treated Mcdonald's customers, employee and a cat named Tommy Girl following a bizarre pepper spray incident.

Conflicting statements were abound after the incident occurred around 12:15 p.m. at the McDonald's restaurant in the 1100 Madison Street in the First Hill area.

One person was taken to the hospital for minor injuries from pepper spray exposure, and many were treated at the scene. Hours later, firefighters evenwent back to the scene to treat others.




No one has been arrested, Seattle police said.

According to 42-year-old Joseph Malloy, he entered the McDonald's restaurant around 12 p.m. for lunch, carrying his alleged service cat, Tommy Girl. When Malloy and his cat made it to the register, employees refused to serve him, he said, because he was carrying the animal.

Malloy said he was asked to leave by employees but refused to do so. That's when another man -- perhaps a security guard, this was unconfirmed -- stepped in holding a can of pepper spray and tried to force Malloy and his cat out of the McDonald's.

A fight ensued and pepper spray -- perhaps from the other man or some Malloy said he was also carrying -- deployed inside the restaurant.

All employees and customers exited, and the fire department shut the restaurant down. It will be closed for some time, fire officials said.

Seattle police appear to believe Malloy's story of self-defense, and no one will be arrested. Malloy, the other man and the cat were treated for pepper spray exposure.

Malloy said he will be taking the cat to a "secure" location to further wash the pepper spray out of its fur.

This story will be updated as more information becomes available.