Driver in crisis crashes into building, causes fire in Seattle's Georgetown neighborhood
SEATTLE - Police arrested a man in crisis in Seattle's Georgetown neighborhood on Wednesday morning after he crashed a car into a business – leading to a large fire in the building – and then ran in and out of traffic while cutting himself with a knife.
Crews responded to reports of a fire in the 700 block of South Michigan Street around 6:38 a.m. Witnesses reported that the driver had exited the car and was now running through the street with a knife.
Officers said they attempted to contact the man, but he refused commands to stop and continued running. Police briefly chased him and ultimately took the man into custody.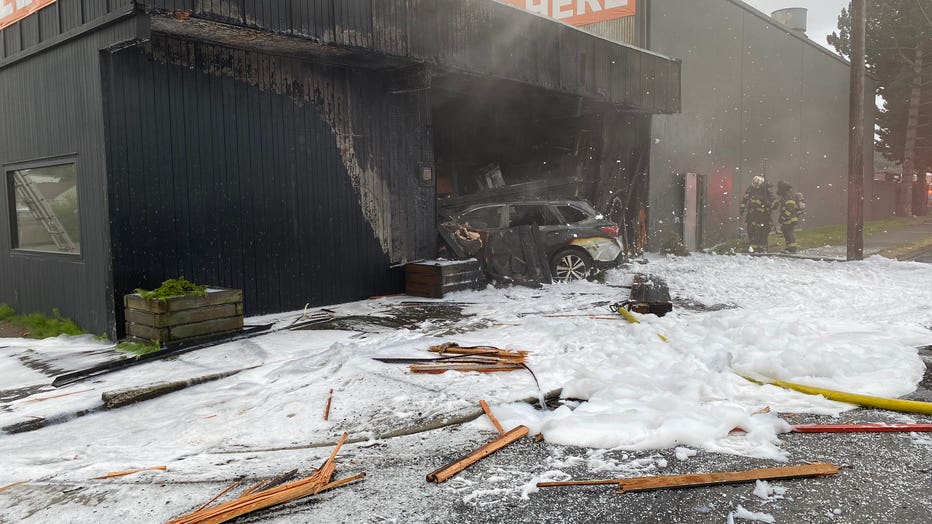 (Seattle Fire Department)
RELATED: Several businesses burn in 'stubborn' overnight fire in Lynnwood
Meanwhile, the wrecked car ignited and set the building on fire, though the business was empty at the time. The Seattle Fire Department extinguished the fire by 7:11 a.m. and estimated the damages at $185,000.
The crash and fire blocked all eastbound and westbound lanes of South Michigan street from 4th Avenue to Corson Avenue South. Drivers should expect traffic delays in the area and are advised to take alternate routes. 
RELATED: 1 killed after car crashes into guardrail in Spanaway
Paramedics transported the man to Harborview Medical Center to treat his self-inflicted knife wounds along with any other injuries from the crash.
Police also learned that the suspect may have been under the influence of narcotics. He was arrested for property damage, obstruction and hit-and-run.
Officers say they will book the suspect into King County Jail as soon as he is discharged from the hospital.