California wildfires spread; Ventura County blaze could reach Pacific Ocean


LOS ANGELES -- Officials are readying for a "worst-case scenario" as crews continued to battle a growing 6,500-acre wildfire along the 101 Freeway in Camarillo.



Firefighters are focused on protecting hundreds of homes as the Springs fire moves toward Newbury Park and the Camarillo Springs area, Ventura County Fire Department spokesman Tom Kruschke said. But officials are also preparing in case the blaze moves toward Pacific Coast Highway -- a possibility within "the potential of the fire," Kruschke said.

But with strong Santa Ana winds, low humidity and high temperatures -- not to mention the amount of fuel in the area -- Kruschke said it was hard to say where the flames might go.

"It's very unpredictable. Winds are swirling and twisting, and we don't know what way it's going to turn," he said. "We're kind of at Mother Nature's mercy at this point."

Hundreds of firefighters are attacking the blaze, which flared about 6:30 a.m. Thursday along the Conjeo Grade of the freeway and has scorched at least 2,000 acres in a valley between between Camarillo and Newbury Park. In addition to numerous motor homes burning in a parking lot, video footage from KTLA showed a flareup near one home.

Evacuations were ordered for the Dos Vientos neighborhood of Newbury Park, the Camarillo Springs area of Camarillo, Cal State Channel Islands and the area south of Potrero Road to Pacific Coast Highway.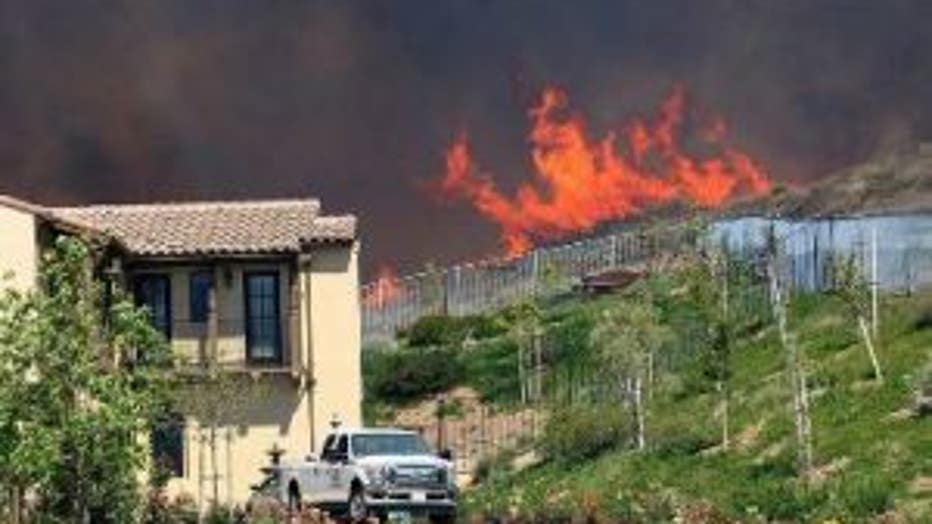 Photo by Robert St. John/Los Angeles Times


Newbury Park High School evacuated its campus shortly after 10:30 a.m. Thursday, citing air quality as the primary factor. While the fire was still burning far away from campus, a high number of students either did not show up or were picked up by parents because of the fires, leading school authorities to shutter classes for the day.

The Red Cross has set up evacuation centers at the Thousand Oaks Community Park, 2525 N. Moorpark Road, and Camarillo's Calvary Community Chapel, 380 Mobil Ave.

Kruschke said crews were not immediately able to confirm structure damage, but said they were battling spot fires as the wind pushed embers into residential areas.

Stuart Seto, a specialist with the National Weather Service in Oxnard, said humidity had dropped significantly in the area – "from 80% down into the teens, and they're getting lower." That, coupled with "extreme" wind gusts, would likely make Thursday "the worst day as far as the fires," Seto said.

"This is really dry," he said. "The fire in Camarillo Springs really jumped up from nothing to 100 acres in no time at all."

Winds are blowing southwest directly toward the homes at a sustained 26 mph, Seto said, with peak wind at 47 mph.

Ventura County Fire Department spokesman Bill Nash said the combination of wind and hot temperatures were a "perfect recipe for a fire."

"We advise anybody in the area to be prepared. Wildfires are very unpredictable -- we don't know what direction it's going to go," Nash said. "We really want people to be prepared. It's better to do it now before a sheriff's deputy is knocking on your door."

Lorcan O'Neill, whose home business is about half a mile from the fire in the La Serena Estates neighborhood, said he could see heavy smoke, but no flames.

"If I was to take a walk, climb the hill, go up 100 feet, then I would see flames," O'Neill said. "We're right in the middle of it, but I think we're OK. I hope we're going to be OK.… The wind is blowing the other direction."

"I've got the news on. The helicopters are flying overhead."

--Kate Mather, Joseph Serna and Andrew Blankstein, Los Angeles Times