Bombing suspect describes hastily arranged plot


By Richard A. Serrano, Melanie Mason

and Ken Dilanian

Los Angeles Times

BOSTON -- Dzhokhar Tsarnaev has told investigators that he and his older brother planned the Boston Marathon bombings only a week or so before the race, that they were operating alone, and that they received no training or support from outside terrorist groups, officials said Tuesday.

His comments appear to support investigators' theory that the attack was hastily conceived by two siblings who were self-radicalized.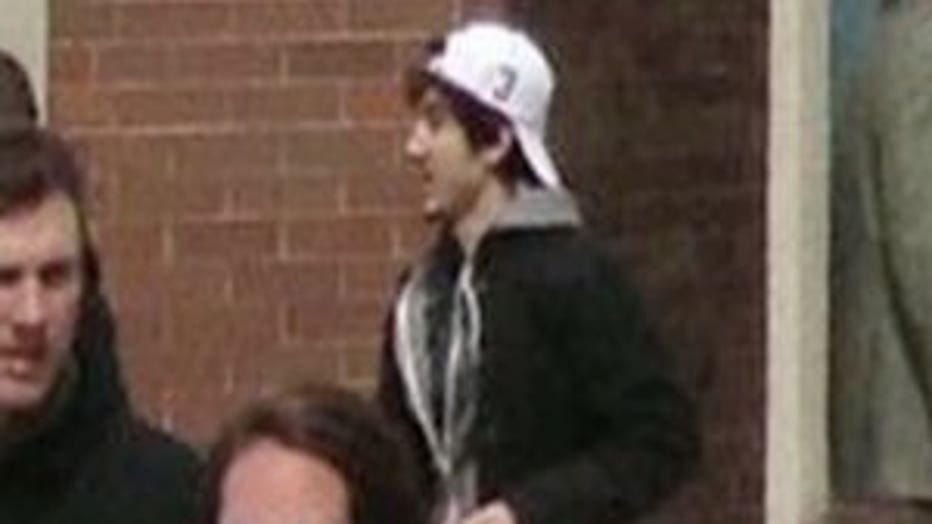 Writing answers from his hospital bed because he was shot in the throat, the 19-year-old accused bomber also said that his slain older brother, Tamerlan, was "upset" by the U.S. wars in Iraq and Afghanistan and that anger was the motivation to plant two crude homemade bombs along the crowded race route.

A U.S. counter-terrorism official said Dzhokhar Tsarnaev mentioned the wars "as a general justification for what he did"; a law enforcement official said he did not seem as bothered about America's role in the Muslim world. The law enforcement official said authorities were developing a clearer picture from the suspect's responses and from records of Internet activity that Tamerlan Tsarnaev was the driving force behind the April 15 bombings.

Fresh details about the grisly plot emerged on a grim, wind-swept day of funerals for 8-year-old Martin Richard, the youngest of the three people killed in the blasts, and for 26-year-old Sean Collier, an MIT security officer shot to death during the manhunt that ensued.

The Boston Public Health Commission said 264 runners and bystanders were treated for injuries related to the bombings, more than previously known, as people continued to trickle into emergency rooms. About 51 remain in hospitals.

A team of law enforcement and intelligence agents from the High-Value Detainee Interrogation Group questioned Tsarnaev before a federal magistrate opened a hearing at his bedside Monday and informed him of his constitutional right to remain silent to avoid self-incrimination. He faces federal criminal charges of using a weapon of mass destruction, and if convicted could face the death penalty.

During the questioning before he was formally charged, Tsarnaev said he and his brother did not practice detonating the pressure-cooker bombs, according to a U.S. official who has been briefed on the interrogation and who spoke on condition of anonymity because the investigation was ongoing.

Officials said no evidence had emerged to indicate the brothers had co-conspirators, and despite U.S. fears of foreign involvement, investigators have tentatively concluded that Tamerlan did not meet with Islamist militants or attend a training camp during a visit to Russia last year. That trip was his only known foreign travel as an adult.

A law enforcement official said investigators believed the Tsarnaevs built their bombs after consulting a how-to guide in Inspire, an online magazine published by the Al Qaeda franchise in Yemen. In a 2010 article, the English-language magazine urged would-be terrorists to build a crude bomb using a pressure cooker, gunpowder from shotgun shells or fireworks, and other easily obtainable items.

Investigators say they have confirmed that Tamerlan Tsarnaev purchased fireworks in southern New Hampshire, just over the Massachusetts state line, earlier this spring. On Feb. 6, they say, he walked into the Phantom Fireworks store in Seabrook, N.H., and asked the clerk, "What is the most powerful item you have?"

The president of Phantom Fireworks, Bruce Zoldan, said in a telephone interview that the clerk behind the counter that day, Megan Kearns, told investigators that she remembered Tsarnaev's comment because most customers buy an assortment of fireworks, but he only wanted the biggest sets they sold.

He paid more than $400 in cash for two "Lock and Load" reloadable mortar kits, each with four tubes and 24 shells, Zoldan said. Each shell can fly more than 100 feet into the air and explode in a colorful and noisy light display. The store records the name and driver's license number of each customer, Zoldan said. That was how the company linked the purchase to Tamerlan Tsarnaev after the FBI asked about the two brothers last Friday.

The shells Tsarnaev purchased would hold 1.5 pounds of gunpowder, but it's unclear whether the explosive was used in the marathon bombings.

"It certainly appears as if the bomb design is consistent with that described in Inspire, but there may be other online sources," said Rep. Adam B. Schiff, D-Burbank, who attended a House briefing on the case. "Plainly, a significant part of the radicalization took place online."

Amid questions about whether U.S. intelligence or law enforcement agencies missed possible warning signs, Homeland Security Secretary Janet Napolitano appeared on Capitol Hill and defended her agency's handling of the case.

The FBI interviewed Tamerlan Tsarnaev at his home after Russian authorities warned in early 2011 that he might have ties to radical groups, and the FBI subsequently placed an immigration alert on his name.

He traveled to the Russian republic of Dagestan in early 2012, but the alert was not triggered because the airline misspelled his name on the manifest. By the time he returned six months later, the one-year FBI alert had expired and he was not flagged for additional screening, Napolitano said.

"By the time he returned, all investigations had been — the matter had been closed," Napolitano told the Senate Judiciary Committee.  She said she would provide additional details in a classified hearing later this week.

The FBI said it had found no evidence to back up Russia's warnings about Tsarnaev, and on Tuesday officials pointed fingers at Russian authorities for not answering their follow-up questions at the time.