Boat believed to be Japanese tsunami debris washes ashore in Washington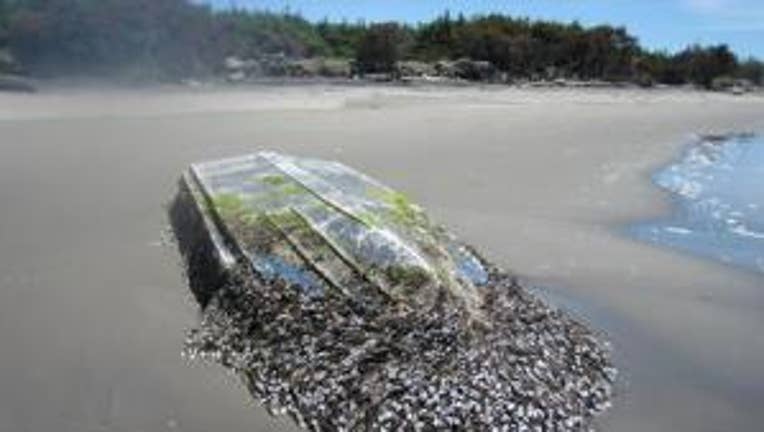 ILWACO, Wash. -- State and federal officials are inspecting a 20-foot fishing boat that washed ashore at Washington's Cape Disappointment State Park that appears to have originated in Japan, the Washington state Department of Ecology confirmed Friday.

Reports began to come in at around 3 p.m. of a boat with Japanese writing on it washing ashore in three pieces on the park beach in Washington's Pacific County.



Washington's departments of Ecology, Health, Fish and Wildlife, Military Emergency Management Division and Washington Parks and Recreation Commission, as well as the National Oceanic and Atmospheric Administration, are inspecting the boat to determine if it was swept into the Pacific Ocean during the March 11, 2011, tsunami in Japan, Ecology said in a news release.

The Parks and Recreation Commission is asking the public to stay away from the boat so the Fish and Wildlife Department can clean it and remove potentially invasive plant and animal species.

NOAA is working with the Japanese consulate in Seattle to determine if the boat came from Japan and to find its owner, the statement said.

A refrigerator that may be from Japan was found washed up on a beach near Moclips, Wash., on Wednesday. And a huge Japanese fishing dock washed ashore on the Oregon coast last week.

Sen. Maria Cantwell, D-Wash., said the boat could be the first major piece of tsunami debris found on a Washington state beach, though smaller debris has been found.

"The discovery of this potential tsunami debris on Washington shores is yet another reminder that the federal government needs a comprehensive plan in place to protect our coastal communities," Cantwell said in a statement. "Federal agencies need to ensure that communities like Ilwaco get the tools they need to prepare for and clean up tsunami debris and potential disruptions from invasive species.

"The debris from the tragic tsunami in Japan is a national problem," she said. "West Coast states and communities cannot and should not carry the burden and cost of dealing with tsunami debris on our own."

According to recent reports, Cantwell said, the 65-foot-long dock that washed up on a beach in central Oregon carried 2 tons of sea life, including some harmful invasive species.

A preliminary examination of the fishing boat revealed no oil or hazardous materials associated with the boat. Anyone encountering potentially hazardous materials is asked to call 1-800-oils-911.